Best Apps to Help You Manage Your Stocks
Idly watching the ticker of option availabilities as you data mine financing breakthroughs in world banking terms are all practically impossible to do simultaneously, if it were not for a variety of efficient apps to help you manage your stocks.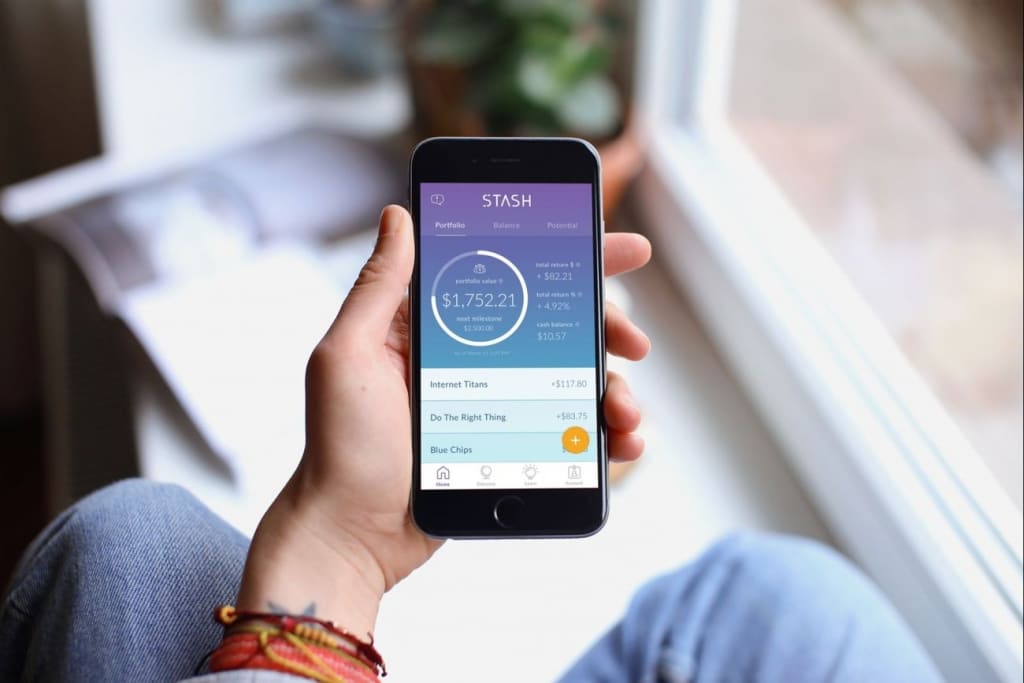 These forms of downloadable content are not only some of the best apps to upgrade your phone, they're some of the most sophisticated, intelligent, and eye-opening applications within the banking and financing world of tech. You might be cautions about preforming especially dangerous and highly privatized business transactions through your cellular data, but while they may not be the most popular password management apps for your business, they make your everyday endeavors (no matter if they are business or casual interests) a simplistic and utter breeze.
You'll find many types of investing apps, from financial analysts and stock trading portfolios, to personal finance endeavors and even digital wallet technologies. These applications are the future of banking, trade and analysis which will only evolve the market entirely well into the far flung future. As of right now, though, the applications listed below not only breed talent and exceptional compositions. They are the best apps to help you manage your stocks, and they offer a wide berth of additional features to choose from, incorporating every fiber of the money market straight from the real world right to your pocket.
On Wealthsimple, everything upheld by the financial market is made simple and easy through an intricate interface. Whether you're using the application for advice, strategy, or transactions, Wealthsimple can guide your investment intellect in the right direction, while also enhancing your portfolio twofold.
This simplicity, or as Wealthsimple calls it "investing on autopilot," makes the application an easy addition to the best apps to help you manage your stocks. There's an ample amount of insight, no matter if you're looking for stock market tips, or specialized invest strategies, you'll find not only the right information, but the most beneficial on Wealthsimple.
Having some of the highest reviews in financial application technology, Stash is one of the few apps to help you manage your stocks through an intricate system of educational building blocks in intelligent investment strategies and economic conservation. More often than not found among the more youthful crowds, Stash is a fun way of learning how to not only navigate the harsh and cruel world of high grade investments, but it also teaches users how to wisely save their money into the future.
Secured within a 256-bit electronic encryption, on top of a Secure Sockets Layer (SSL), Stash has one of the most sophisticated cybersecurity systems in rooting out potential threats and warding off future ones. With Stash, you can track your investments, and build off the base pricing from $5 to $5,000 all through their highly protected system and analysis procedurals.
Wealthfront is a lot like owning a digital financial advisor; behind the tech are financial analysts and investment strategists with remarkable skill in reducing taxation, risks, and overall scope of your portfolio. It's among the best apps to help you manage your stocks, because you don't have to do a single thing! They do it all for you.
Wealthfront is key to the broadening of your financial and investment viewpoints well into the future. If you're unsure about where you're account might be headed, or how your investments may eventually turn out, protect yourself with Wealthfront as they will plan out a sophisticated road for your investing made with high revenue returns.
At only 99¢ per trade, with no other fees attached, this little unknown application may just appear to be another gem among apps to help you manage your stocks, but Stockpile is a little more complicated than that. It can't get anymore simplistic than Stockpile, but that's not to say their tech is in anyway simple.
You can plant yourself firmly within either exchange-traded funds (ETFs), or name brand stocks, both of which range well beyond the thousands. It's a hands-on experience with consumer reports, fractional shares, and an interface that is self-learning as it is adaptable, imbuing the app Stockpile with an immersive and integrated operations system, plus a strong security system protected by a 256-bit encryption key. If you want the best and most secure app for unique investment and stock option plays, Stockpile is your obvious go to.
Once you've linked your bank accounts and personal finance information, Acorns begins to work for you in ways you couldn't possibly believe. Yes, it has a lot to do with how, where and when you invest, but it's all tightly wound around a premise of slightly diminished possible risks than those more adequately found in transactions between big-name Wall Street gurus and real time players that, in their own way, circulate the industry.
Acorns deals with secure investments under a diversified platform for complete maneuverability and utter control in your overall spending, and revenue. They call it "investing in change," a sort of double entendre on the way in which they're evolving the marketplace more so than most, and in how their application can be processed through transactions as low as $5. This gives investors, bankers, and everyone in between ample amount of breathing room, plus slightly less riskier transactions among the most risk-filled environment in monetized exchange rates.
Best used by less adverse, or "amateur," investment traders, E*TRADE lets small time players and financiers attempt to make light returns through a limited stocks and trading platform. There are a wide range of particular investment options to choose from, whether it be mutual funds and ETFs, or 4-leg options and stocks; there's a plentitude of fun to be had and money to be made on E*TRADE. One must preform the correct analytics and utilized their specified resources in limiting risks, as well as profiting largely.
It's not the best ever, but it's still among the most popular apps to help you manage your stocks. You'll also be able to transfer available balances, plus view positions and real-time streaming quotes all on one, simple to use application.
It may not have the best reviews, but you shouldn't take everything you hear about Ticker with much truth; it's a rather under the radar program that not only keeps people informed on ranging financial news topics, but it also highlights an individual's grey areas and faults while using the application's sophisticated software. You can plan for the future, but also prepare yourself for the present moment, as well.
One thing about Ticker that is an absolute pain is how they only support particular stocks from their own pre-approved list of markets, so it's not an all-inclusive, all-in-one portfolio tracking and transitory investment interface. Still, for being among apps to help you manage your stocks, it's a far simpler way of previewing certain options and making small plays, or adjusting your stance in a wide and ever-moving financial market.
As far as digital wallets go, Coinbase is one of the most sophisticated, safe and easy to use interfaces in comparison to the other apps to help you manage your stocks. Yet, this is the very difference inherent within the application in question, for Coinbase doesn't just allow you to manage your accounts, check balances, and make payments.
On Coinbase, you'll be able to buy, trade, store and receive various forms of digital market currencies, such as bitcoin, litecoin, and ethereum. This is also your bridge into the digital currency market itself, for Coinbase's platform has a variety of additional components, most helpful of them all is their up-to-date crypto news feed, and bank-level security protocols.
Even the likes of technological media mogul TechCrunch have considered this application among the best apps to help you manage your stocks. It's a profound form of ingenuity that blends the everyday investment account seamlessly with that of a personal finance app. Around 800,000 Americans alone have already begun using SigFig, and it shows as the app's creators say they currently track and manage around $400 billion.
Instead of biting monthly payments on SigFig, you'll be paying a yearly 0.25 percent fee that locks you into all the magic and excitement belying the very nature of digital investment markets. SigFig is shown and has proven to optimize returns to their fullest potential, so if you think you've already got what it takes to dance with the wolves, try SigFig with nothing more than around $300-$500 and see how much you can turn into a profit on this brilliant platform.
Similar to Stockpile's seamlessly weaving of financial markets and corners of the industry, Robinhood also intends on coalescing these intriguingly similar worlds in an all-inclusive exchange wherein investors of all kinds can buy, sell, and simply transact in any form of rate that's plausible and (at least relatively) popular.
As it bears a powerful image in the likes of apps to help you manage your stocks, Robinhood wants to be the bringer of your success, rather than reap your winnings; it is a free application that stresses the importance of a wide-open market for any kind of exchange, whether it be ETFs, side by side options, cryptocurrencies, or stocks. They're only one of many forms in financial investment strategies holistically adapting the entire reality of finance and banking as we know it, adapting therefore a new world of virtual connectivity and 24/7 transaction exchange rates.
Personal Capital is, hands down, among the best apps to help you manage your stocks. Their software and data points are made up entirely by a range of analytical tools that help the app learn through, and rather ironically, it's own form of investment (computerized options of data). From the fundamental considerations and marketabilities of one single option, to the deeper contexts of an entire exchange itself, Personal Capital tries to take away the whole individuality of investing and wants to bring about a more personalized system of consumerism within the field.
This app is a sort of tailored formula that will, and has for many people already, assist with your own underlying goals. The app, as if having its own sentience (which, it may actually have when all is said and done), can realistically optimize your return investments and drastically outperform its rivals twofold. Start for free today and see just why so many people are standing behind Personal Capital, as it likewise does for those very same people.

The company's proprietary, patented software controls electric motor coils through individual coil switching Exro centered on realizing at least eight commercial deals this year for its innovative technology

Real estate investments are among the best investments every human being has made so far. This has also been one of the most significant long-term investments ever made. It is thus important to have a look at the latest trends in the market and at what the future holds as well. This will help people choose the best location for future investments in real estate.

As both a real estate investor and a real estate investor educator, I've heard the same question repeated endlessly since the coronavirus pandemic exploded: "Should I buy real estate during COVID-19?"

American Millennials have the impossible task of saving the world from Trump, climate change, and obnoxious editorials written by Baby Boomers. And they're doing it while in debt, living at home, and under the ever present anxiety that their futures are going to be spent both literally under-water because of rising sea levels, and figuratively because of whatever the next entirely preventable economic crisis will be.

The technology is primarily promoted as an imaging device for bladder cancer but has the potential to expand to other endoscopic procedures including laparoscopic, colorectal and thoracic Bladder cancer is the sixth most prevalent cancer in the United States, with 600,000 people fearing recurrence The global market for bladder cancer is estimated to grow to an estimated $4.71 billion by 2026