5 Tokens to Profit from the Metaverse Movement
These Metaverse tokens could present a profitable investment opportunity.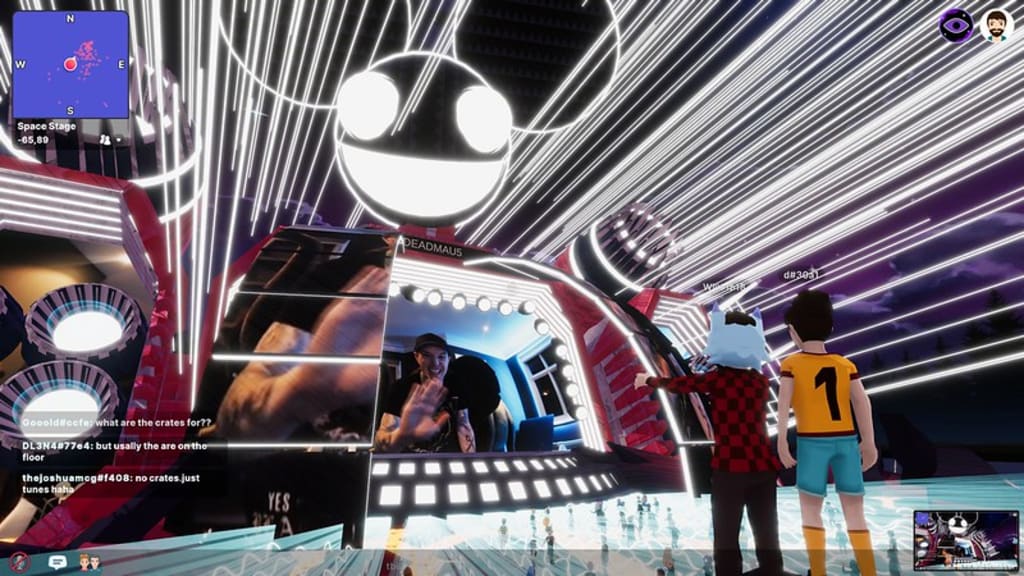 DEADMAU5 — The Metaverse Festival — from Flickr by Duncan Rawlinson
However, investing in any cryptocurrency requires an understanding of the possibility of loss, as well as a hope for gain. With these tokens, it's not all about face-value as with many other digital assets.
Many are calling these tokens "play to earn." However, in most cases, it is not that easy. Do the research before buying any of these tokens because there are dozens with many different functions.
What Is the Metaverse?
Depending on where you look, you will probably find a different definition of the term "Metaverse." It will be contingent on how that entity wants to use it. Facebook was recently renamed Meta by its owners, and Microsoft (MS) is interested in claiming it.
Joseph Bersin defined it like this, "Simply put, a Metaverse is a digital space represented by digital representations of people, places, and things. In other words, it's a 'digital world' with real people represented by digital objects."
Therefore, people could interact as avatars in a Zoom "room" or chatroom.
"In many ways, Microsoft Teams or Zoom is already a form of a Metaverse. You are 'there' in the room, but you may be a static image, an avatar, or a live video. So Metaverse is a broader context for 'bringing people together.'"
There are many Metaverses, some for business, commerce, entertainment, and others, but this article will look at some of the cryptocurrency tokens used in the metaverse to buy interactive virtual items, even plots of land.
What is Microsoft's Metaverse?
#MSVerse
How To Invest in The Metaverse | 5 Ways to Get Started | Complete Guide
Latest Developments in the Metaverse
The world is embracing the advent of new technologies. Metaverse is the latest development in the crypto space. It has attracted conventional attention globally and become more popular over the past weeks.
For this reason, and the possibility of profits, many investors are flooding into this virtual world. If you plan to invest in these tokens, you can find numerous types, each looking and operating differently.
However, buying the tokens and Holding on for Dear Life (HODL) & hoping for an upward movement is not the only method of making money from the Metaverse movement. According to an article, $106M worth of metaverse land sold last week: DappRadar in Coin Telegraph by Brian Quarmby:
"A Tuesday post from the decentralized application analytics firm reported that between Nov. 22 and Nov. 28, activity was "booming" on The Sandbox, Decentraland, CryptoVoxels, and Somnium Space with a combined $105.8 million worth of trading…"
"Undoubtedly, Metaverse land is the next big hit in the NFT space. Outputting record sales numbers and constantly increasing NFT prices, virtual worlds are the new top commodity in the crypto space." — DappRadar
Have you dreamed of being a landowner? Now could be your chance. The biggest "player" in the land grab was The Sandbox, with around $86 million. You can buy the Sandbox tokens.
However, the least expensive method of making a play in the Metaverse could be buying tokens. Regardless of what is written here or how fantastic the opportunity seems, always do your own research.
The following five are the most profitable tokens investors should consider buying to benefit from the trending movement. It will depend on what you want to do with the tokens and how much money or effort you want to invest.
To put this into perspective, two out of three parents are now gamers. Sure, what better way to bond with your kids. Our entire family would play Monopoly on the kitchen table for hours when we were kids.
These are in random order, and their positioning within the article does not point to a better or worse opportunity for growth.
Axie Infinity (AXS)
This cryptocurrency is performing excellently and receiving eye-popping gains so far in 2021. It governs the Axie Infinity game and involves playing a digital game to earn crypto rewards with high value and worth both inside and outside the game.
Having more time from work during the pandemic has encouraged more people to pay more attention to this token.
AXS's interactive Play-to-Earn features allow the players to earn money simply by playing a game and, at the same time, having a good experience.
However, paying to play is not cheap. For many, it will seem the adage "it takes money to make money" is appropriate here. This video explains why someone would pay $1000 to play.
Why I Spent $1000 to Start Playing Axie Infinity (Play to Earn #NFT Game)
Brought to YouTube by Zueljin Gaming for your entertainment and information.
#AxieInfinity #BlockchainGaming #PlayToEarn #NFT
"Axie Infinity, the most popular play to earn NFT game in the world! Today I take my first steps into Axie Infinity with is a decentralized game based on Ethereum blockchain platform that allows players to breed, raise, battle and even trade Axie NFTs in marketplace." — Zueljin Gaming.
A look at Coin Market Cap will show you that AXS has gone from $0.15 to an all-time-high (ATH) of $165.37 and sits at $140.00 today (1 December 2021).
Decentraland (MANA)
Players can access this 3D virtual reality platform through an internet browser. Users create, implement, and capitalize their content openly. Inside the game, you can own land and pay through MANA. Additionally, it contains tools that can help you create artwork and various spaces, such as casinos.
Players are also allowed to attend different events like parties and exhibitions. The advantage of this virtual gaming platform is that "you can access it as a guest" if you do not have any cryptocurrency.
This is the seventh-largest holding by Ethereum whales other than ETH, according to whalestats.com.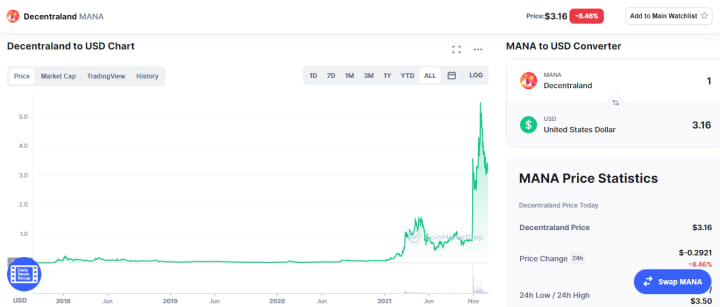 A look at Coin Market Cap will show you that MANA has gone from $0.0703 to an ATH of $5.90 and sits at $4.51 today (1 December 2021).
The Sandbox (SAND)
This game allows you to become an in-game character and sell items or trade them with other characters. You can also share games and different experiences with them. One of the remarkable features of this token is that any person can create and monetize assets as long as they have the SAND. You can even buy, develop, and sell virtual property.
Sandbox is still developing and has recently engaged in several partnerships to boost its profitability.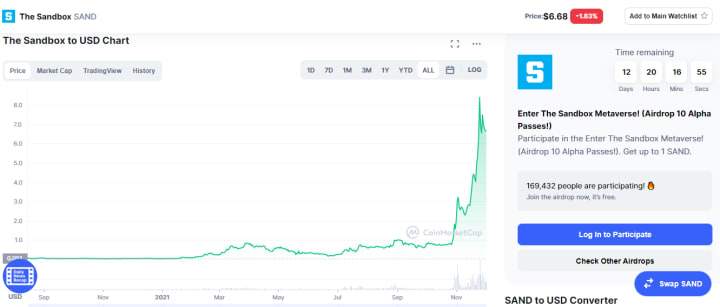 A look at Coin Market Cap will show you that SAND has gone from $0.03451 to an ATH of $8.51 and sits at $6.66 today (1 December 2021).
Render Token (RNDR)
Purchasing the Render is an effective way of benefiting from the metaverse world. Different companies are usually responsible for creating 3D reality visuals in the metaverse. Render assists in this process.
It has a decentralized infrastructure that uses computer processing power to extract digital content. Using this coin saves you money when purchasing computing equipment and creating 3D content. It also enables you to earn rewards and preserve the environment.

A look at Coin Market Cap will show you that RNDR has gone from $0.053 to an ATH of $8.52 and sits at $6.26 today (1 December 2021).
Enjin Coin (ENJ)
Through ENJ, you can create and manage your non-fungible tokens (NFT). Its integration with other gaming platforms enables players to use one item across several games and offers the ability to trade them in the marketplace.
This feature is an advantage because it prevents players from losing items every time the game folds or you stop playing it. ENJ's advancing performance and easy usability among individuals and brands make it a perfect option in metaverse tokens.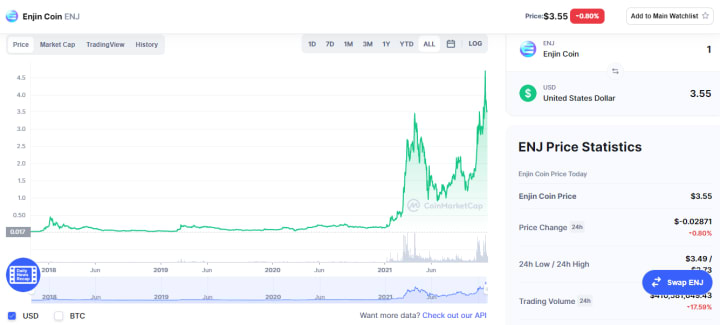 A look at Coin Market Cap will show you that ENJ has gone from $0.1181 to an ATH of $4.85 and sits at $3.53 today (1 December 2021).
Join the Metaverse Movement Cautiously
Overall, the public is currently paying more attention to the virtual world than before. Purchasing different Metaverse tokens/coins such as AXS, MANA, SAND, RNDR, and ENJ provides a potential for a highly-profitable investment. However, be cautious, do your research, and never invest money you cannot afford to lose.
Their prices fluctuate rapidly, making it too easy to get caught up in or influenced by the hype. However, it would be best to understand how these tokens work before purchasing them.
DISCLAIMER: This article is for entertainment and informational purposes only. It should not be considered financial or legal advice. Not all information will be accurate. I am not a financial adviser, and anything I propose should be considered friendly banter to show you what is possible if you invest your money in these vehicles. However, there are no guarantees. Consult a financial professional before making any significant financial decisions.

Stephen Dalton is a retired US Army First Sergeant with a degree in journalism from the University of Maryland and a Certified US English Chicago Manual of Style Editor. Also, a Top Writer in Finance, Nutrition, Travel, Fiction, Transportation, VR, NFL, Design, Creativity, and Short Story.
Website | Facebook | Twitter | Instagram | Reddit | Ko-fi | NewsBreak | Medium