Why Are People Questioning Prince Harry and Dr. Jill Biden's Friendship?
People are still commenting on everything the Duke and Duchess of Sussex do even though they are no longer senior members of the Royal Family.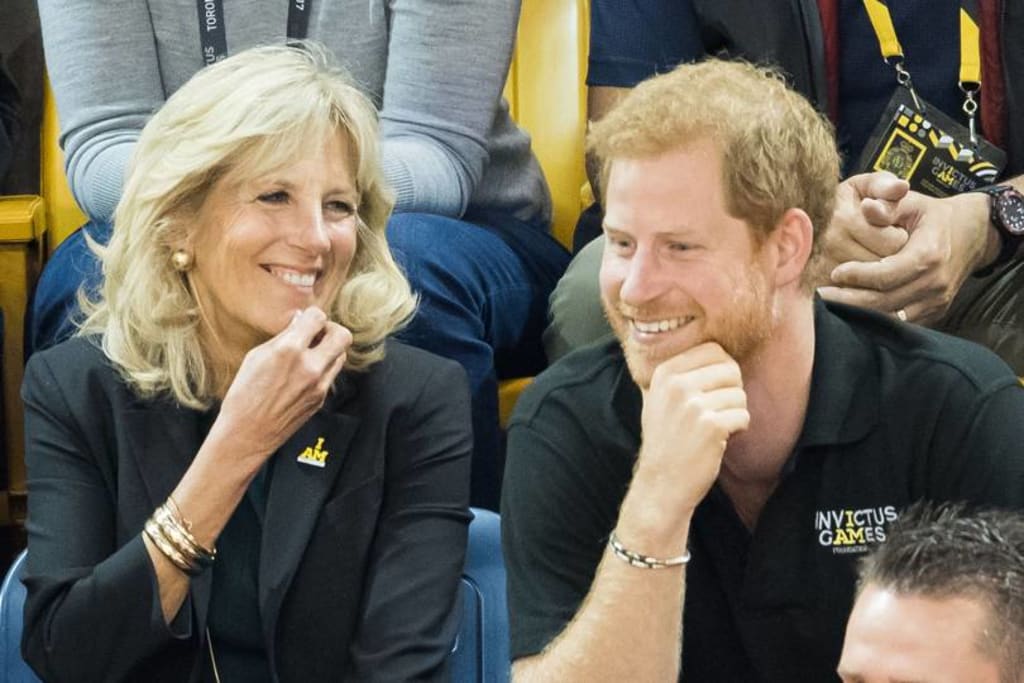 Some people continue to watch and comment on what Prince Harry and Meghan Markle say and do even though they are no longer senior members of the Royal Family. They still have the titles Duke and Duchess of Sussex, but they did not retain their "His and Her Royal Highness" titles after they announced on January 8, 2020, that they were stepping down from their royal duties.
In March 2020, it became official that they would no longer represent Queen Elizabeth. The Duke and Duchess and their young son Archie moved to the United States after spending a brief time in Canada. They rented a place to live in Los Angeles before moving into their own beautiful mansion in the Montecito neighborhood in Santa Barbara, California in June 2020.
The Sussexes and Politics
While Harry and Meghan were working as senior members of the Royal Family, they were forbidden to have any political connection or speak in public about politics. Now they are in the United States, some royal watchers think they should still be silent about American politics. Prince Harry is not a registered voter in the United States, but his wife is because she never gave up her citizenship when she moved to the United Kingdom.
Duke and Duchess of Sussex Criticized
It is not unusual for comments to be made about what the Duke and Duchess of Sussex do. They were criticized when the Duke and Sussex appeared in an ABC special for TIME100. Meghan said registered voters should cast their ballots against hate. She encouraged people to vote in the upcoming presidential election. She did not mention any political party or encourage anyone to vote for a specific presidential nominee. Since the Sussexes are not working members of the Royal Family, any comments they make should not be held against them.
When Harry and Meghan made their appeal to US voters back in September just before the election on November 3, it was evident of a break from the strict protocol of the Royal Family to be politically neutral.
Prince Harry did not vote in the election because he is still a British citizen. Meghan voted by mail long before the deadline and is thought to have been the first royal in recent history to vote.
Prince Harry and Dr. Jill Biden's Friendship
The latest criticism is about the friendship of Prince Harry and Dr. Jill Biden, wife of Joe Biden, President-Elect of the United States. The two didn't just become friends because of politics. The Duke of Sussex and Dr. Biden have been friends for eight years after they met at a reception for the US and British wounded warriors at the British Ambassador's Residence in Washington, DC in May 2012. They saw each other again in 2014 when Jill traveled to London to attend the royal's inaugural Invictus Games. They were photographed chatting and smiling together as seen in the photo above.
Jill attended the 2016 Games in Orlando with then-Vice President Joe Biden. Joe joked that he was "a little worried" about his wife and Prince Harry seeing each other every two years. Both of the Bidens became consistent supporters of Prince Harry's passion project. They attended the Invictus Games in Toronto in 2017 where Prince Harry and Meghan Markle made their first public appearance as a couple.
Even with a 33-year age difference, Prince Harry and Jill found they have a shared military connection. Harry served in the British Army for ten years, and Dr. Biden's late stepson Beau Biden was a major in the United States Army.
There is really no reason Prince Harry and Dr. Biden can't be friends if they choose to be. People are questioning the unconventional friendship while thinking the Duke and Duchess of Sussex have a political connection especially since Dr. Jill Biden will soon move into the White House as First Lady.
There has been no report that Harry and Jill have seen each other since the Toronto Invictus Games in 2017. Since they are friends, Harry and Meghan might be invited to attend the Presidential Inauguration Ball in January. If they attend, that will be another topic of conversation.

Margaret Minnicks
Margaret Minnicks shares articles with readers all over the world. Topics include celebrities, royal family, movies, television, foods, drinks, health issues, and other interesting things. Thanks in advance for TIPS that are sent my way.
See all posts by Margaret Minnicks →