What I expect from big Bro after he gets elected mayor of DC.
Remember the name: Mr. Trayon White, Sr.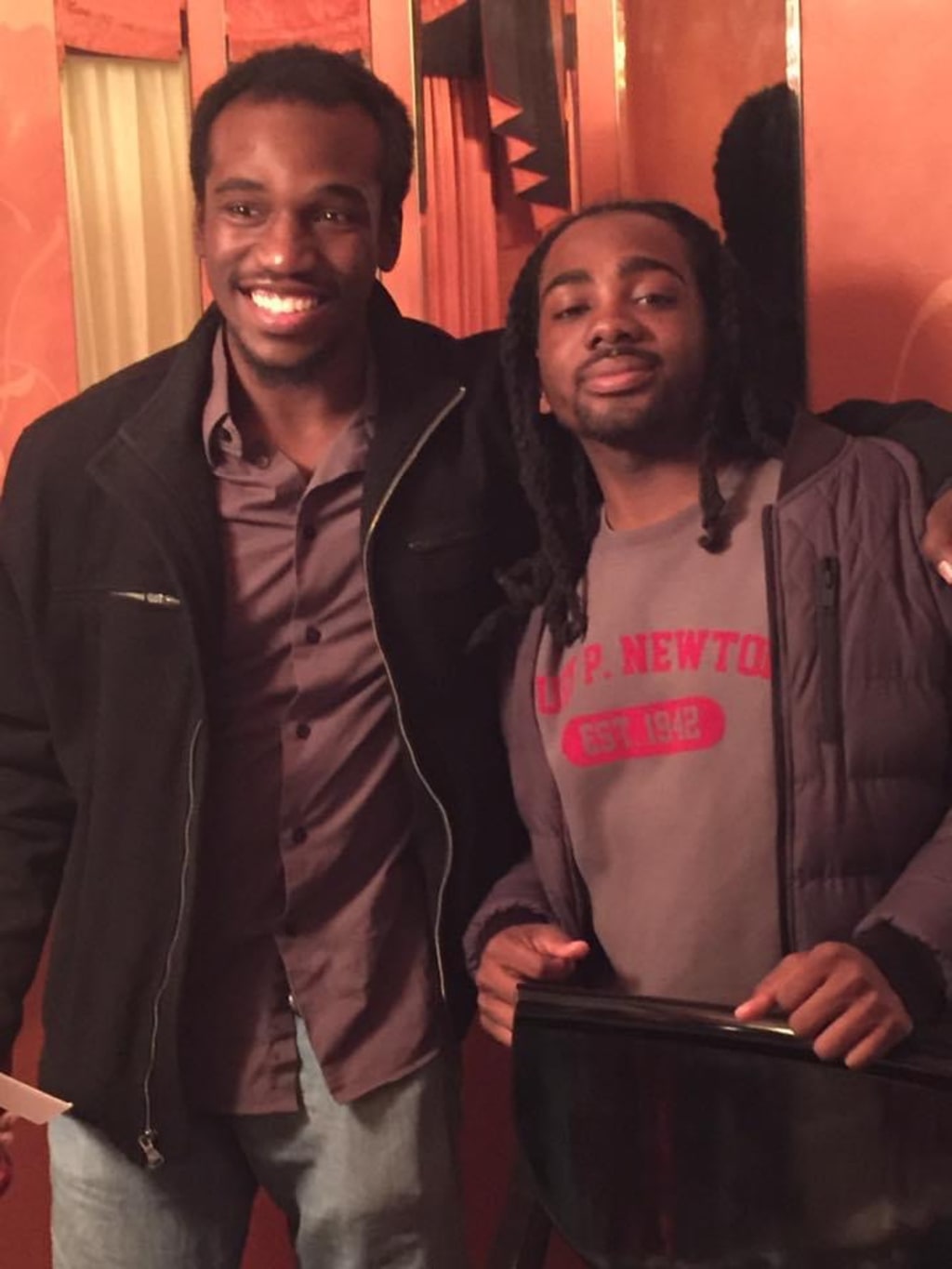 Sometime prior to '17. Don't at me! This is the only pic that I could find of me and him alone for whatever reason.
30OCT2021; 1511, SAT
How beautifully fitting that this post is being typed up and such on a National Dashiki Day, as well as the fact that it was initiated 3:11 PM; while one of our father's Fav bands is 311? Not for nothing: I see my older bro as a leader who might could help have the whole DMV (DC, MD, VA) area rocking dashikis while jamming out to some of the many African American musicians that 311 was obviously influenced by.
For those of you who are unfamiliar with the politics of my hometown region, Big Bro is already a highly respected Councilman of Ward 8, for some five years almost now; representing his old stomping grounds! He loves and nurtures his children dearly, and with vigor.
Almost forgot somehow: He was mentored by none other than the late, greats Mr. Marion "Mayor for Life" Barry and Dick Gregory! Rest In Power to those two triple OGs.
Now that I've laid down the general background info, "let's politic"! What would I expect from Brotha Tray after he crushes whomever whenever in any and all the rest of his future elections; starting with this upcoming mayoral primary in June?
Glad you asked! In a nutshell, more of the same.
I made a recent fbook post praising him for his courage to run against an incumbent and for his all but unrivaled oratory skills. Simply put: "Broham" be repping hard for the Southside.
Aside from the obvious goal of securing our hometown from the ravages of the current Oval Office (place) holder, I really and truly expect "Broski" to implement some of the key tenets of Henry Hazlitt's very short tome, "Economics in One Lesson" ('46). Another ideal: He might could recruit some other highly respectable economists like Peter Schiff, who accurately predicted the housing market crisis of '08 way before it came to fruition, as trusted advisers.
Speaking of the year that his oldest child was born, it'd be pretty sweet to make sure that Junior, as well as the rest of his generation, could really and truly consider The District "a safe space". I know that there's feasibly little to nothing more important to Tray than that ideal.
Also, I'm of the opinion that Brotha Man won't just look out for the Padawans and Younglings of DC, such as his Precious Princess. They'll be his primary priority; tho, the "Jedi Knights" and his fellow "Jedi Masters" will feel valued and respected too.
Bossman is so trill, he'll likely help the traitorous Washingtonians that root for Dallas have an awakening and then they'll be rooting for the home team enough to fuel the Washington Football Team (WFT; formerly the Washington "Redskins") to another Super Bowl. A guy can wish, right?
Seriously tho, if/when The City gives one of my fav mentors another increase in responsibility and power, I'm fairly confident that they will not regret it. Instead of the pejorative "Swamp" that we're known as now, thx to former President "Drumpf" (sic), DC will likely become the polar opposite of that.
Washington, District of Columbia will be world renowned not just as a the military capital of the world, as is the case now. We will arguably be the ideal for decades, centuries, and maybe even millennia to come once Mr. Trayon White, Sr. is finally elected to the office of mayor to what is now sometimes known as Cappuccino City.
We may never go back to being Chocolate City, as the late great Gil Scott Heron once called us (shout out to the dearly departed for being inducted into the Rock & Roll Hall of Fame this weekend). However, we will never go back to being referred to as The Swamp either.
***
Prayerfully, someone somewhere gets something pertinent (re: useful) from this post. If that somebody's you, then please think about considering a Like/Tip/Share/Sub, and/or checking out some of my other posts.
Also, if you're in the market for an article of clothing or two, there's a link in my bio. Please don't think for a minute that I will be unappreciative of any all who "look out for the cookout".
TIA (Thx In Advance). Peaceful Tidings.
***
humanity
About the author
A Grunt that's been stuck in traffic for the past few decades or so. From DC to Seattle & Iraq, to back in "The Swamp". Also, I Love my Progeny more than life. My Born Day: 4/20. Lastly, my apparel brand, War 'N' Tees is live! One Love.
***
Reader insights
Be the first to share your insights about this piece.
Add your insights