Watch Kamala Harris. Now Keep Watching
Despite falling short of Bernie Sanders' fundraising totals, the California Democrat has indelible advantages that keep her in the top tier of presidential hopefuls.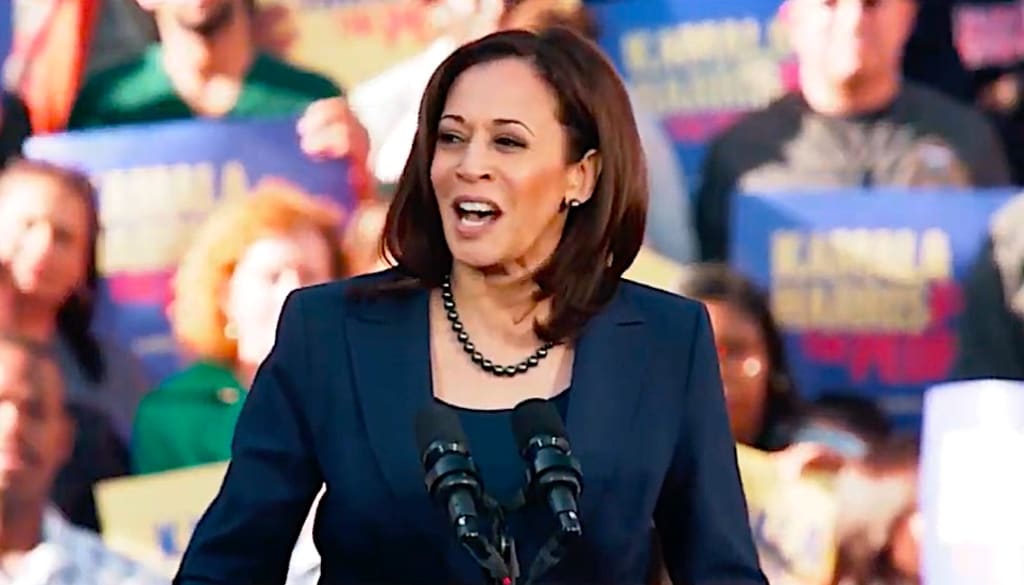 Don't fall asleep on Kamala Harris.
The Democratic California senator, who jumped out front as a declared candidate for the presidency, has been quietly going about her business since her splashy Oakland campaign rollout in January, when Harris both announced her candidacy, and set the emotional bar for the campaign–a deft blend of ebullience and duty–that no other Democrat in the race has matched yet.
Other candidates have announced since then, like Beto O'Rourke, the early imagistic darling of the 2020 race. Others haven't formally announced but might as well have; South Bend, Indiana, mayor Pete Buttigieg, a startlingly nimble, intellectual force seemingly come out of nowhere, comes to mind.
But modern American politics needs money; modern American presidential politics demands it. Cash flow buys a campaign time, and space, and imparts the credibility of staying visible. Money keeps the lights on in the office of a presidential dream... and Kamala Harris has got a lot of it.
***
In a statement preceding the financial disclosures required of the candidates by April 15, the Harris campaign reported $12 million raised in 218,000 contributions since her campaign started on Jan. 21. The campaign reported that 98 percent of the donations were $100 or less, and that $6 million came in from digital contributions. The campaign reported pulling in $1,1 million in the last week of March alone. The overall average donation was $55, the average online donation was $28.
The Los Angeles Times reported April 2: "Members of Harris' staff suggest that although the senator might not have the same grass-roots fundraising scale as O'Rourke or Sanders, she is building enough of a small-donation base to keep a balanced fundraising portfolio and remain competitive online. As the first quarter of the fundraising year ended Sunday, many of Harris' top campaign staffers were soliciting donations on Twitter as part of an intra-campaign competition."
One reason Harris 2020 is doing so well: The senator has adopted a two-track approach to donations. She's been receiving donations from "bundlers," the cash wranglers focused on big-money contributors, and also from individual donors around the country, the everyday people who latched onto her campaign and message early, and never let go.
***
Harris has other advantages going for her. She's running from California, the state with the world's fifth largest economy, ahead of the United Kingdom. "The stakes for California's cash grab are immense," Politico reported Feb. 27. "California was responsible for $522 million in candidates, parties and outside groups during the 2016 election, more than any other state, according to data collected by the Center for Responsive Politics." Harris' native-daughter status in the Golden State gives her a leg up–Politico called it "home-field advantage–" over most any other candidate.
Her fundraising operation has been gaining from the very freshness of her campaign and her personality. One of her challengers, Democratic Sen. Bernie Sanders, raised $18.2 million over the first six weeks of his campaign, which started in February. But this is Sanders' second run for the presidency; the Vermont senator takes advantage of a fundraising infrastructure that was, to some degree, left intact from his 2016 run. Harris' campaign had no such edge; her strong financial showing is that much more impressive as a first-timer.
And Harris benefits from a nation that's more receptive to a candidate who's not a white male. An NBC News/Wall Street Journal poll conducted Feb. 24-27 tested 11 different characteristics among a cohort of registered voters across the country. The most popular metric was for an African American candidate: 87 percent of the poll respondents said they were either, "enthusiastic," or, "comfortable," with that as an identifying characteristic. That's a slam-dunk sweet spot for Harris that Sanders can't get near.
***
And thanks to an election in a major American city, Harris stands to benefit from politics that aren't presidential. Lori Lightfoot, elected Chicago's first female African American mayor on April 2, takes that job after a role as a federal prosecutor–this in a city with a long history of fractious relations between citizens and the police.
Lightfoot's success strongly suggests that a prosecutorial past needn't cripple a minority candidate's chances for higher office. That bodes well for Harris, a former San Francisco district attorney and California Attorney General.
It's still early days for all the Democrats in the 2020 derby, and some of the supernovae in the spring will likely flame out between now and the fall. But Harris is laying the groundwork for a long run. She's been building a smart, centrist political identity, careful (so far) not to get over her skis in pledges and policy prescriptions. Her on-point fundraising is the bright spot that makes the others achievable.
president

Michael Eric Ross
Michael Eric Ross writes from Los Angeles on pop culture, politics, film and other subjects. His writing has also appeared in TheWrap, Medium, PopMatters, The New York Times, Entertainment Weekly, msnbc.com, Salon, and other publications.
See all posts by Michael Eric Ross →