Two Missouri Kids Feel Back in Closet After Quote Removal
School district erred "on the side of caution."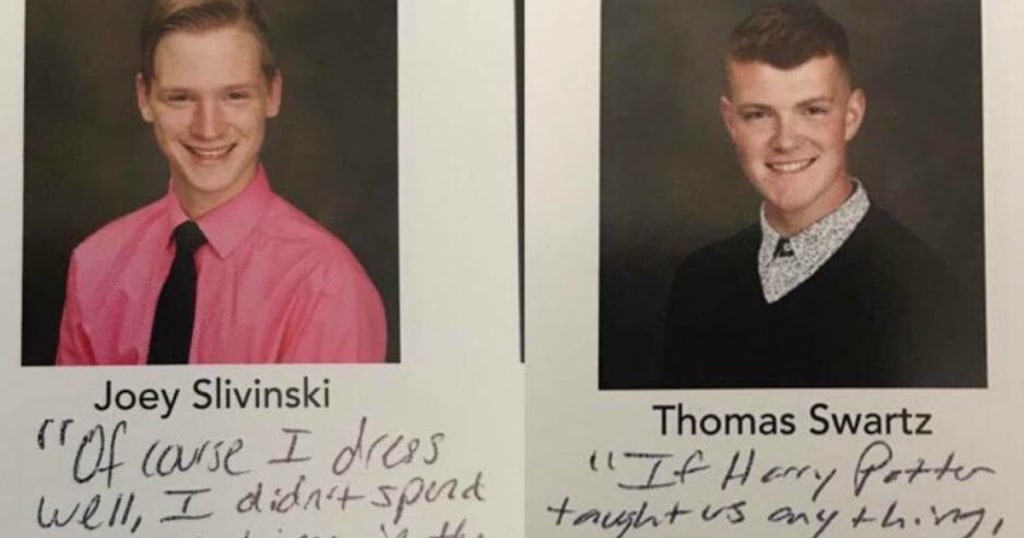 Receiving the high school yearbook is perhaps one of the highlights of a student's scholastic career. The photos, both goofy and serious, the signatures from friends and teachers, and the memorable quotes all play a role in how everyone remembers their high school experiences.
For two young men from Missouri, that experience has been irretrievably changed. The boys had each submitted quotes to go with their school photos, only to find that the quotes had been removed.
The problem? Both quotes referenced each student's homosexuality, but the quotes were the idea of each of the students, and it appears that each of them took care to ensure that the quotes wouldn't offend.
Thomas Swartz and Joey Slivinski, both graduates of Kearney High School, had submitted their quotes on time, giving the school plenty of time to determine whether they were acceptable. Both graduates heard nothing and assumed that their quotes would be making it into the yearbook.
Swartz' quote read, "If Harry Potter taught us anything, it's that no one should have to live in the closet."
Slivinski's read, "'Of course I dress well. I didn't spend all that time in the closet for nothing.'"
Reportedly, the boys learned that the quotes hadn't made the final cut when they received their yearbooks.
According to the Kearney School District, it's policy to remove messages from school yearbooks that "could potentially offend," but the district admitted that there had perhaps been an error in this case.
"All KSD staff understand the importance of inclusion and acceptance especially in an educational setting," a joint statement from Principal Dave Schwarzenbach and Kearney School District Superintendent Bill Nicely read. "We work diligently to help every student feel safe, supported, and included. District staff participate in ongoing training around issues of diversity and support student organizations that do the same. That being said, we acknowledge our mistake and will use it as a learning opportunity to improve in the future."
However, an openly gay Kearney School District board member is now saying that the removal of the quotes may have just highlighted the challenges faced by youth who are considering coming out in a small town like Kearney.
Board member Matthew Ryan Hunt took to Facebook to criticize the removal of the quotes in a manner that was less than forthright.
"None of my fellow board members or district administrators involved in this incident knows what it's like to be openly gay in such a small town like Kearney," Hunt wrote. "None of them know the sacrifices made and the courage shown by these two individuals to come out as gay in high school."
Kearney is located in northwestern Missouri and boasts a population of around 9,800 people.
Slivinski noted, via Facebook, that he felt the omission of his quote only served to highlight a lack of acceptance of who he is by the school board.
"Our schools are supposed to be a place that you can express being who you are," he said. "Today I realized Kearney isn't ready for me being me. I always thought Kearney was going uphill but quickly realized we're zooming down hill quick. Thank to Matthew Ryan Hunt for helping me out so much. Thank you to the Kearney School District for making me feel like you're ashamed of having a gay student."
Swartz' approach was decidedly more angry. He referred to the omission of his quote as an "attack" by the school board and said that the school board's desire to protect him and Slivinski was decidedly misplaced.
"The only people I need protection from are the people directly involved with deleting my statement and infringing upon my civil rights," he said, adding that he'd come out to his parents at 15, and due to his involvement with the Gay Straight Alliance, there were few at the school who didn't know of his sexual orientation.
Swartz also questioned why his quote referencing Harry Potter was not allowed while a prior quote that may be deemed misogynistic was. In a prior year's yearbook, a graduate put, "If I could vote, I would've voted for Trump because I can't stand having a woman as president."
"Why is misogyny acceptable?" he asked. "How is every female at KHS not threatened by this statement? Yet it was allowed in the yearbook. Why didn't KHS 'protect' young women? Discriminating against someone because of their sexual orientation is no different than discriminating against someone because of their race, color or gender."
Swartz also said that he was going to "break the box" that he felt officials were trying to place him, and ultimately Slivinski, into.
Beyond the joint statement from Schwarzenbach and Nicely, there has been nothing further from Kearney High School or Kearney School District. For their part, Slivinski and Swartz plan on making stickers with their respective quotes on it and giving them to friends.