Trump's Sexism and Misogyny
Donald Trump has admitted to forcibly groping and kissing women, and walking into dressing rooms to gawk. Now as president, Trump's sexism and misogyny knows no bounds.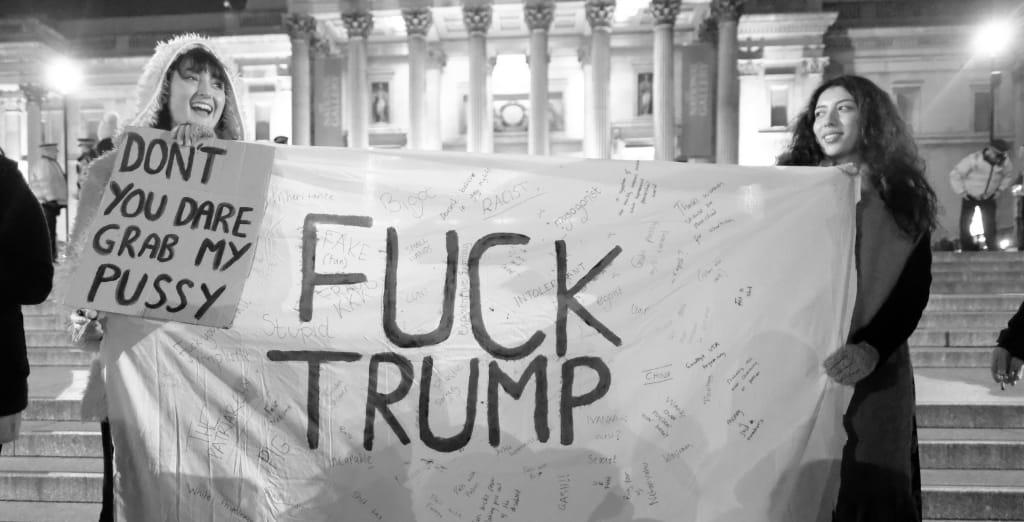 Donald Trump's sexism and misogyny is well documented. His attitude toward women is that they are less than him. He believes he's entitled to use women, comment on women's bodies, demean women from his platform as President of the United States, and abuse women using the legal system or his own physical strength.
This context is important when evaluating any allegations of sexual misconduct and harassment made against him. The accusations against Trump fit into a history of behavior supported by many corroborators and his own words.
The Tape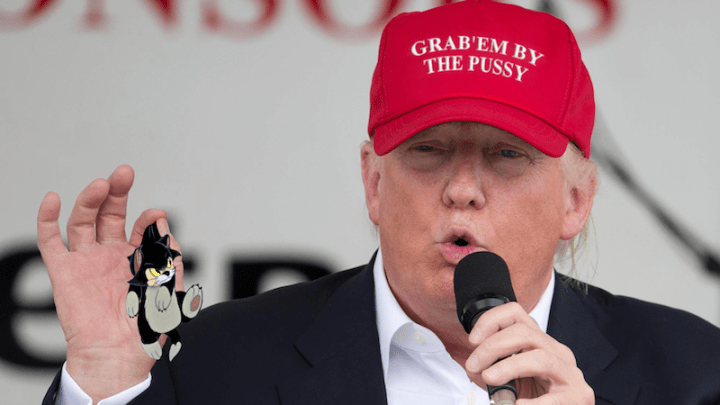 In the midst of the 2016 election, an audio tape surfaced of Trump bragging to Billy Bush while the two were filming a segment for Access Hollywood. The tape contained Trump's history of sexism and misogyny expressed in the President's own words. In particular, Trump brags about grabbing women by their genitals and forcibly kissing them, an act that appears again and again in the accounts of women who allege being assaulted by Donald Trump.
As Trump put it, "I'm automatically attracted to beautiful [women] — I just start kissing them. It's like a magnet. Just kiss. I don't even wait. And when you're a star, they let you do it, you can do anything … grab them by the pussy. You can do anything."
Walking Into Dressing Rooms
From 1996 to 2015 the Miss Universe franchise belonged to Trump, which made him owner of Miss USA and Miss Teen USA as well. It was alleged by multiple contestants that 1997, 2000, 2001, and 2006 were all years that saw Trump entering dressing rooms while contestants were in various stages of undress. These were allegations that Trump admitted to in a 2005 interview with Howard Stern.
In explicit detail, Trump said, "They're standing there with no clothes. And you see these incredible-looking women. And so I sort of get away with things like that."
The Allegations
The allegations against Trump align with the modus operandi he's expressed in his own words. Jessica Leeds alleged that when she sat next to Trump on a flight in the early 80s that he began touching her, grabbing her breasts, and attempted to put his hand up her skirt. Kristin Anderson alleged that in the early 90s when she was at a Manhattan nightclub Trump, again, tried to grope her under her skirt.
Natasha Stoynoff, Rachel Crooks, and Temple Taggart McDowell all accused Trump of forcibly kissing them; while Ninni Laaksonen, Mindy McGillivray, and Karena Virginia all accuse Trump of groping their bodies. This is just a sampling of the many women who have made accusations against Trump.
The similarities in the stories, the abundance of the accounts, and the ways in which they align with what Trump himself has said of his own behavior suggest that these aren't women who are motivated by fame or political agendas as Trump claims–these women are telling the truth. It should weigh heavy on America's conscious that Trump's sexism and misogyny has been allowed to continue unabated for decades, even while in the White House.
Lost Tycoon: The Many Lives of Donald J. Trump, written by Harry Hurt III, contains an account of the night that Donald Trump raped his wife Ivana. This isn't the hyperbolic language of the author but rather the language used by Ivana in a sworn statement given during the divorce proceedings.
When the book came out in 2016 it came with an insert from Ivana that described the incident, and then said, "I referred to this as a 'rape,' but I do not want my words to be interpreted in a literal or criminal sense."
The insert, however, did not actually deny her earlier testimony that she had been raped by Donald Trump; it only revealed that Ivana was not comfortable using the word "rape" to describe the incident.
The judge who presided over the divorce believed Ivana's account and granted a divorce under the condition that Donald subjected Ivana to "cruel and inhuman treatment."
In New York, divorce can only be granted if one of six criteria is met; the designation of "cruel and inhuman treatment" draws attention to how Ivana was subjected to Trump's sexism and misogyny.
NDAs
Trump already has a history of levering the legal system against others. He threatens to sue everyone from critics, accusers, and the The New York Times. So, it's no surprise that he attempts to do the same to women with whom he has affairs or who've leveled accusations against him. Stormy Daniels was paid $130,000 and signed a none disclosure agreement (NDA) that could lead to her being fined $1 million for each breach.
Similarly, former Playboy model Karen McDougal claims that the National Enquirer, which is owned by Trump's friend David J. Pecker, bought the rights to the story of her affair with Trump with the intention of never publishing it. McDougal also signed an NDA.
Of course, Trump makes a lot of people sign NDAs, including members of his own administration (an act that many have deemed unenforceable). It's a true testament to the shortcomings of American justice that Trump's sexism and misogyny is so easily enabled.
Marla Maples
Trump's already had one high profile affair: he met his second wife Marla Maples while still married to Ivana. He even brought Marla to a family vacation in Aspen. While other nations consider America's interest in their politicians having affairs as nothing more than the US's puritanical roots, an affair is evidence of Trump's sexism and misogyny in so far as it's an expression of his transactional relationship with women.
Trump met Melania while dating Celina Midelfart while being separated but not yet divorced from Marla Maples. To Trump, women only exist to service him. It's no surprise, then, that Melania was also not spared from an, at times, highly transactional relationship.
Women's Rights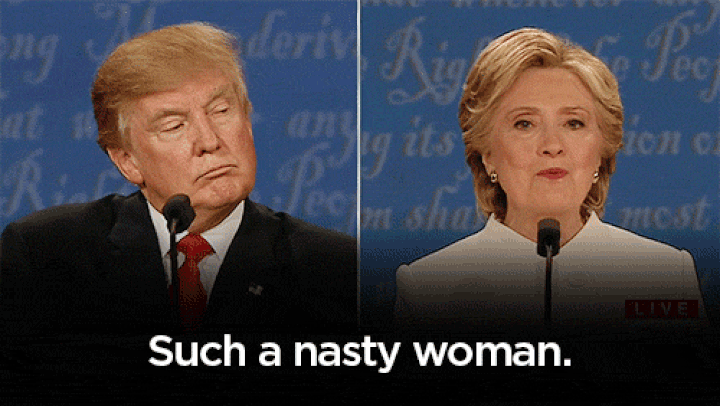 Trump's sexism and misogyny was expressed in who he filled his administration with and what policies the Trump administration enacts. He filled his administration primarily with men, including those positions which most directly affect women's health.
As a result, we're treated to countless photos populated roughly 100 percent by men who are policing women's reproductive rights and continuing legislation that treats women as second-class citizens.
Trump Demeans Women
During the Republican primaries, Trump directly insulted Carly Fiorina's appearance, saying, "Look at that face! Would anyone vote for that?"
Trump accused Megyn Kelly of, "Blood coming out her wherever."
Of Natasha Stoynoff, who alleged she was assaulted by Trump, the President said, "Look at her, look at her words, you tell me what you think. I don't think so."
After Hillary Clinton walked in front of Trump during the presidential debate Trump later said, "When she walked in front of me, believe me, I wasn't impressed."
Trump referred to former Miss Universe winner Alicia Machado as, "disgusting," because she has a sex tape and a "past."
Demeaning and publicly humiliating women is yet another way Trump expresses his sexism and misogyny. Some say that, for example, Trump's "Shithole" comment is misdirection, but comments like these are acts of harm in and of themselves. They degrade the quality of discourse in America, cause emotional distress, and amplify extremism.
Trump Amplifies Extremism
Donald Trump's sexism and misogyny empowers groups that use oppression of women as a recruitment tool. His social media ties to white supremacists on social media,his failure to properly condemn terrorism committed by white American men, and his administration's lack of concern about the presence of far-right extremism only endangers the country and legitimizes these groups. And, unfortunately, the people most disproportionately targeted by these groups are women, ranging from threats of violence to domestic assault.
Ivanka Trump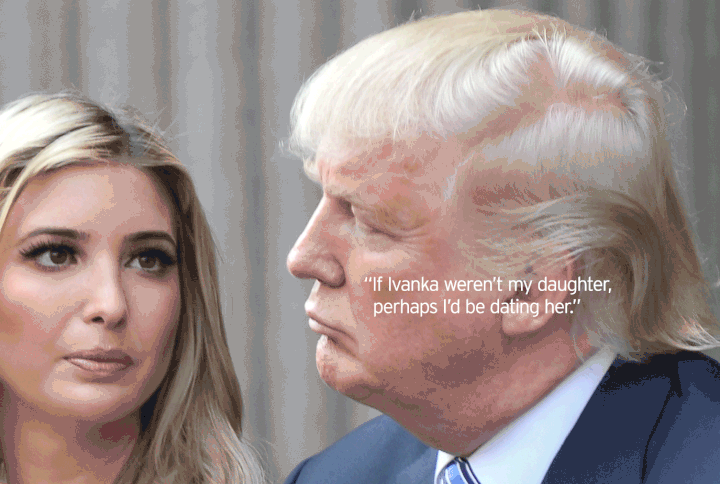 Being his daughter hasn't spared Ivanka from being subjected to Trump's sexism and misogyny. On the surface, Trump may seem complimentary of his daughter, but the way he speaks of her isn't how someone expresses love for their daughter; it's the language someone uses to describe a status symbol.
"I've said if Ivanka weren't my daughter, perhaps I'd be dating her," Trump said on TheView in 2006 while Ivanka sat right next to him. "Don't you think my daughter's hot? She's hot, right?" Trump asked of Miss Universe 1997 when Ivanka was 16.
"I helped create her. Ivanka. My daughter, Ivanka. She's 6 feet tall, she's got the best body," Trump said on Howard Stern in 2003. Trump in his own words is no friend to Trump.