Trump Has "Kind Of Disappointed" Caitlyn Jenner
Thousands Of Americans Likely Feel The Same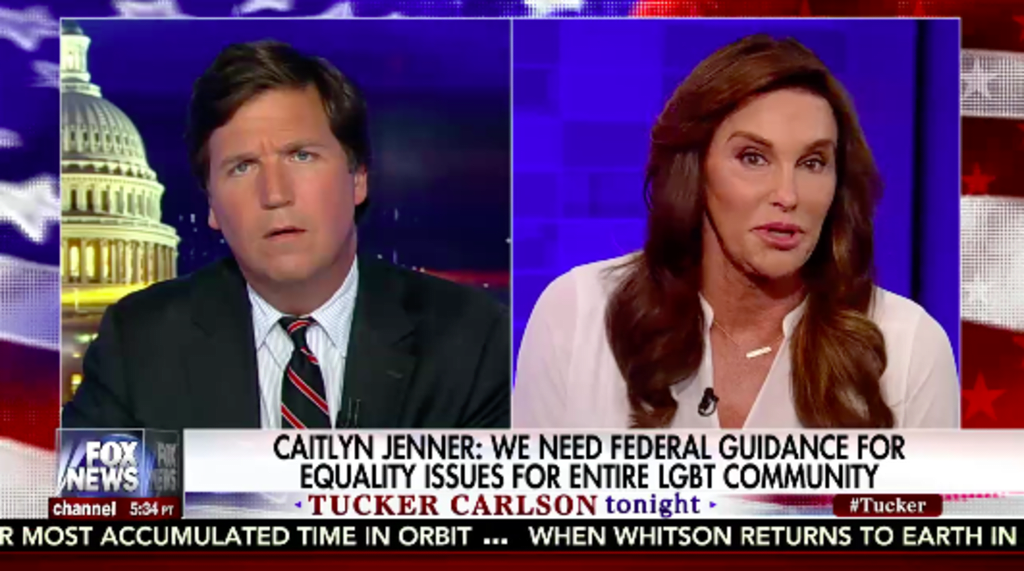 Caitlyn Jenner appeared on Tucker Carlson Tonight on April 24 in the former The O'Reilly Factor time slot, and host Tucker Carlson delivered a bombastic hour that would have done former Fox host Bill O'Reilly proud. The hour was filled with arguments about transgender rights, and defense of Jenner's vote for Donald Trump, and lots of bluster. It was clear, right from the start, that Carlson looked up to the man who once held the time slot that Carlson was taking over.
"I watched Bill O'Reilly at this hour for years and I always marveled at how well-prepared he was, how tough he was, and how crisply and directly he expressed his views," Carlson said at the top of the hour. "What O'Reilly did was not easy — he set a high bar — and I'm going to do my best to meet it. Thanks for sticking with us."
Caitlyn Jenner, who was recently the subject of artist Sabo's remake of the It poster that got put up throughout Los Angeles, was on Tucker Carlson Tonight to discuss her memoir, The Secrets Of My Life. As one might have expected, the athlete discussed transgender rights and her support of Republican candidate - and now president - Donald Trump. She noted that she was never an outward supporter of Trump but ended up seeming as though she was supporting Trump specifically because he ultimately became the Republicans' choice.
"I'm on the Republican side and he ended up being our candidate," Jenner said.
Jenner admitted that she's been "kind of disappointed" by Trump's performance thus far, particularly concerning LGBTQ rights. She pointed to Trump's revocation of the Obama administration's guidelines regarding Title IX as evidence that demonstrated a lack of work on LGBTQ rights by the Trump administration. President Obama signed an order allowing elementary and high school students to use washrooms and other facilities, such as change rooms, corresponding to their gender identity rather than the gender they had at birth.
According to Variety, there were points during the Jenner-Carlson interview where it seemed that Carlson was attempting to make Jenner look disingenuous, which he succeeded at. He was ignored by Jenner during his attempts to discuss biological determinism or Olympic athleticism, and it was clear that Jenner was becoming quite irritated.
She also highlighted her reasoning in remaining a Republican in spite of Trump's apparent stance on LGBTQ issues. She emphasized to Carlson that she was not a one-issue voter and believed that she was better off trying to convince her fellow Republicans, even those in the Trump administration, to rework their views on LGBTQ issues.
In an era where Fox News claims to be reprioritizing its employees over its bottom line, it's clear that not much has changed with the ousting of both former chairman Roger Ailes and the aforementioned O'Reilly, both of whom had been accused of instances of sexual harassment. Carlson's treatment of Jenner seemed to echo O'Reilly's former commentary of the Olympian, and recalled The O'Reilly Factor's former no holds barred commentary, seemingly regardless of the groups he offended.
In putting Carlson in Bill O'Reilly's former slot, Fox News has made it clear that they want to maintain the status quo they've maintained for years, in spite of the ethical scandals that have rocked the network. Carlson is merely a reflection of the standpoint that Fox News has maintained for a long while, an echo of his predecessor's determination to be inflammatory, and a signal that in reality, there's no real intent for Fox News to change its stance in spite of the recent scandals anytime soon.