Three Reasons Why the #BillClintonIsAPedo Hashtag Went Viral
An analysis of the former U.S. President and his ties to Jeffery Epstein's perverted legacy of evil.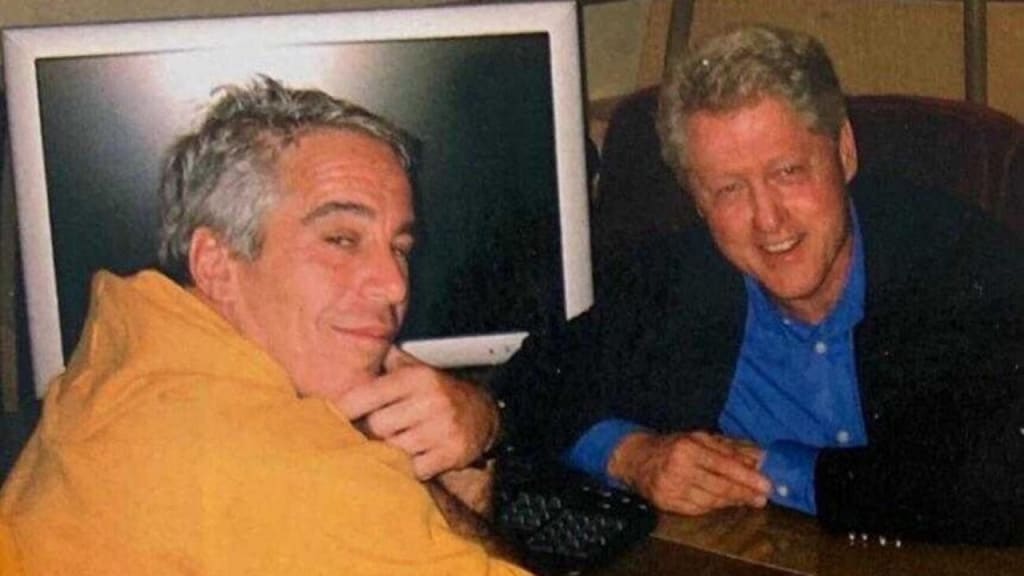 Photo credits: Stephanie Keith / Stringer / Getty Images
The sordid saga of disgraced and deceased financier Jeffery Epstein has failed to go away months after his purported jailhouse suicide in August 2019.
The late celebrity money manager's disgusting and demonic life of depravity was exposed for a second time last year as he awaited trial. Epstein faced federal charges related to a new child rape and sex trafficking indictment but there was much more to the story. To close observers of his case, the billionaire businessman was someone who knew too much.
As an influential figure and ringleader of a massive, international operation of sexual slavery, Epstein had many friends in very high places. The underage girls he victimized were used as decoys to keep a steady diet of big fishes on the hook — Politicians, wealthy businesspeople, and even figures within the world's royal families bit the bait.
Ghislaine Maxwell, Epstein's former girlfriend/madam was instrumental in making sure there was plenty of bait to bite. But now Maxwell (a disgraced British socialite and heiress) sits locked away in federal custody awaiting trial on the same type of charges her dead boyfriend faced. However, she too may certainly be aware of incriminating info, which could bring more world-class dignitaries to heel.
Like Prince Andrew of Britain's royal family, former U.S. President William J. Clinton's name continues to come up as word circulates about the so-called "Epstein Island." Though a spokesperson of his denies it, Clinton's link to this repulsive scandal may run deeper than the public can fathom. Here are three reasons why a #BillClintonIsAPedo Twitter hashtag just went viral.
Virginia Guiffre has been a very credible witness so far.
Epstein owned a private island in the Caribbean, which was reportedly a staging ground for mass rape and round the clock orgies involving countless underage girls. Court documents, which were recently unsealed in Maxwell's ongoing criminal case contain statements made by an accuser of hers named Virginia Guiffre.
In a 2016 deposition for a civil suit, which was settled by Maxwell's legal team, Guiffre clearly described a Clinton sighting during her days in captivity — as an abused underage girl stranded on Epstein's Island.
"I remember asking [Epstein] what's Bill Clinton doing here kind of thing, and he laughed it off and said well he owes me a favor. He never told me what favors they were. I never knew. I didn't know if he was serious. It was just a joke," Guiffre said, according to court documents.
It is also worth noting that Guiffre played a powerful role in delivering the battering ram of justice, which was destined to get Epstein a life sentence without parole had he lived.
Bill Clinton was a previously impeached president and accused philanderer who knew Epstein.
Clinton did not earn the nickname "Slick Willie" for nothing. Though she was not an underage teen, it is safe to say that Monica Lewinsky (a former Clinton intern who's damning accusations nearly got him removed from office) was a young woman who definitely saw the sleazy side of America's former president.
If one determines that Clinton is a reformed man who was not as sleazy as Epstein was, the files have got some news for such a person. The former U.S. Commander-In-Chief definitely gave weight to the saying: "Birds of a feather flock together."
"Though the former president's copped to flying on Epstein's private jet, dubbed the "Lolita Express"—and flight logs indicate he flew on the plane at least 26 times, according to the four-part [Netflix] docuseries [called Filthy Rich]. [The film details Clinton's] trip to Africa with Epstein, Kevin Spacey, and Chris Tucker," reads a spring 2020 article published by The Daily Beast.
Clinton himself has once stood accused of forcible rape.
In 1978, when he was running for governor in his home state of Arkansas, a woman named Juanita Broaddrick accused Clinton of raping her. During his wife, Hillary Clinton's 2016 presidential campaign, many other reports about Clinton's long list of allegations of sexual misconduct were publicly brought back up. However, the Broaddrick case against Clinton was the most serious.
"We should look clearly at the credible evidence that Juanita Broaddrick told the truth when she accused Clinton of raping her. But revisiting the Clinton scandals in light of today's politics is complicated as well as painful. Democrats are guilty of apologizing for Clinton when they shouldn't have," wrote Michelle Goldberg, a New York Times columnist.
Though Clinton has denied ever trekking to the infamous Epstein Island, it is undeniably true that he had a sketchy relationship with Epstein during the peak of the dead cash cow's reign of sexual terror. However, it will take more than a viral hashtag on social media to legitimately finger Clinton as an unindicted Epstein co-conspirator.
Furthermore, it is not a case of if or when as it pertains to whether the U.S. government looks into the size and scope of Clinton's Epstein connection. It is a matter of will; for doing so would pit the U.S. Department of Justice against itself and its insurmountably powerful benefactors.
About the Creator
Mr. Trammell is an award-winning digital media producer, freelance journalist, and author. Formerly, he wrote national radio content for the Michael Baisden Show. He also served as Senior Editor at the Your Black World online news network.
Reader insights
Be the first to share your insights about this piece.
Add your insights