Steil's First Year
Ryan Clone Backs GOP Agenda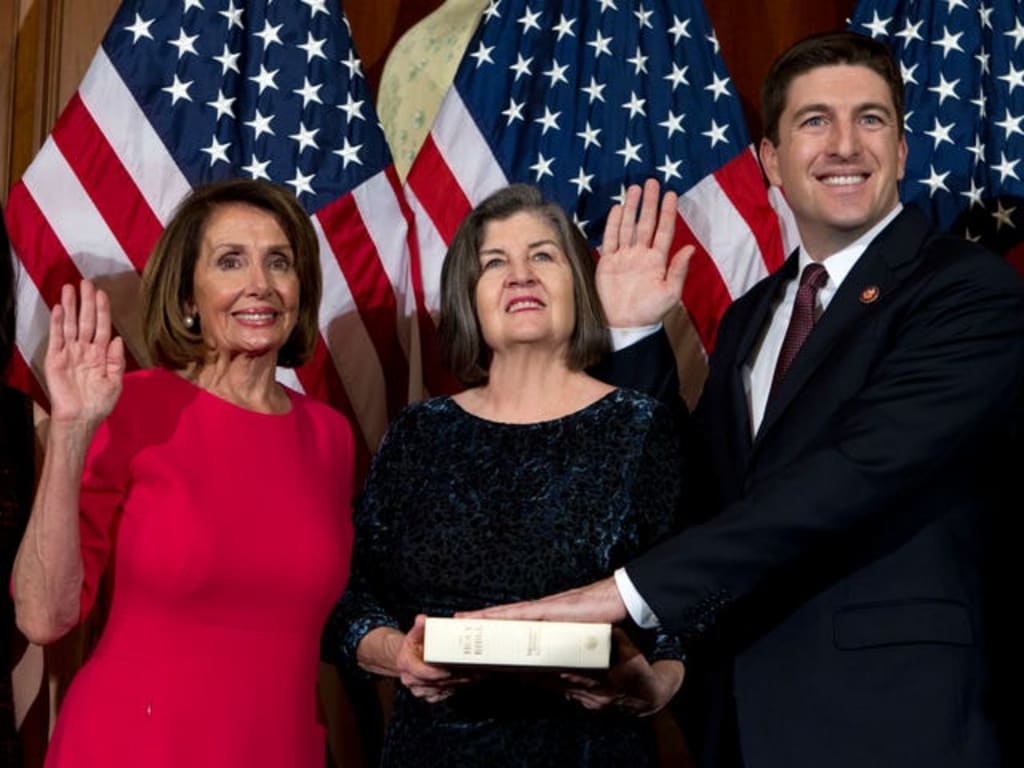 Steil voted against the Democratic agenda for all of 2019
Since we are wrapping up Bryan Steil's first year in the House, it seems like a good time for a review. So here are the top votes for each month, to give you a feel for Steil's record.
JANUARY: Steil closed out his first month in Congress by voting against HR 790, the Federal Civilian Workforce Pay Raise Fairness Act. (RC 63, Jan 30). The bill would give federal employees a 2.6 percent pay increase for 2019. The bill has been sitting in the Senate since January 31, with no action. During January, one-third (21) of Steil's 64 votes were against appropriations bills funding the federal government.
FEBRUARY: In one of the first big votes on Trump this Congress, Steil sided with the administration, voting to support Donald Trump's February 15 declaration of emergency regarding the border wall (RC 94, Feb 26). The Senate actually agreed with the House condemnation of the emergency declaration, but Trump vetoed the resolution, and the motion to override failed on March 26.
MARCH: Steil voted against HR 1, the "For the People" Act, the comprehensive campaign finance and election reform package introduced by House Democrats (RC 118, March 8). Steil also voted for several Republican amendments that would have weakened the bill (RC 112, RC 113, March 7)
APRIL: Steil sided with the Trump administration again on removing US forces involved in the Saudi war against Yemen (RC 153. April 7). The other major vote in April was on HR 1664, the Save the Internet Act; Steil voted against restoring Net Neutrality. (RC 167, April 10).
MAY: Steil began May by voting against HR 9, the Climate Action Now Act (RC 184, May 2). On May 10, Steil voted against providing disaster relief for hurricane victims (RC 202). On May 17, Steil voted against HR 5, the Equality Act, which provides legal protections for LGBTQ victims of discrimination (RC 217). And Steil closed out the month by voting against HR 1500, the Consumers First Act (RC 228, May 22).
JUNE: Steil cast his first extreme vote on June 3, as one of only 58 Republicans to vote against disaster relief for hurricane victims (RC 232, HR 2157). Steil also voted in favor of the lawless Trump administration, opposing issuing subpoenas to Attorney General Barr and former White House Counsel Don McGahn (RC 247, June 11). During debate on the Labor-HHS appropriations bill, Steil voted to slash funding by 14 percent several times. (RC 289, June 13; RC 338, June 18; RC 365, June 19). He also supported 14 percent cuts in the Commerce-Justice appropriations bill (RC 371, 375 and 389, June 20). And in his second extreme vote, Steil voted against increased funding for the IRS Tax Counseling for the Elderly Program (RC 422, Malinowski Amendment, June 26)
JULY: During the debate over the National Defense Authorization Act, Steil votes to support the Trump administration's ban on trans-gendered people serving in the armed forces (RC 439, Speier amendment, July 11). Steil also voted against repealing the 2002 Authorization of the Use of Military Force that gave authority for George W Bush to start the Iraq War, which presidents have used as a blank check to fight the "war on terror" (RC 464, Lee amendment, July 12). Steil also refused to condemn the racist attack by Trump on the members of "The Squad" when he told them to "go back where you came from" (RC 480, 481 and 482, July 16). And on July 16, Steil voted against increasing the minimum wage (RC 496, HR 582).
AUGUST : The House did not meet during August.
SEPTEMBER: Steil opens September by supporting the "Drill Baby Drill" agenda, voting against several environmental protection bills (RC 521 and 525, Sep 11; RC 530, Sep 12), In yet another show of fealty to Donald Trump, Steil votes to allow Trump to steal money from the Pentagon in order to build his fantasy border wall (RC 531, Sep 17). Steil once again supported Trump on his phony "national emergency" voting against the resolution ending it (RC 553, Sep 27).
OCTOBER: In October, Steil voted against greater corporate accountability, with votes against HR 1815, the SEC Disclosures Effectiveness Testing Act (RC 564, Oct 17) and HR 3624, the Outsourcing Accountability Act (RC 567, Oct 18). Steil also voted against HR 2513, the Corporate Transparency Act (RC 577, Oct 22). Because Steil was in Pleasant Prairie for a photo op with Vice President Pence, he missed the votes on preventing foreign interference in US elections (HR 4617, SHIELD Act, RC 583, Oct 23). Congress closed the month by starting impeachment proceedings against Donald Trump; Steil voted against holding the President accountable (RC 604. Oct 31).
NOVEMBER: Steil voted against reforming the Export-Import Bank, which helps US businesses generate trade with foreign countries (RC 624, Nov 15). Steil last vote in November was against HR 1309, the Workplace Violence Prevention for Heath Care and Social Service Workers Act (RC 642, Nov 21).
DECEMBER: Last, but hardly least, Steil concluded a year of being a rubber stamp for the Trump administration by voting against impeachment. (RC 695 and 696, Dec 18). Steil began the month by rejecting HR 4, the Voting Rights Advancement Act (RC 654, Dec 6) and followed that up by voting against lower prescription drug prices for consumers (RC 682, Dec 12).