Bryan Watch: Xmas Edition
Steil Condones Criminal President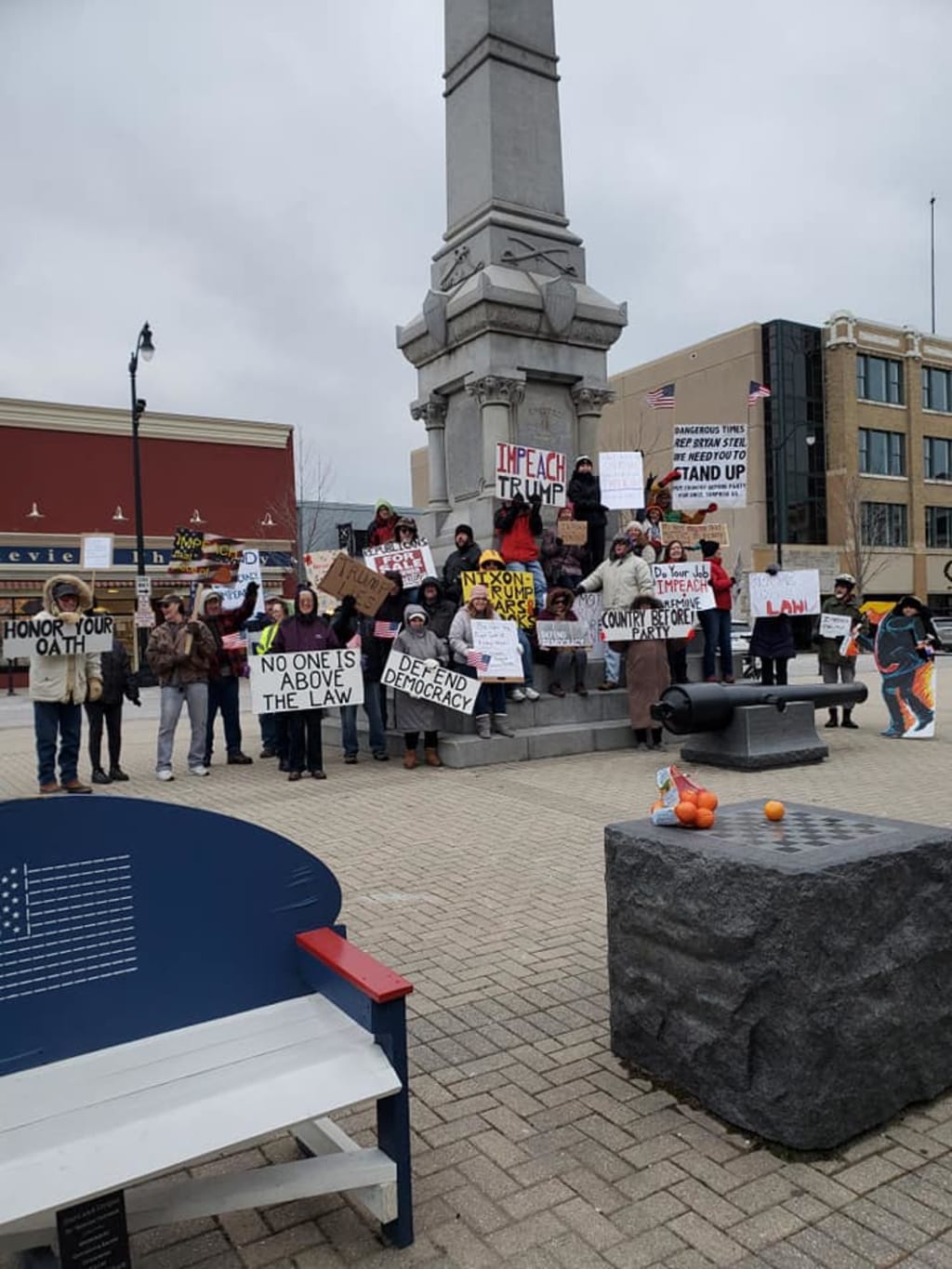 Racine protests Donald Trump December 17
Let's start with the obvious news of the week: At 8:32 PM Eastern Standard Time on December 18, Donald Trump became the third US President to be impeached by the House of Representatives. The first article, regarding Trump's quid pro quo deal with the Ukranians, passed 230 to 197, with only two Democrats (Collin Peterson and Jeff Van Drew) voting no. Every single Republican sided with Donald Trump. The second article, regarding obstruction of Congress, passed 229 to 198, with Peterson, Van Drew and Jared Golden of Maine against. Every single Republican voted in favor of allowing the President to hinder a congressional investigation.
For history fans, the margin to impeach Trump was larger than the margin to impeach Bill Clinton on either Article 1 or 3 back in 1998. (RC 543 and 545, Dec 19, 1998)
Naturally Republicans voted against hearing H Res 755, the impeachment resolution against President Trump (RC 693 and 694, Dec 18). Republicans also tried to adjourn the season before Congress could vote on impeachment (RC 691, Dec 18). Steil also voted for H Res 770, a resolution by Kevin McCarthy criticizing how Adam Schiff and Jerrold Nadler conducted the impeachment investigation, (RC 692, Dec 18)
On Thursday, House Democrats made a small step in reversing the disastrous 2017 tax bill pushed by Trump and Congressional Republicans, with HR 5377, the Restoring Tax Fairness for States and Localities Act. The bill would restore the deduction for state and local taxes to $20,000, reversing a $10,000 cap by Republicans, and it would increase taxes on the highest income earners by restoring the top tax rate to 39.6 percent. Not surprisingly, almost every Republican (including Steil) voted against helping average tax payers. (RC 700, Dec 19). Steil also voted for a motion to recommit by Tom Rice (SC) that would have gutted the intent of HR 5377. (RC 699, Dec 19)
Also on Thursday, the House passed the United States-Mexico-Canada Agreement Implementation Act (HR 5430). USMCA is basically NAFTA rewarmed. However it passed on a bipartisan vote of 385 to 41 (Republicans 192-2; Democrats 193-38). Uber conservatives Tom Massie (KY) and Ted Yoho (FL) while Democrats against were members of the Progressive Caucus (RC 701, Dec 19).
On Tuesday, the House debated HR 1158, the DHS Cyber Hunt and Incident Response Teams Act. The bill would give the Department of Homeland Security additional resources to prevent attackers by both foreign and domestic hackers. The House was split over Senate amendments, but passed the bill 280 to 138 (Republicans 130-62; Democrats 150-75). Steil voted "No" on Roll Call 690.
In an "only in Congress" moment the "National Law Enforcement Museum Commemorative Coin Act" (HR 1865) was converted into the Consolidated Appropriations bill, with spending for much of the federal government, including the departments of Labor, HHS, Education, Interior, Veterans Administration, State and Foreign Operations, Transportation, Housing and Legislative Branch operations. The appropriations bill did pass (297-120), but will most Republicans, including Steil (79 to 112) voting against. (RC 689, Dec 17)
The rest of Tuesday was taken up by several non-controversial bills which passed by wide margins. HR 2548 dealt with local projects being eligible for hazard funds (RC 688, 409 to 7). Wisconsin's very own Glenn Grothman was against that one.
HR 722 designated a mountain in Utah as "Miracle Mountain" (RC 687, 410 to 0). HR 3530, the "Improving Confidence in Veterans Care Act" increases oversight of personnel at VA hospitals (RC 686, 409 to 1). And HR 4183, the "Identifying Barriers and Best Practices Act" deals with disability and pension benefits provided by the VA. (RC 685, 408 to 1). On the last two, the only member to vote NO was Ralph Norman of South Carolina.
As usual, House Republicans voted against consideration of Democratic proposals. On Tuesday, they voted against considering HR 1158, HR 1865 and H Res 761(RC 683 and 684, Dec 17)
Republicans also voted against consideration of HR 5377, a bill on the deduction of state and local taxes (RC 697 and 698, Dec 19)
Scorecard - Votes: 16, Party Line: 11 (11-11), NPL: 5