Reed Alexander's Patriot Review of 'Detective Heart of America: The Final Freedom' (2015)
A Magnum Opus on Liberty and the Pursuit of Freedom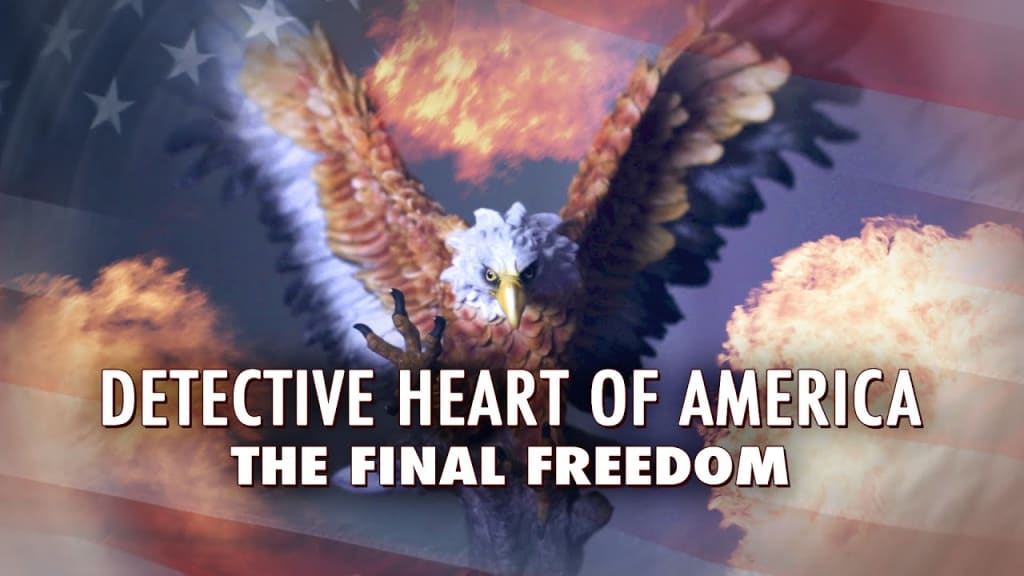 This movie—this epoch—represents centuries of culminating cinematography and screenwriting efforts of the world's greatest minds. Together, they singlehandedly fed their creative muses into the mind of the great master, Jason Steele. Only he could siphon the powers of such amazing intellects and slush it into a singularity of the greatest movie of all times. Only he could interpret the collective unconscious of the super-unknown!
This film—neigh, to call it a film would discredit the very threads of fate that were needed to seamlessly stitch together what would be a visual codex, in order to simply envision the masterpiece of cerebral art that I beg of you... NO! I demand of you to bare witness. The actors pour forth their very souls in such eloquent yet heightened states of being that they reach into your third eye and etch their narrative directly into your conscious. The plot is a journey deep into the shadow self. A journey of your eternal being, into the heart of what is truly oneness with all mankind. The story is a confession of our deepest fears, desires, hopes, dreams—a miasma of our nakedness against the void of time and entropy. This visual equivalent of spiritual enlightenment uses no special effects. No cheap tricks or camera filters are needed! NEVER! Rather, it DARES to summon the real, tangible forces of nature to command the enthrallment of its audience.
I say to you! You are not a true American, you are not a true patriot, YOU ARE NOT EVEN REALLY ALIVE, unless you watch—neigh—GORGE your eyes upon its magnificence! Without witnessing this true human drama, you will always wander with an emptiness you know not how to fulfill!
This is NOT just required viewing for humanity, IT IS REQUIRED VIEWING FOR ALL SENTIENT LIFE AND THEIR VERY GODS!
SPOILERS!!!
HOW DARE YOU TO READ PAST THIS PART WITHOUT HAVING WITNESSED THE MAGNIFICENCE OF THIS, THE EIGHTH WONDER OF THE WORLD! THE HUBRIS TO THINK YOU COULD FATHOM THIS CHEF-D'OEUVRE IN ITS ENTIRETY WITHOUT EXPERIENCING IT FOR YOURSELF!
Go, yee, go and view this rare glimpse into the countenance of the universe! Then and only then, in my feeblest of words, shall I dare to express what only the words of GOD could describe!
This movie begs the ultimate question: What is it to be, to truly exude, America?! Yet, where most films fail to even come close to speculate, this marvel of image and divine light answers the question once and for all!First, it must peel away the layers of the question... what is America? It must drench itself in the blood of innocence lost throughout the creation of our great and perfect land! The sacrifice of the countless, nameless millions of whom its very foundation was built upon.It presents to you a world without America! A world without identity or meaning. A world which must question its very existence? Is it simply here to suffer, only knowing that something deep is missing from its very soul, a plaything for the amusement of the void what has consumed its vital essence?Then and only then does it open the fabric of reality and expose the truth! To be human is to be American! The very meaning of life itself is the promise of freedom only given by AMERICA!Here in,
Detective Heart of America
is the only vassal great enough to burden this truth and deliver it to the masses! The new Sion, the new Christ!Witness it, my children of the American world, witness it, so that we all might finally join across the globe as one united AMERICA!Witness...
satire