McDonald's Tweets President Trump Is 'Disgusting', Claims Hack Job
Company Tweets Derogatory Comment, Then Immediately Deletes It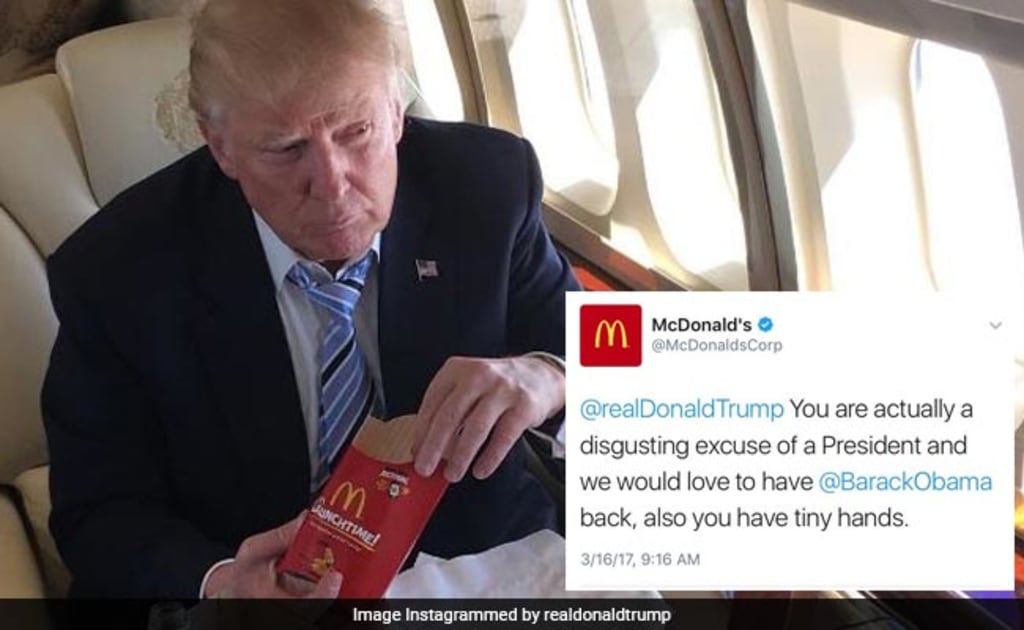 One thing is certain; McDonald's doesn't appear to love President Trump's tenure...or does it?
On the morning of March 16, the verified @McDonaldsCorp Twitter account tweeted the following: "@realdonaldtrump You are actually a disgusting excuse of a President and we would love to have @BarackObama back, also you have tiny hands."
The company very quickly deleted the tweet, but not before it went viral, being shared some hundreds of times before McDonald's made a statement saying that their Twitter account had been compromised.
"Based on our investigation, we have determined that our Twitter account was hacked by an external source," the company said on its official website. "We took swift action to secure it, and we apologize this tweet was sent through our corporate McDonald's account."
Apparently, Twitter was the first to inform McDonald's that their account had been compromised. This was after the viral tweet, sent by the hacker, got pinned to the @McDonaldsCorp wall.
The whole McDonald's tweet debacle lasted no more than 15 minutes, but it was enough for the tweet to make the rounds and for #McStupid to become a hashtag. The tweet was sent via McDonald's corporate Twitter account, which has 155,000 followers as of March 17. In contrast, the main McDonald's Twitter feed has some 3.4 million followers.
It turns out that there were multiple high profile sites subjected to hack jobs on Wednesday; several were hijacked to send anti-Nazi messages in Turkish as a result of a diplomatic argument between Turkey, the Netherlands and Germany. Reportedly, the tweets were sent out through a third party app, and the permissions for that app have been removed.
This is, however, not the first time the Twitter account of a major brand has been compromised. In 2011, a Chrysler employee accidentally posted on the company's Twitter feed instead of his own, and it wasn't anything complimentary.
"I find it ironic that Detroit is known as the #motorcity and yet no one here knows how to (expletive) drive," the tweet read.
Needless to say, that employee was fired. Burger King, Jeep and Sony Music also have been hit in the past with fake tweets.
In the case of hack jobs, hackers tend to find business sites quite appealing, especially when they belong to major brands. Most major corporations have significant followings on Twitter and as a result, any inappropriate tweets have the potential to go viral.
In the case of the errant - and viral - McDonald's tweet, statements both supporting the company and threatening boycott of the company became popular.
"I'll buy 100 McNuggets right now if you put the tweet back up," said one user.
"Never eating at McDonalds again," tweeted another. "I support our President 100%."
President Trump has long been a supporter of the Golden Arches, having appeared in a commercial featuring McDonald's mascot Grimace to promote the now defunct Big N' Tasty burger. While the president has not commented publicly about the McDonald's debacle, some have quipped that should President Trump call for a boycott of McDonald's, that could be a far better health care plan than perhaps anything his administration could put forward.
Regardless of what Trump's response could have been to the potentially inflammatory tweet, it remains to be seen exactly what the overall impact on McDonald's will be in the long run. Pundits, however, believe that there will be little longterm effect on the company; Sandy Lish, principal at The Castle Group, said that while there could be those who would quickly follow through on a McDonald's boycott should the Trump administration call for one, there may be little overall effect.
"There are people that take what he says very seriously," Lish said. "But there are plenty of people who take their french fry with a grain of salt and will continue to eat their french fries."
president
social media
trump
politicians
pop culture