Jeremy Corbyn Is the Man for the Job
For the Many, Not the Few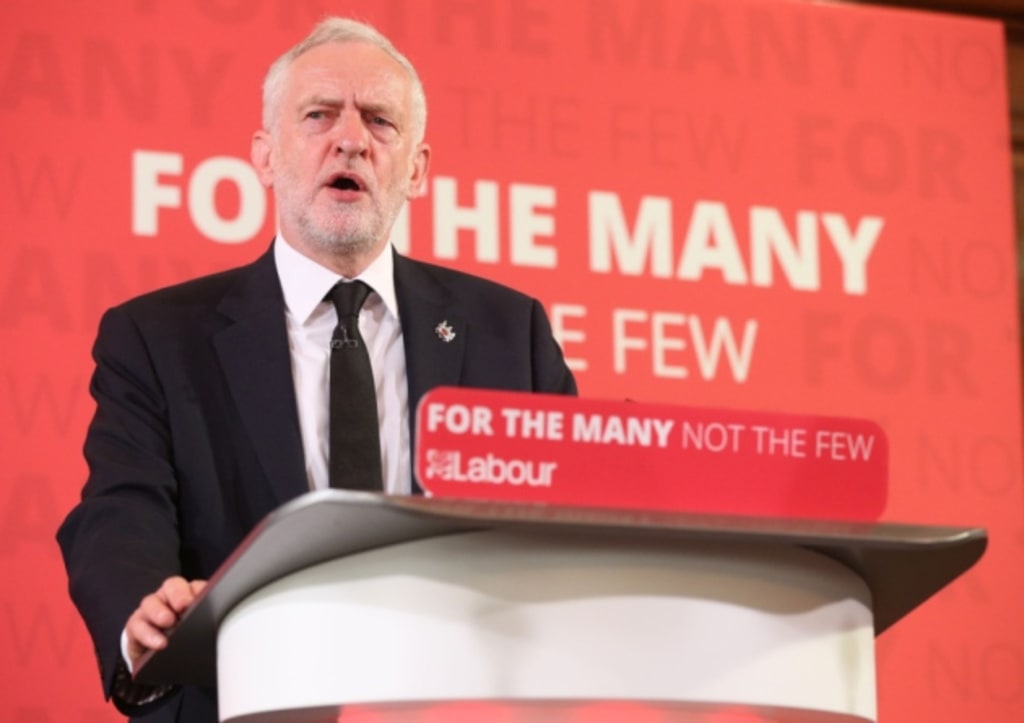 In his new year message, Jeremy Corbyn stated that the Labour Party is "staking out the new centre ground" and that he is leading a "government in waiting." There is an alternative to the current Tory government and we get nearer that reality with every poor decision that Theresa May makes.
Now a bit about the Labour Party leader: Jeremy Bernard Corbyn, born in Chippenham, England on 26 May 1949, is the current leader of the Labour Party. He has been an MP for Islington North since 1983. Corbyn began his career as a representative for various trade unions, his political career began in 1974 when he was elected to Haringey Council, he later became secretary of Hornsey constituency Labour Party, he continued in both roles until he became elected MP for Islington North. He was elected leader of the Labour Party in September 2015 with a vote share of 59.5 percent. Jeremy identifies as a Democratic Socialist. He advocates reversing austerity cuts to public services and welfare funding that have been in place since 2010. Also, he proposes to renationalise public utilities and the railways. Corbyn is also an anti-war and anti-nuclear campaigner. Jeremy was the national chair of the Stop the War Coalition from 2010 to 2015. Also Mr Corbyn has won two peace awards, the Gandhi international Peace Award in 2013 and the Séan MacBride Peace Prize in 2017.
In the snap General election in 2017 (after seeing off a leadership challenge in 2016), the Labour Party finished as the second largest party, behind the Conservatives, with an increased share of the vote and with a net gain of 30 seats. This was their first gain of seats since 1997 and the 9.6 percent increase in vote share is the largest in a single general election since 1945. I haven't mentioned Labour's promise to properly fund the NHS, and this will be a big plus for a lot of people as currently we stand to lose one of Great Britain's greatest institutions due to chronic underfunding and back door privatisation by the Tory Party!
Jeremy Corbyn promised an extra £37 billion for the NHS, during campaigning in the 2017 general election. Labour are the only party that, I feel, will save the NHS. I mentioned that the Tories are trying to privatise the NHS through the back door. This is backed up by the fact that more and more parts of it are now being run by private companies (Care UK and virgin care, to name two). Also, by performing an internet search of "Naylor report" will reveal a telling report on more plans for privatisation.
With more children living in poverty and a sharp rise in homelessness, Jeremy Corbyn wanting to reverse Austerity measures and stop the freeze in welfare funding can only be a good thing. All of the proposals in the Labour Party manifesto of 2017 were, as stated by Mr Corbyn, fully costed.
Certain parts of the media didn't do a lot to help Jeremy's cause, with their articles making accusations about him being a terrorist sympathiser and other slurs, attempting to sully his name. Most of the accusations aimed at Mr Corbyn can be debunked with a simple Google search. Jeremy Corbyn did meet with the Sinn Fein leader, Gerry Adams, but this was, as Corbyn said, to negotiate peace in Northern Ireland. You have to meet with people if your attempting to broker peace deals.
Building a Britain that works for everyone, not just the privileged few, (or something along those lines) was The Conservatives' motto during the snap general election. That couldn't be further from the truth. The Tory Party are only interested in lining the pockets of their millionaire/ billionaire chums whilst making more people homeless and pushing more families into poverty by picking on the poorest in society. This is my opinion on Jeremy Corbyn and why I think he would make a great Prime Minister, and truly build a Britain that works for everyone!