Insanity Gone Mad?
Who are the good guys?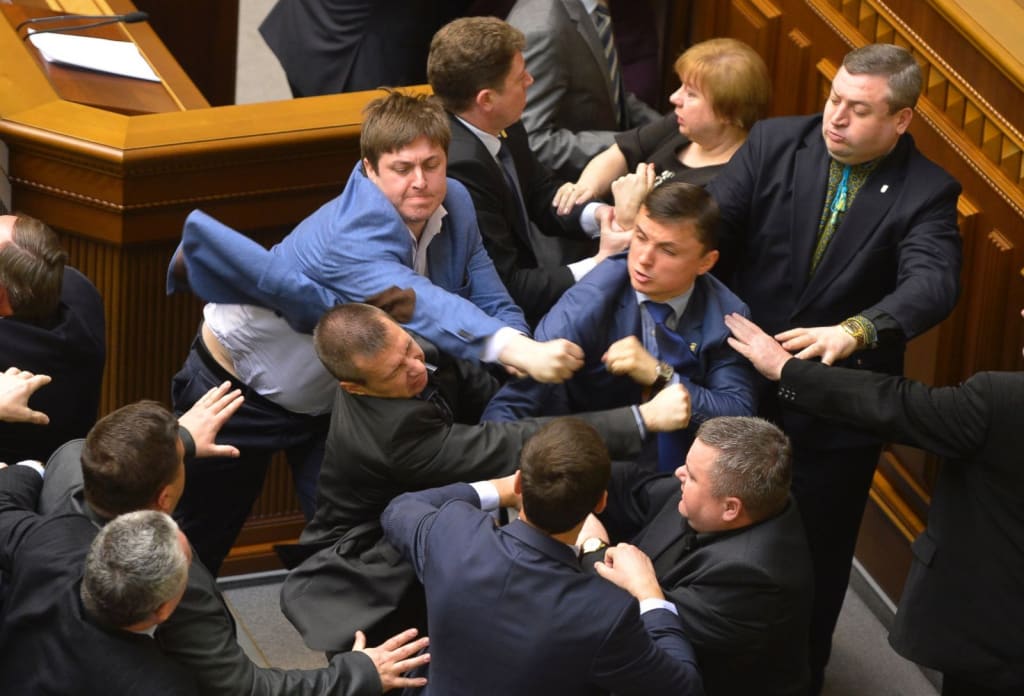 Image via ABC news pictures.
The question "Who are the good guys?" used to be easy to answer. But not anymore. There are still "good guys" around but finding them amidst the madness which is modern politics, is getting close to impossible.
The USA, Canada, UK, Europe before it decided it wanted to move further east, and Australia and New Zealand, were all on the side of the angels. The rest were a mixture of ifs, buts and maybes. Russia and China were very much on the side of evil along with Castro's Cuba and North Korea.
South Korea were also allies. India and Pakistan were happy to play both sides, depending on what situation had arisen. Both being nuclear powers, they had to be treated with care and respect, again depending on the situation.
So, we pretty much knew who would line up with whom.
Now however, this is much more tricky. The people who are making the big decisions are the only ones who know what is happening. They are manipulators and want to change the world for their own advantage. Not content with being multi billionaires, they constantly want more money, more power and will stop at nothing to get their own way.
There are only a few people who have the influence to have markets manipulated in their favour. They use this to change governments worldwide and destroy entire countries if it suits their twisted agenda. We have seen North African countries decimated and left in the hands of extremists, who prefer anarchy to democracy.
The removal of Colonel Gaddafi in Libya is a perfect example of this type of manipulation. A country which had exported terrorism, was brought back into the fold, mostly to take advantage of its vast oil reserves, but nonetheless was relatively stable until the manipulators decided the Colonel was getting too greedy. The people were encouraged to take over the country, with the help of Western governments, and be free. This was completely the wrong thing to do, but for the puppet masters, it was showing the rest of the region what could and would happen if they didn't do as they were told.
It was obvious to someone who can think, that the policy of destabilising North African countries was a completely mad thing to be doing, but when governments are told they have to act in a certain way by the people who control them, they do exactly what they are told.
The idea was to take any semblance of law and order away from these countries and allow ISIS and other terrorist groups to gain control. This made it easier to keep the public scared and thus, further control them. The need for more surveillance of all of us, we are told is for our benefit and the safety of the country. People who complain about the invasion of privacy are told "If you aren't doing anything wrong, you have nothing to fear!
This is always trotted out when concerns are raised about the surveillance society.
We are bombarded with scare stories. This tactic is easy to use, but people are gradually beginning to see through the smokescreen and see what is going on, on the other side. The" migrant crisis" has been manipulated to make the public think they are allowing terrorists to enter all European countries.
Newspaper headlines screaming about the horrors of migrants committing every crime under the sun, are usually not what they seem, but nonetheless, the more gullible members of the public will swallow this without question.
The lines between good and bad are being blurred so much, it's almost impossible to know what is right or what is wrong. News stories are now treated with deep suspicion by the majority of people.
This is not a good situation. How can we get information if we can't believe what we are hearing or reading. Videos showing child victims have been shown to be fake, but wait, is that also fake information? Are the fake stories really true? These are very dangerous times when we have no access to anything that we can believe.
It really comes down to what you actually see with your own eyes. But whether anyone believes you when you tell them, is another story altogether.
We are all being used by people who don't care about whether we live or die in thousands. All they care about is money and the power to protect and make even more money. The so called tax system is a joke. They break their necks to pursue someone for a few dollars or pounds, but the tax dodging wealthy can do whatever they like, knowing they will never have to face the humiliation of court appearances or even prison.
Good guys, bad guys? They are all mixed up together and we will never again be able to trust anyone in authority. That is, if anyone ever did in the first place!