Ian Blackford: Stepping Down At Westminster.
Blackford Told To Go.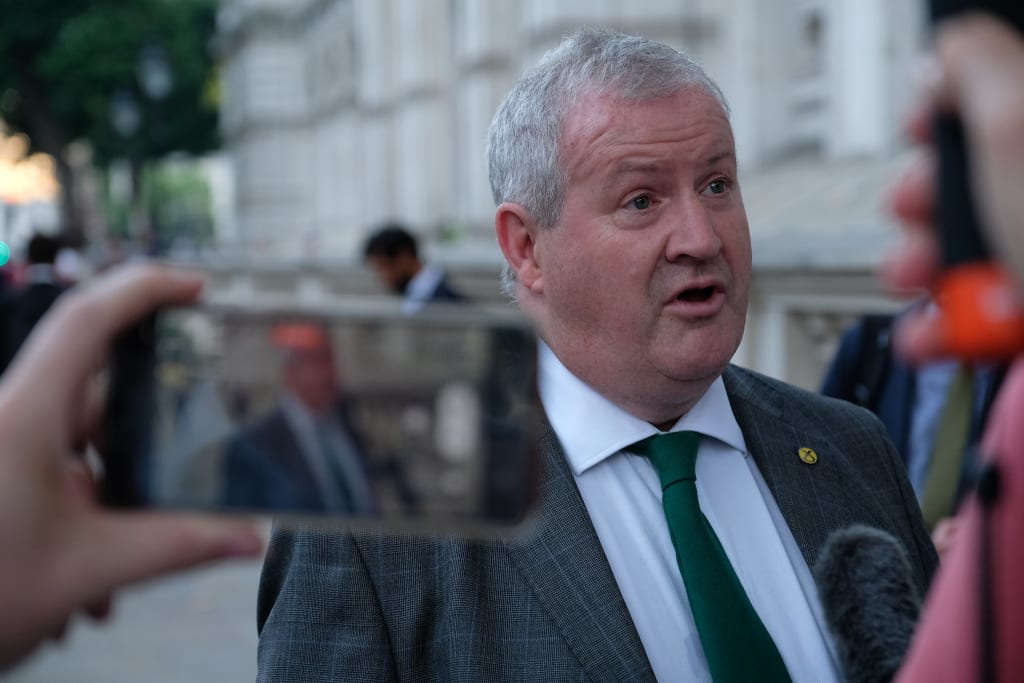 SNP leader: Ian Blackford.
Ian Blackford current leader of the Scottish Nationalist Party at Westminister is stepping down. Ian Blackford was approached by SNP "men in grey suits" and told to go.
Ian Blackford saw Boris come and go and Jeremy Corbyn too. Mr, Blackford has been Nicola Sturgeon's man at Westminister. Mr. Blackford was a typical unflinching Scottish nationalist. However, at Westminister he also spoke for the whole of the UK, especially on the issues of government policy. Mr. Blackford was also a dyed-in-the-wool remainer. Scotland wanted to stay in the EU which was out of step with the rest of the UK.
Mr. Blackford had a career in banking before being elected as an MP. Mr, Blackford is quite well off although not in Rishi Sunak's proportions. Mr. Blackford was a working-class kid that made good.
Mr. Blackford has faced being ousted before by his SNP colleagues at Westminister. Only this when he discovered Aberdeen MP Stephen Flynn had enough backing to oust him did he know the game was up.
Mr. Blackford has been a fierce critic of the Tory government. Often he would join Labour in opposing government policy. His mantra was and will always be Scottish self-determination. However, he was a force for good in many ways for Scotland and for the rest of the UK too.
Ian Blackford has been attacked for his mishandling of the Grady sexual misconduct case, his closeness to the establishment and his reaching out to other parties. Mr. Blackford will not contest his seat again as MP in Westminster at the next general election. Mr. Blackford has also been told to step aside and let a younger person become Westminister SNP leader.
Scotland voted to stay in the UK in 2014. That was described as a once-in-a-generation decision. However, on the back of Brexit, his boss in Edinburgh First Minister Nicola Sturgeon never accepted this decision really. Likewise, she was smarting on how Scotland was forced out of the EU by other parts of the UK. Since then, she has been building her case for another Scottish referendum on Scottish self-determination. However, at the high court, the bid for another vote on the subject was quashed.
This was like a huge punch in the face for Ms. Sturgeon and her supporters. She has now stated she wants the 2024 general election to be another referendum on Scottish independence. However, colleagues in the SNP have become a little unsettled by this. Scotland could not gain independence through the mechanism of a general election anyway. Yes, more SNP MPs will probably end up as the dominant party in Holyrood (where the Scottish parliament is located). Yes, many more SNP MPs will be returned or elected for the first time to Westminister. However, all that proves is that the SNP are still the dominant party in Scotland.
In the SNP itself, there is a growing realisation that Sturgeon is a busted flush. Like Alex Sammond before her independence is what made her and it looks like it will break her. When she falls many who supported her will go too. Ian Blackford as one of her right-hand men has seen the dream of Scottish freedom die. Maybe that's another reason for his stepping down.
So is the dream of Scottish independence truly dead? Well no, it will always have its supporters as much as it will have its detractors. Whoever follows both Sturgeon and Blackford will have to adapt to the political landscape. Independence is still a real dream for the SNP. But another vote to separate legally from the UK is perhaps many years away.
a
About the Creator
I am a freelance writer currently writing for Blasting News and HubPages. I mainly write about politics. But have and will cover all subjects when the need arises.
Reader insights
Be the first to share your insights about this piece.
Add your insights