Hey Liberals: California COULD easily go red...
Scoffing instead of strategizing, liberals in California appear to have set themselves up for a massive political upset.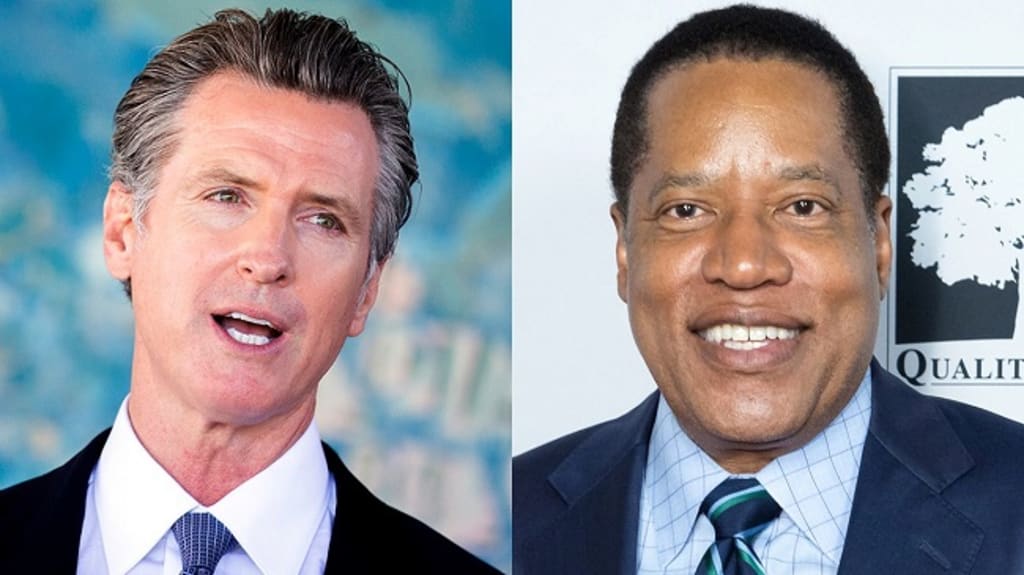 Governor Gavin Newsom (left) and republican Larry Elder (right), via Google Images.
This week California will undergo its second recall election, which will determine whether or not democratic governor Gavin Newsom remains in office or is replaced by a republican challenger.
Talks of recall began last year in the midst of the COVID-19 pandemic, which saw a national lockdown to help prevent the spread of the virus. Governor Newsom's enacting of the CDC's safety measures was praised by democratic constituents and colleagues, but enraging to the conservative base in the state. Fearing impending tyranny and dystopia, republicans took to both the public and social media to pushback against the restrictions and, more specifically, Governor Newsom, who they believe overstepped his legal boundaries not just by closing the state down, but allowing California's already existing pool of issues to persist.
Considered bluff around the time, most Newsom supporters and democrats nationwide expected the hype behind the recall--which they believed to be politically motivated--to quickly fade and disappear altogether. It wasn't until the petition actually gained the traction of almost 2 million votes that Newsom was forced to switch back into campaign mode. The trouble is...his base didn't immediately follow suit, and it can make all the difference with how the recall will play out.
This lack of enthusiasm among democratic voters is a consequential act of ignorance we've seen before. As a matter of fact, it's repetitive.
Leading up to election night 2016, liberal voters who did not show up to the polls had already (and mistakenly) reassured themselves of an impending Hillary Clinton win. No, it wasn't the aggressive and unfiltered rhetoric of eventual president Donald Trump that infuriated and mystified them. It was the polls constantly projecting that the Clinton-Kaine ticket would emerge as the victor.
Reaction at the moment is nothing short of what transpired leading up to the 2016 election. Most California democrats on social media are assuming that their registered base, which outperformed the republicans by just above 5.1 million ballots in 2020, will show up to save Newsom in a landslide. Most are even scoffing at the recall itself, believing that the governor's performance alone will save him from being recalled. As it stands, such voters are leaving the outcome to chance, and if that is the case...the recall will be an easy hand off to the republican challenger.
Recent polling shows a very tight race between Governor Newsom and republican hopeful Larry Elder. Such thin margins have raised the alarms among the democrats as they work last minute to heighten awareness in an attempt to boost turnout. Whether they can manage to show strength in numbers remains to be seen, and it isn't certain they can do so in time.
Also stroking the anxiety of left-leaning analysts is the ambivalence surrounding the recall. Most are cautioning against any projection that Newsom will win and they are even bracing for the worst case scenario. What could hinder turnout for Newsom isn't the inconsistent voter, the falling out of the Latino vote, or the growing number of anti-Newsom democrats. Should the recall see Newsom removed from office, these shortcomings will be blamed and discussed at length. However, they aren't the focus here.
What will certainly hinder turnout for Newsom is the history of lukewarm campaigning that democrats engage in for non-presidential elections. It isn't that they lack the ability to relay a political candidate's message, it's that they lack the energy to maintain it. This proved to be costly to democrats in 2010 and 2014.
Should democrats fail to remedy this bad behavior, they could very well set themselves up for a future election cycle where they will suffer a massive loss all across the country, and it will take years, maybe even decades for them to rebound from it.
Advice to democrats? No matter what the outcome is on September 14th, this recall should serve as a cautionary warning moving forward.