Gentrification: A Viewpoint
Conformity at its finest, but at what extent?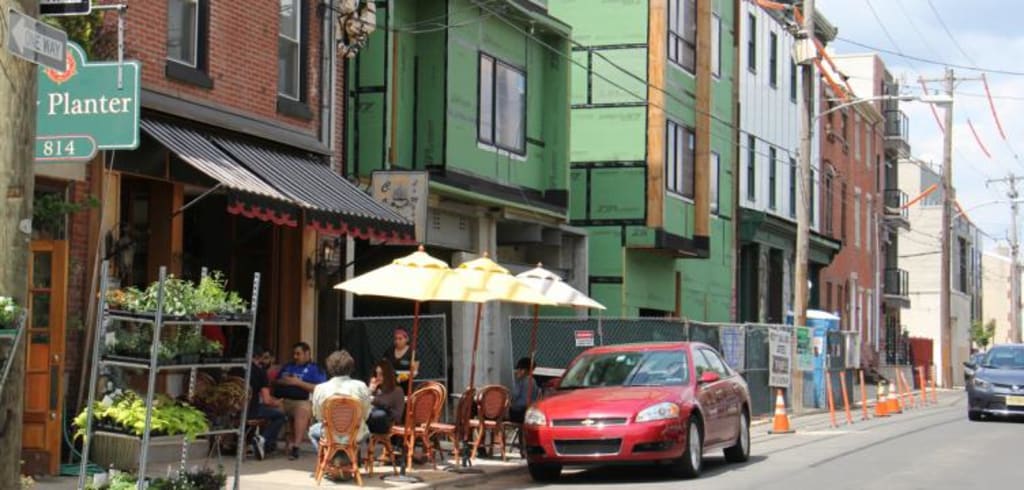 Image via Plan Philly
Philadelphia is all that it was known for, from the LOVE sign down to the infamous cheesesteaks. Though all of those things were well and good; the bad was just as equal in the amount that happens in the city of Brotherly Love. With every success that came with the city, the failures and realities were much greater. Even as a young child, I knew that the city that birthed me had a strong duality to it. I would run up the infamous Rocky stairs only to walk down the old, piss-smelled subway tunnel to head home to the "hood." Neighborhood Murals done by non-profit organizations that have beautiful concepts is only to be mirrored by street artists paying tribute to a fallen homie. Artists tags their calligraphy, etching their existences in high places throughout the city. No one wants to be forgotten, erased out of history yet as I ride through the city; I see otherwise. History and beauty illuminate throughout every corner of Philadelphia.
Coming back to Philly as an adult, I only held onto the memories that made me proud to be from Philly. It didn't matter to me that the city was known for various things; it was landmarks, buildings, and the general history that made me proud. Seeing run-down homes and establishments reverts my mind to a time in which there were thriving business and people existing in those spaces. What were once artistic pictures of communities that thrived, were now deteriorating against the cobblestone walls throughout the city. The crack epidemic that plagued inner cities in the 80s, left only remnants of what was a thriving and promising city. My body cringes walking down broken streets; reflecting broken dreams of past and current residences. Spray painted infrastructures and zombie-like people walking aimlessly down blocks would make the most doe-eyed person, cry. My soul aches for solutions for my community, my heart longs for growth within my people diseased mind-frame that has been ingrained and instilled into our minds for centuries.
Since living in Philly, the "changes" in which I "ache" for is NOT the changes I'm asking for. In the current years, I have seen the progression of times with regards to gentrification. More non-white people are making their way into the "meat" of the city and various parts throughout. Parts that have been coined as "ghetto" or "hood" are now being accommodated for the "Brads'" and "Beckys" who are now migrating into the urban society. Abandon building and houses are being rented and redone without consideration for people who have inhabited communities for years. People who started from gravel years ago had worked hard to gain the simple necessities of living, stability. Now, there is a dire need to increase value in the displaced neighborhood, pushing those people out and bringing people who can afford living in. Family-owned business are being brought out by corporate businesses and left to fend for themselves. Families who started communities are now left to figure out what's next. Being left with moving to another area, another broken neighborhood; forgotten. All these things in order to make the higher-class, non-POC comfortable, reaffirming the idea "steal and conquer."
Diversification is an Idea that I gravitate towards, one that creates unity amongst everyone. Regardless of social or economic status, the like-minded individual would cohabitate urban areas together. Building communities together for the sake of the next generation and globally. The dynamics would be infectious and change mindsets that are amongst various people throughout the United States. The reality, however, shows the influence that the political climate has on the US. The divide between races, classes and any other label that are currently in jeopardy only pushes unity further away. The dream of "World Peace" is becoming an idea, leaving everyone left with their own solutions of what "peace" would look like.
Riding the train, a train that was much cleaner than the older ones, I'm staring out the window. Seeing people pile into the carts, I notice more non-POC coming on, heading south towards downtown. Talking about trials and tribulations that they face during the day, I find myself shaking my head. The problems and issues they are dealing with is only a small portion of issues I know many people in the hood deal with. While "Sarah" complains about the angle in which her washer and dryer are currently sitting in her up-scale Condo, I revert back to seeing an elder woman, carrying her laundry bags down the block. When I start to look at the possible positives of Gentrification, watching unaware attitudes of non-people of color and the nonchalant attitudes that is daily projected throughout Philly; I don't see any. I only see another example of entitlement bombarding a city, a city rich in culture slowly being "whitewashed" and "pushed out" for the sake of White Comfort.