Famous Political Scandals of the 1970s
Most tend to forget, but here's a refresher as to how the bad guys always get caught, and why you should always follow the rules; these are the famous political scandals of the 1970s.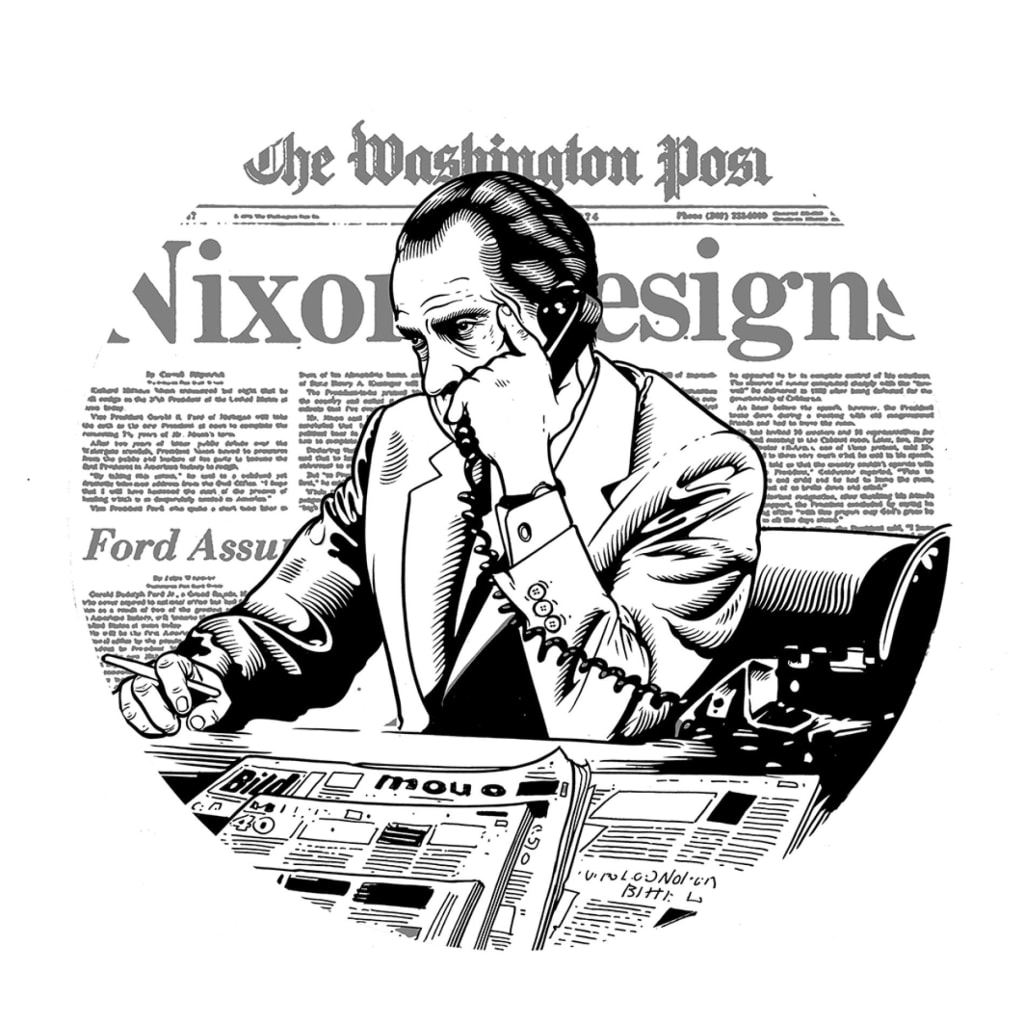 With such controversies as Monica Lewinsky, Benghazi, and John McCain's inclusion among the "Keating Five," we come upon a slippery slope in American self-interests when realizing that America isn't the best place in the world. Suffice it to say, America has had more internal issues than most other countries, besides the UK or Russia, for that matter. Over the past 50 years, in themselves, have shown a good quantity of sex scandals, money laundering, and plain old political tyranny, most of which we might have never know even existed.
Despite this gargantuan understanding behind the US political system and our makeup among diplomatic strings across the world, we still have a lot to show for when it comes to famous political scandals of the 1970s. From grand juries and the federal government, to briberies and corruption, there are various forms of scandals, some being sexual in nature, others even dealing with the faking of one's death in order to flee from debt. People are willing to climb mountains and cross valleys to get their way, so see how they did it in the following scandals below.
Spiro Agnew Resignation
Around the same time as Lord Lambton's sex scandal, about 1973, Vice President Spiro Agnew also resigned from the US political machine. In large part due to the very nature of crooked Nixon's inner workings, in addition to a host of other conspiracies, Agnew's resignation sparked widespread concern, both within politicians and citizens.
Being that it's first among famous political scandals of the 1970s, Agnew's resignation sparked a host of concerns dealing with corruption in office, in addition to the acceptance of briberies by a number of top officials. After his discovery, Agnew had to pay a $10,000 fine, was sentenced three years probation, plus he was disbarred from the Maryland court of appeals.
Lord Lambton Sex Scandal
Lord Lambton's involvement with Norma Levy became an international incident and one of the most famous political scandals of the 1970s. He was promiscuously caught on camera; a photograph was taken of him in bed with two prostitutes while smoking marijuana.
This is what he said on being caught:
"People sometimes like variety. I think it's as simple as that, and I think that impulse is probably understood by almost everybody. Don't you?"
As badass as he may seem, he would later step down from his position as junior defense minister in the government of Edward Health in 1973, due to the seething allegations that made him look both rash and ill-becoming. His scandal also called for the resignation of Lord Jellicoe, who was Lord Privy Seals and Leader of the Lords, and was highly reminiscent of the Profumo affair, causing widespread speculation into Parliament's inner workings.
Watergate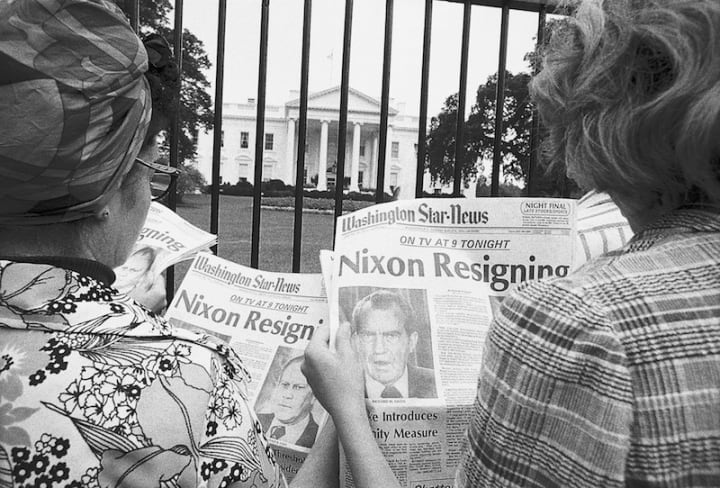 Involving key political characters, specifically Richard Nixon and his vast crew of disciples, Watergate came to be known as one of the most famous political scandals of the 1970s, possibly even the most prominent one in US history. Nixon resigned, and a number of his political affiliates later saw their own careers flushed down the toilet of his undoing.
It all started with a break-in at the Democratic National Committee's (DNC) headquarters in the Watergate complex, which would later be covered up by president Nixon and his administration. Subsequent wiretaps were unearthed in connection with the Nixon staff and the DNC break-in, causing widespread alarm as to the nature of Nixon's presidency. After their arrest, the criminals who broke in were tied to the Committee for the Re-Election of the President, more accurately Nixon's campaign fund, which in turn gave rise to the political misgivings now in question: the Watergate scandal.
Fanne Foxe — Wilbur Mills Scandal
Henceforth ruining the career of Wilbur Mills, Fanne Foxe, or "The Argentine Firecracker," was a Boston stripper, well liked and well perceived in and around the area. Predictable from any previous sex scandal, Wilbur's infatuation of the stripper in question only made his career less meaningful as it grew. This subtle relationship is among many famous political scandals of the 1970s.
After Wilbur was first stopped near Washington D.C.'s Tidal Basin, and learning that Foxe had run from the car, it became clear that the Congressman, who liked to party and drink a little too much, may not have had the political wherewithal for chairmanship of the Ways and Means Committee. Wilbur was very much intoxicated that night, and his political career only backpedalled when he was later seen kissing Foxe in the Boston strip club, an obvious liability for the upcoming election.
The Eagleton Fiasco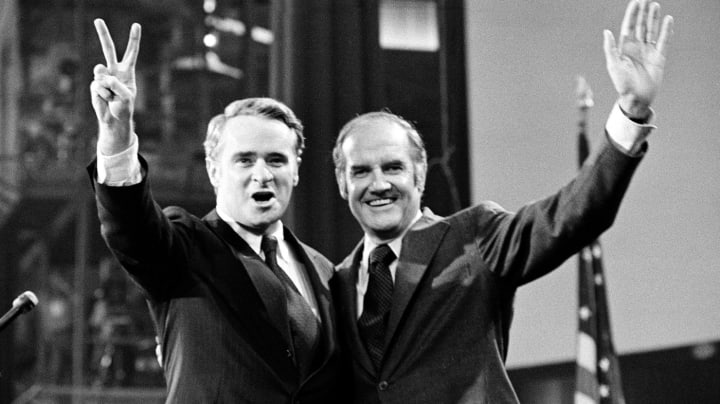 Holistically changing the process by which we vet and choose vice presidents still to this day, The Eagleton Fiasco is among famous political scandals of the 1970s and proves the necessity of the vetting process.
Called to service as a Vice President under George McGovern in 1972, Thomas Eagleton was given an improper background check, liminal at best, and later reports of his having multiple counts of depression, of which could potentially endanger the country if allowed into office, only strengthened McGovern's rival. Even so, Eagleton's medical background was, according to specific voters, not an issue as much as McGovern's ability to govern had been. The discovery of his having depression led to the family's devastation and the Democratic Party soon fell by the wayside in the coming of Richard Nixon, an unrivaled foe.
The Thorpe Affair
Both a member of Parliament and leader of the Liberal Party in Britain, Jeremy Thorpe's homosexual relations with Norman Josiffe saw him lose both positions, Liberal leadership in 1976 and his parliamentary seat in 1979, due to these allegations.
According to various newspapers reports and other sources, Thorpe's affairs with Norman were anything but friendly. By the mid-1970s, it became clear that Norman's relations with Thorpe would become an issue for both the politician and the Liberal Party itself. Things escalated even more when Norman's dog was shot and killed during a potential murder attempt, since any signs of bribing or silencing Norman seemed impossible. Thorpe later came forward to admit the sexual allegations were true during the mid-1980s with the onset of Parkinson's looming over him.
Milk Money Scandal
Hilariously now coined, in a Brennan Center for Justice article, "Got Corruption? Nixon's Milk Money," the Milk Money Scandal grew into one of the most famous political scandals of the 1970s, mainly for Nixon's involvement, but also because it was a massive form of inside corruption brought on by Nixon's Treasury Secretary, John Connally.
Amid December 1973, the young man was a natural star among politics and was even heralded as a possibility for the 1976 Presidential election. American Milk Producers Inc. bribed Connally with $10,000 to pressure Nixon into pumping up milk prices. Later acquitted, Connally's trial saw the likes of LBJ and even First Lady Jacqueline Kennedy in standing up for him.
Chappaquiddick Incident
This is among the crazier ones among famous political scandals of the 1970s, involving a car crash, a drowned body, and a potential US president fleeing the scene. It's not something you'd expect from a Kennedy, but this was the late Ted Kennedy, after all. If it weren't for the incident and events that took place afterward, he'd be our 1980 president over Jimmy Carter.
It occurred on Chappaquiddick Island, Massachusetts, where the US senator lost control of the vehicle and drove off a one-lane bridge. According to his own testimony of the occasion, Kennedy tried to save Mary Jo Kopechne, but was unsuccessful. He wouldn't call authorities for another ten hours, but he was later convicted with a two-year suspended jail sentence. Due largely to this internationally publicized scandal, Kennedy's eventual loss in the 1972 and 1976 presidencies both seemed incontrovertible. Still, it's considered one of the most infamous, yet insane political scandals everyone forgot about.
Abscam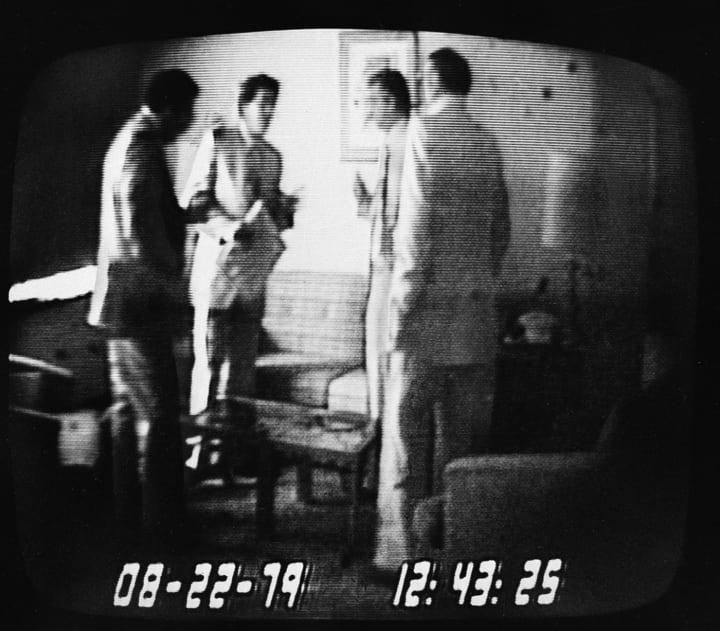 You would never think it possible, but among political scandals of the 1970s is Abscam, the codenamed videotape investigation of bribes made by a fraudulent Arabian company and issued to US politicians. There were 31 targeted officials in total, some of whom would fight these charges claiming FBI entrapment, but every judge overruled these findings.
This was an FBI led sting operation, which brought on the eventual arrests of several political figures, seven among them being Congressmen, others being the Mayor of Camden, another a member of the New Jersey State Senate, and even more belonged to the Philadelphia City Council.
Elizabeth Ray Sex Scandal
As is always the case in a sexual scandal, one man's idea of a good time is just a tunnel through which leads to an unending degree of public torture and pain. Elizabeth Ray, thought to be a receptionist or clerk for the Republican congressman Wayne Hays, turned out to be a whole different kind of assistant. This is one of those political sex scandals that nobody will forget.
It's among famous political scandals of the 1970s, mainly because it sparked a much needed examination of Congress when Ray came out to Washington Post reporters that her duties tended to rely on sexual favors, seeing that she was also said to have had dealings with Senator Mike Gravel on account of supporting Kenneth Gray's current bill at that time. In other words, Ray preformed sexual favors not just for Hays, but also others in line with congressional bills.
John Stonehouse Fakes His Death
To finalize this list, I bring you one of the most famous political scandals of the 1970s that actually isn't as well known as others: John Stonehouse's faked death. After he attained Postmaster General in 1968, he set up 24 different companies to boost his diminishing finances. He was also having an affair with Sheila Buckley behind his wife's back. Allegations made in 1980 by a Czech defector also pointed to his having been a Russian spy, but Margaret Thatcher, Prime Minister at the time, decided against pursuing this line of thought.
It was on November 20, 1974, when Miami officials found a pair of clothes that belonged to the late MP strewn across the beach. It didn't take long for the news to become global, authorities having assumed Stonehouse died due to drowning or shark attack. In actuality, he was halfway across the world and hidden away in Australia. He accrued well over £800,000 in debts, and was arrested by Australian police on Christmas eve, extradited on multiple counts of forgery, conspiracy to defraud, theft and more, then sentenced to seven years in Wormwood Scrubs.
history
Politics may be a disgusting battlefield, but it is a necessary vice in our country, and a particular fancy of mine, like productivity and success. These are important facets in the modern world, and must be expounded upon.