'Covid' Ops: A trail from Netflix to WeWork?
Reasons to be fearful: PART ONE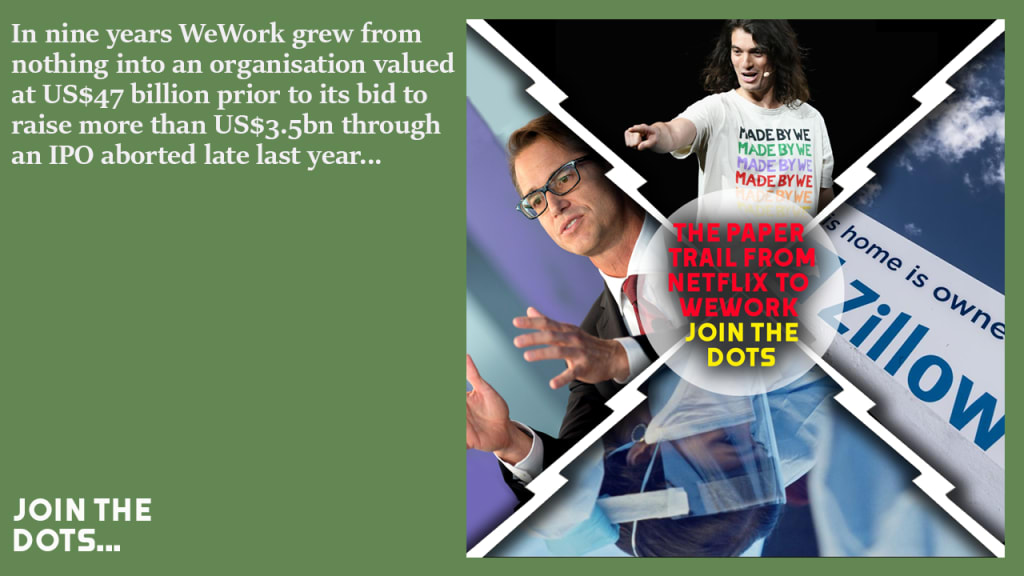 From a Netflix documentary series on pandemics to an aborted WeWork IPO
OK, the puzzle at hand: an impending influenza outbreak, a Netflix documentary series on pandemics, the quest for a universal vaccine, the current "Covid" operations and the mysterious suicide of Jeffrey Epstein. The question: are they inextricably connected?
In an earlier post, Covid: Breaking The Glass, I reasoned the timing of Netflix's documentary series on pandemics was either an amazing coincidence or possibly the result of advance knowledge of a "Covid" operation ready to explode right under our noses.
A look at the list of Netflix directors revealed close associations with US National Security, Microsoft and other influential firms… such as Benchmark, Instagram, Zillow and WeWork… it all gave off a very suspicious aroma.
So, what do we know about Zillow? An American online real estate database company, it was founded in 2006 by Spencer Rascoff, a co-founder of Hotwire.com, and Richard Barton and Lloyd Frink, former Microsoft executives and founders of its spin-off Expedia.
Barton serves as chief-executive, Frink as executive chairman and Rascoff on the board of directors.
In February 2011 Zillow and Yahoo! Real Estate launched an exclusive partnership to create reportedly the largest real-estate advertising network on the web, with Zillow now allowing renters to pay their landlords online for properties on the Zillow Rental Manager tool.
Nothing too ominous there then except that they are "reportedly the largest real-estate advertising network on the web"… which gives them huge opportunities to closely scrutinise key aspects of our personal freedoms.
Worldwide they certainly aren't the only organisation able to harvest such information, but they are clearly storing up a vast amount of valuable data.
It's interesting to note that currently Zillow is the subject of accusations of piggybacking off IBM's patented technology to build key parts of their home-value estimation and search features.
The seven patents at the centre of the IBM lawsuit cover a variety of different technologies, but the ones that stand out most deal with using computing power to analyse the quality and desirability of geographic areas and list-based searches that let users see the results on a map that fits within their screen.
But lawsuits are an everyday part of life on the US financial landscape so nothing particularly unusual there? Except perhaps a small insight into the business ethics of the Zillow management.
So what about the Barton-Frink connection. Something in the far recesses of my mind takes me back to the 1990s and a movie produced by the Coen brothers. But that was Barton Fink so, honest, I'm not making any inferences there.
The Microsoft connection does beg a few questions though… as do other projects Barton has been involved in.
He was a venture partner with San Francisco-based Benchmark until 2018, with some of the firm's most successful investments being eBay and Uber.
Other companies funded by the firm include Dropbox, Twitter, Snapchat, Instagram, Discord, Domo, New Relic, Nextdoor, Stitch Fix, WeWork, Yelp, Zendesk, Zipcar and of course Zillow.
What could we read into that list? Well very simply the means to develop an extremely powerful database system able to monitor just about every aspect of our daily lives: our interactions with friends, our thoughts on worldly matters, a means of tracking our every movement and keeping a very close eye on where we live.
In other words something US National Security would love to get its hands on, as would most intelligence services around the globe... if they haven't already acquired it.
I think most of us are aware that this is what the technological age means for everyone, but it's a huge amount of power concentrated in the hands of a small cabal of powerbrokers, whose ethics we know little about.
Of the companies in that list, one in particular cries out for further investigation… and no it's not Uber, Twitter or Instagram, although I'm sure all three would have some story to tell.
The company that screams for deeper analysis is WeWork, an American commercial real estate company providing shared workspaces for technology start-ups and services for other enterprises.
It was set up in 2010 by Israeli-born Adam Neumann and American-born Miguel McKelvey, with partial funding from Manhattan real estate developer Joel Schreiber, who reportedly purchased a 33 per cent interest in the company for US$15 million.
What makes it so interesting? Well, in nine years it grew from nothing into an organisation valued at US$47 billion ahead of an aborted bid to raise more than US$3.5bn from an Initial Public Offering (IPO) last year.
In August 2019 the company submitted its paperwork to go public but media coverage highlighted heavy losses in its filing disclosures and a month later the IPO was postponed.
Later that month Neumann stepped down as chief executive due to the backlash over the IPO process but he did emerge from it a billionaire, having already sold hundreds of millions of dollars worth of stock before attempting to take WeWork public.
What else do we know about Neumann's nine-year reign at WeWork? Seems he was quite an enigmatic boss: banning staff from claiming for any meals including "meat" on their expense accounts, reportedly smoking weed on a private jet and, a big follower of Jewish mysticism, inviting representatives from the Los Angeles-based Kabbalah Centre to company offices and retreats to teach executives.
It seems Neumann draws much inspiration from Kabbalah and has close ties with the Los Angeles-based organisation which garnered considerable publicity for teaching its version of Jewish mysticism to a number of Hollywood celebrities. More on that in part two!
About the Creator
From Covid to the Ukraine... nothing is as it seems in the world. Don't just accept the mainstream brainwashing, open your eyes to the bigger picture at the heart of these staged productions.
JOIN THE DOTS: http://not.wildaboutit.com
Reader insights
Be the first to share your insights about this piece.
Add your insights