Covid: Breaking The Glass
Will 2020 herald in a brave new world?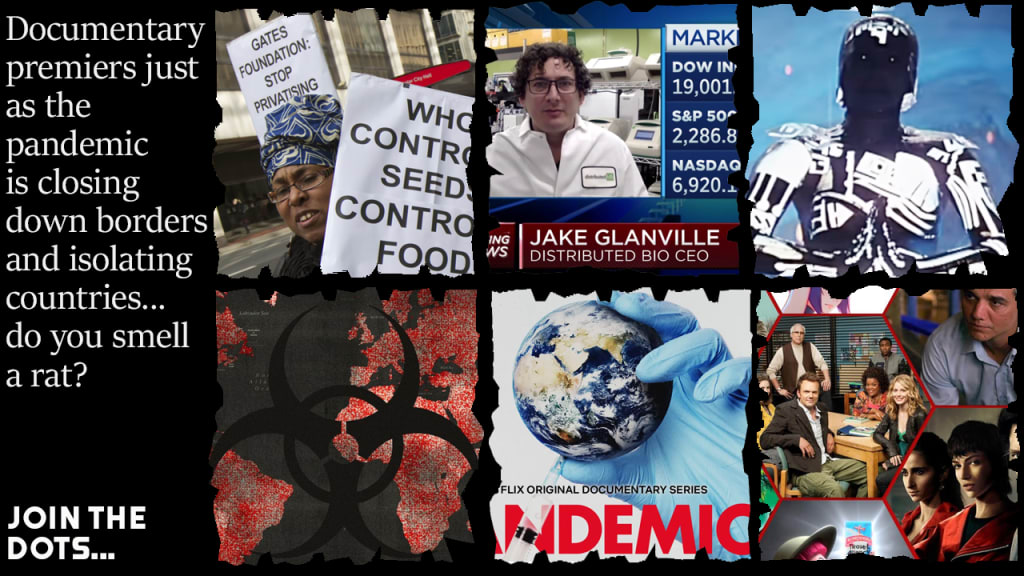 There's much about this Covid-19 pandemic that just doesn't smell right to me... but I try to keep an open mind despite the lack of investigative journalism that seems to be being done by the mainstream media on the subject.
Some of the feedback I've been receiving directed me to a new original documentary series that "coincidentally" premiered on Netflix on Friday, 22 January this year.
Called Pandemic: How to Prevent an Outbreak it follows some of the men and women battling to treat influenza and focuses on their efforts to stop the next global outbreak of the disease.
I must confess I found it rather slow going but it was quite informative, particularly because the flu causes so much global devastation every year. Far too many people die from the respiratory tract infections that can result from it, especially those with compromised immune systems who become infected.
Much of the series focuses on work by Distributed Bio to develop a universal influenza vaccine, able to combat mutations of a large number of RNA viruses, which in the broadest terms cover everything from the flu, to Ebola and coronavirus.
The documentary was recommended I think on the basis that it illustrated medical experts had been worried about an influenza pandemic for some time, so the current outbreak of Covid-19 was just a random manifestation of a crisis they had already been expecting.
But a Netflix documentary? Premiered just as the pandemic was closing down borders and isolating countries? Well, that just exacerbated that odd aroma I'd been sensing as more of the draconian measures unfolded.
So, I tried to find out a bit more about Distributed Bio, it's founder Jakob Glanville and the vaccine he's been trying to develop. I'd also got very little knowledge about the ownership of Netflix, so thought I should also look into that.
But once you start digging dots just start popping up all over the place. There are probably many ways to join them... but with no numbers to follow I'm finding it hard not to head down a conspiracy path.
Distributed Bio was formed in 2011 and has three former Pfizer employees Giles Day, Chris Smith and Jakob Glanville as it's founding partners.
Glanville is the one interviewed for the documentary and he serves as president and chief executive officer. He stresses that in the early years the company struggled for money to invest in the development of the vaccine but can now list pharmaceutical giants Pfizer and Boehringer Ingelheim as "current partners" on their website, as well as having close contacts with the Gates' foundation, which has funded some of its work.
The latest grant from Bill and Melinda's foundation came in November 2019... US$994,875 for pre-clinical studies of a universal influenza vaccine to protect humans and livestock. It's topic listed as pneumonia.
If someone comes up with a vaccine soon, my money's on Distributed Bio… it's like they saw this scenario unfolding almost a decade ago.
Just a coincidence it's all unfolding now, well hold on? Where are the dots about to lead us? If you're starting a panic with a "covert agenda" you've got to give people some reason to buy into it and convince them it's OK to give up their freedoms. Step in Netflix, with a perfectly timed documentary with scientists telling us a pandemic is coming, when our leaders are telling us it's already about to hit. Great timing Netflix.
So, who's at the heart of Netflix? Who's running the show in Los Gatos, California?
A quick look at the profiles of its "officers" throws up one or two little questions, but its list of directors… well, they've got quite some connections.
Richard Barton for example "has a long history of founding and advising successful companies, with a focus on those that bring 'power to the people' by innovating on behalf of the consumer".
The profile goes on: "Rich co-founded Zillow in 2005 and was its CEO until 2010, when he became the company's executive chairman.
"Before Zillow, Rich founded Expedia within Microsoft in 1994 and successfully spun the company out as a public company in 1999. Rich served as president, CEO and board director of Expedia from 1999 until 2003. He also co-founded and served as non-executive chairman of Glassdoor from its 2007 creation through its acquisition in 2018.
"Rich was a venture partner at Benchmark, a venture capital firm that has been an early-stage investor in companies like Netflix, Instagram, WeWork and Zillow, from 2005 until 2018."
Another director is Jay Hoag, who has "served as one of the company's directors since 1999".
His profile states: "Since 1995, Mr Hoag has served as a founding general partner at Technology Crossover Ventures, a venture capital firm. Mr Hoag serves on the board of directors of Electronic Arts Inc, Zillow Group Inc, TripAdvisor and several private companies, including Peloton."
Then there's Brad Smith who has served as one of the "company's directors since March 2015".
He's another with links to Microsoft, where he "plays a key role in representing the company externally and in leading the company's work on a number of critical issues including privacy, security, accessibility, environmental sustainability and digital inclusion, among others".
The profile continues: "Mr Smith joined Microsoft in 1993 and became general counsel in 2002. He spent three years leading the company's legal and corporate affairs team in Europe and five years as deputy general counsel responsible for such teams outside the US. His area of expertise includes competition law, intellectual property, government surveillance and privacy."
Other directors include Anne Sweeney, Ann Mather, Leslie Kilgore, Rodolphe Belmer, Mathias Dopfner, Timothy Haley, the company's co-founder Reed Hastings and ambassador Susan Rice, who directed US National Security Council staff from 2013-17.
Her profile continues by stating she "chaired the cabinet-level National Security principals committee, provided the daily national security briefing to President Barack Obama and was responsible for the formulation, co-ordination and implementation of all aspects of the administration's foreign and national security policy, intelligence and military efforts".
From 2009-13 Ambassador Rice also served as the US permanent representative to the United Nations and her previous positions include US Assistant Secretary of State for African Affairs and Special Assistant to President William J Clinton.
I'm trying not to infer too much from this but with directors closely associated with US national security, Microsoft and other influential firms… there's many more dots appearing before my eyes. It's going to take a while to start joining them up… but Benchmark, Instagram, Zillow and WeWork could make interesting reading.
Something about our current loss of freedoms smells really bad, I do hope those pulling the strings have our best interests at heart, that the hidden agenda brings a better world for everyone. Time to listen to some Hazel O'Connor I think!
About the Creator
From Covid to the Ukraine... nothing is as it seems in the world. Don't just accept the mainstream brainwashing, open your eyes to the bigger picture at the heart of these staged productions.
JOIN THE DOTS: http://not.wildaboutit.com
Reader insights
Be the first to share your insights about this piece.
Add your insights