Congresswoman AOC's Green New Deal is Imperative to the Survival of America and the Entire Planet!!!
Detroit and Every City Needs to Get on Board Now!!!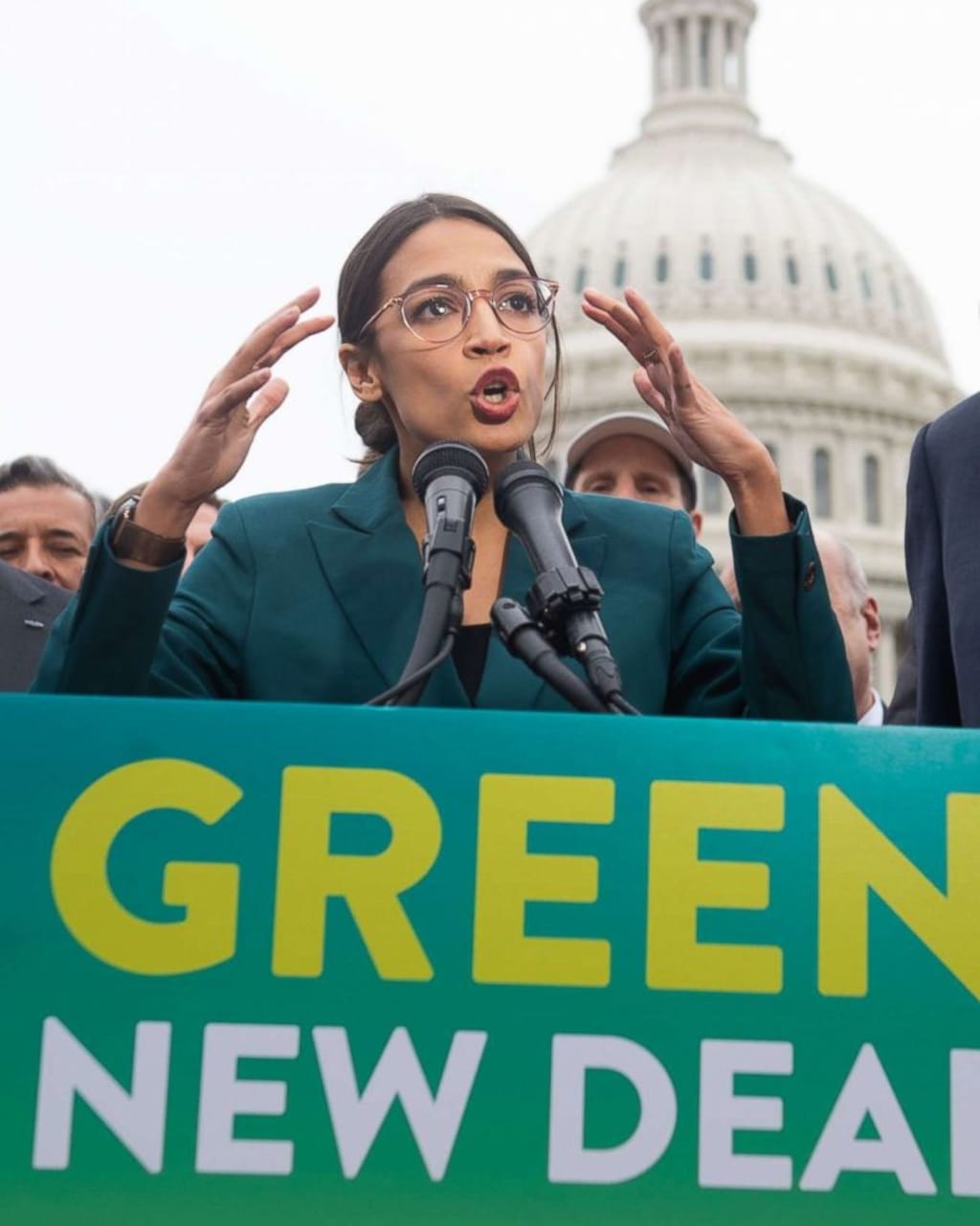 Congresswoman Alexandria Ocasio-Cortez
Not along ago we all witnessed what happened in Texas and we all know well that ice storms are never supposed to happen in Texas! There's are no ice storms there ever (Maxouris, 2021). It's time for Detroit and everywhere else to wake up and see that we've been bad stewards of the earth and it's rejecting all the pollution it's been given to ingest. It's the earth's way of telling us it's not pleased and to do better or things are going to get worse. Things will surely get worse if we continue to not adhere to environmentally safe energy standards for vehicles of all sorts and also industrial machines. It is attainable we just need to execute going green and manifest the idea of being green from perception into reality. There's so many ways to use clean energy and get more done without dirty energy. The earth is our most precious resource bar-none so with must protect it with the Green New Deal. It doesn't matter how much money you have if you're living in a highly polluted living space where chances are you'll going get a form or forms of cancer, have asthma, and lower life expectancy from breathing toxins without even knowing it (Costly, 2020). Sometimes we're just are not paying attention and that is a mistake because we must pay attention at all times. It doesn't take a big thing it just takes the wrong small thing to happen for an environmental disaster to occur. Congresswoman Alexandria Ocasio-Cortez and US Senator Ed Markey get that we must act now because time probably has already ran out.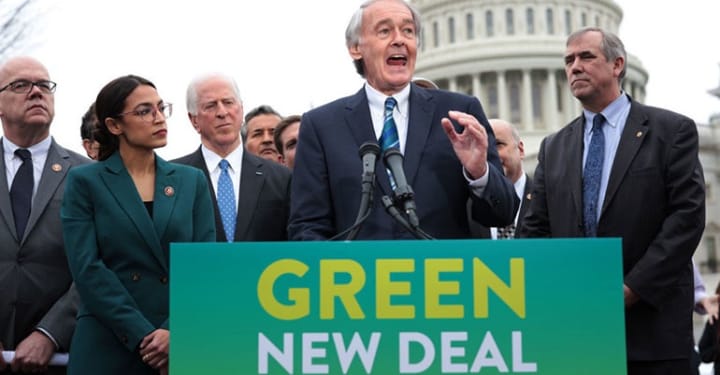 Congresswoman Ocasio-Cortez and Senator Markey understand that the earth must be put first if we plan to be sustained for generations untold. ISO 14000 is a quality measure that regulates the level of pollution of factories and manufacturing organizations to prevent environmental disasters and green quality control mechanisms need to become as common as grocery shopping to prevent more bad results (ISO.Org, 2021). Being as green as possible only has promising possibilities just waiting to be tapped into job creation by the millions for example is guaranteed. Detroit has serious problems with water and air pollution but in the 48217 zip code they have it the worse.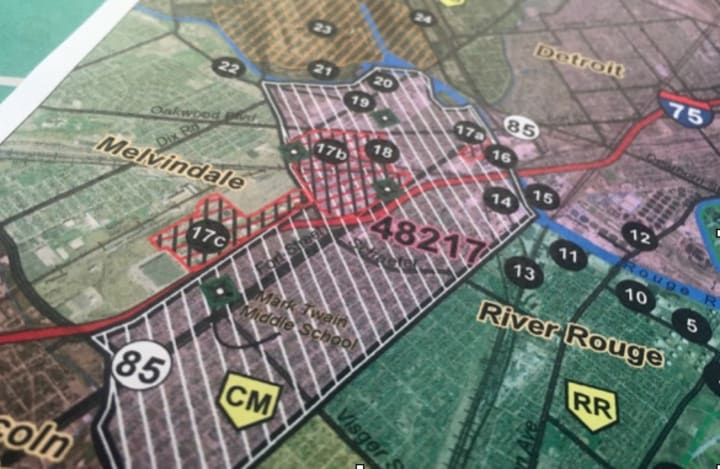 The 48217 zipcode is the most polluted zipcode not only in Detroit but also in the entire state of Michigan. It has 7,000 people and 71% of the population is black and much of the other 29% of the zipcode is latinx (Costly, 2020). The zipcode has poor air quality actually the worse in the state and also has an issue with water pollution in river that runs through the Tri-cities River Rouge and Ecorse as well. The water in the Tri-cites river has lower levels of lead in it than the Flint river but it has the same lead poisoning as Flint, Michigan nonetheless (Kubota, 2017). The Green New Deal could change this harsh reality significantly and protect the people that fall victim to the dirty wastes that comes from the the nearly three dozen facilities that are major polluters every one of them Marathon oil refinery being the worse.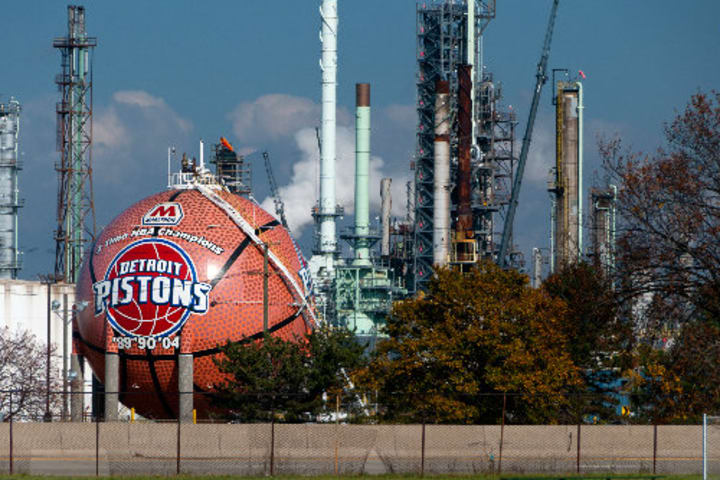 The Marathon Oil refinery has had at least 15 violation notices from the Michigan Department of Environment in the last 10 years for exceeding the limit on state and federal level regulations of toxic emissions (Neavling, 2020). The other facilities that significantly pollute the area are steel mills, coal-fired power plants, gas flares, salt mines, and more. These are directly correlated to the frightening health woes of the people of color that live in the area and love their homes because they can't pick up and leave. For example, Carmen Garrison is a lifelong resident of Southwest Detroit she told the MetroTimes that she's had two miscarriages, a son with a learning disability, two brothers with thyroid conditions as well as learning disabilities, and a good friend that died of cancer in 1980 likely because of the area's high-levels of pollution.
Garrison believes the pollution in the area is to blame and that she can't even walk down her block without her eyes burning, feeling nauseous, throat hurting, and nose running because the toxins from the plants destroy the human immune system after long-term exposure. Approximately 650 Detroiters allegedly die every year just because of air-pollution alone (Neavling, 2020). And the silence from Detroit's Mayor Mike Duggan who is a democrat is despicable. He's very short when come to the topic of pollution and he avoids talking about the alarming rate of poverty in the city altogether. The mayor offers no solutions to the problems he deflects by saying these plants employ Detroiters and the Tri-cities residents which is true but at the same time the pollution from the plants is ruining the health of the residents some of which are pregnant and will likely cause birth defects. The pollutants are known for causing cancer, asthma, and many other ailments. No one but State Senator Stephanie Chang, Detroit Councilwoman Raquel Castaneda-Lopez, and Congresswoman Rashida Tlaib are the only politicians to even address the problem publicly in the state and it's the most polluted zipcode in the state.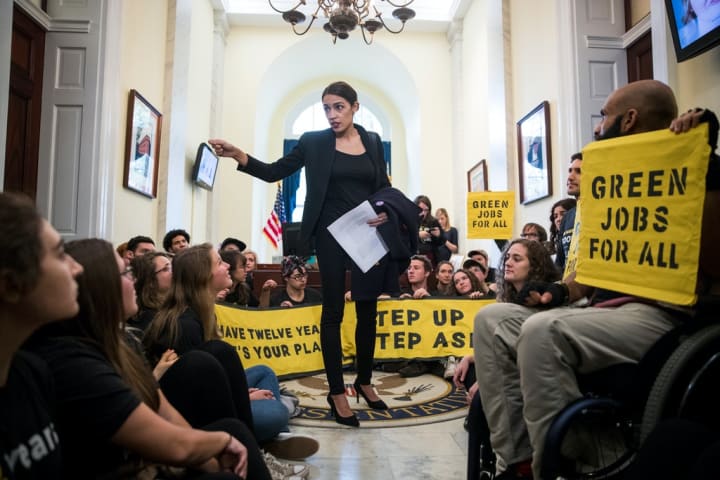 Congresswoman Alexandria Ocasio-Cortez has been boots on the ground with the Green New Deal since she's been in office (Roberts, 2018). Joining forces with progressive activist movements such as "The Sunrise Movement" as well as other organizations that are adopters of the Green New Deal's ideologies like "The Sierra Club." These organizations are relevant to getting residents information that will educate them concerning environmental matters and the Green New Deal. Individuals need to know why provisions must be made to get the Green New Deal into law. The staggering number of people that have contracted illnesses from pollution in Detroit and across the country is undeniable evidence that we must do something and do it now to save the earth our most precious resource (Kurtzleben, 2019).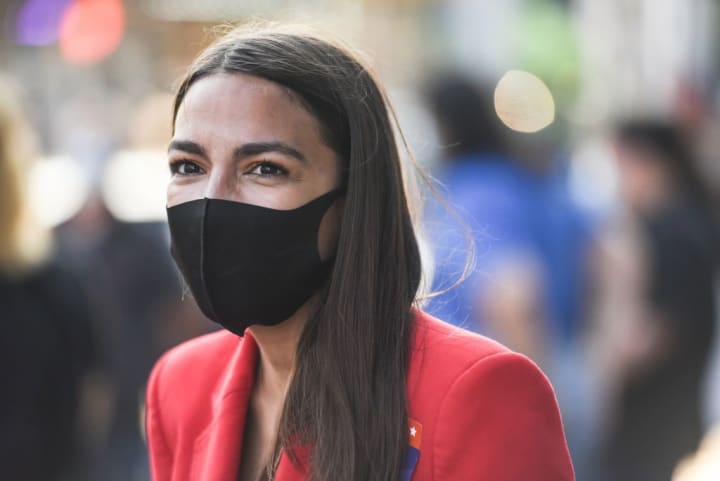 Conclusion
The Green New Deal is only necessary because big business has ignored the most important resource we have which is the earth for another important resource we have which is money. But it doesn't matter how money you make if you're soon going to die from longterm exposure to pollution. The world must act now because the natural disasters will only get worse if we do not adopt the Green New Deal. Detroit and many other cities are in dire need of greener work environments because the communities are the ones that pay the biggest price for pollution. Residents are smitten with pestilences that come from the pollution of these dirty factories. It's time to stand up now because we don't have later! Congresswoman Alexandria Ocasio-Cortez, US Senator Ed Markey, and Congresswoman Rashida Tlaib see the big picture along with over 100 other members of Congress. The time is now for the Green New Deal!
References
https://www.metrotimes.com/detroit/struggling-to-breathe-in-48217-michigans-most-toxic-zip-code/Content?oid=23542211
https://www.theguardian.com/us-news/2020/jan/09/the-blackest-city-in-the-is-us-facing-an-environmental-justice-nightmare
https://www.greatlakesnow.org/2017/06/toxic-town-michigans-polluted-zip-code/
https://www.vox.com/energy-and-environment/2018/12/21/18144138/green-new-deal-alexandria-ocasio-cortez
https://www.npr.org/2019/02/07/691997301/rep-alexandria-ocasio-cortez-releases-green-new-deal-outline
https://www.iso.org/iso-14001-environmental-management.html
https://www.cnn.com/2021/02/21/weather/texas-winter-storm-timeline/index.html