Canadian Elections
I have no idea who to vote for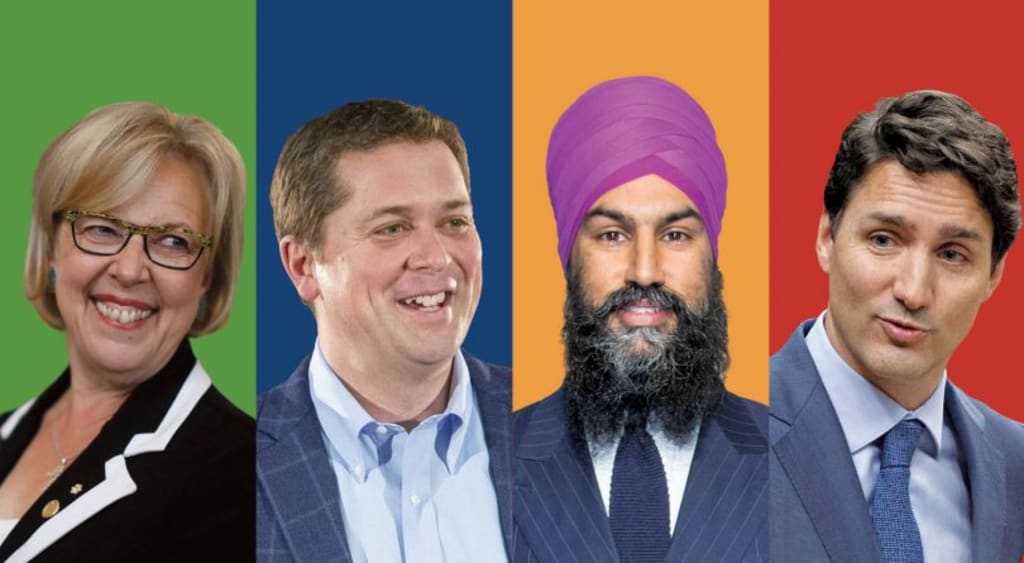 https://www.macleans.ca/politics/2019-federal-election-platform-guide-where-the-parties-stand-on-everything/
It's October, and there are a few things that will not change about Canada. One is that snow is expected, two is that Halloween will come, three is that people forget how to drive when the snow falls. The one thing that will change is the fact that we have elections coming up pretty quick here, so I need to decide who to vote for, so it's time to bring in the candidates.
1. Justin Trudeau we all know who he is now. He is a candidate once again for the liberal party. He legalized marijuana, trying to get a pipeline into the mix of things.
He wants to improve the lives of the middle class and in order to do that Trudeau's plan is to "tax cut by raising the basic personal exemption limit over the next four years until the first $15,000 of income is tax-free for most Canadians, which will save the average taxpayer roughly $292 a year." (CBC News, 2019)
New parents have a tough time too and he wants to make maternity and parental leave tax free. Trudeau also wants to make Child Canada Benefit more generous over the first year of the child.
For Students he wants to raise more money for post-secondary grants.
Increasing old age security payments for people 75 and older.
He wants to spend 6 billion on health care so all families have a family doctor. Trudeau is right everyone should have a family doctor.
Promising that the minimum wage will be 15 dollars an hour, which some provinces already have.
Promising to plant 2 billion trees to save the planet or at least Canada.
"Invest all the tax revenues resulting from the Trans Mountain Expansion Project in green and clean technology initiatives. They are also promising up to $40,000 in interest-free loans so people can renovate their homes to make them more energy efficient."(CBC News, 2019) That's actually kind of cool that he wants this to happen, but I can see it taking upon years to get done.
Trudeau promises to make electric charging stations all along the trans Canada highway. There will be around 5,000 of the stations built.
2. Andrew Scheer of Conservative Party
Wants to renew tax credit.
Reinstate tax credit for transit passes because the transit is honestly expensive.
The Conservatives have promised a non-refundable tax credit on maternity and parental leave (Employment Insurance (EI) benefits). (CBC News, 2019)
Remove the tax of home heating fuels.
To make future homeowners worry less about the mortgage they need to pay off, he promised to make a 30 year amortization period to make it more affordable for new home owners.
Scrapping the carbon tax, encouraging companies to create innovative technology.
Canadians who spend their own money on green initiative can receive up to 3,800 a year for two years.
3. Jagmeet Singh of NDP (New Democratic Party)
For national Pharmacare, his plan is to put money towards a multi-billion plan that can save $500 for families a year.
Expanding medicare to include dental services.
"To ensure even more affordable housing units are built, Singh has promised to waive the federal portion of the GST/HST on the construction of new rental units."(CBC News, 2019)
Wants to create 500,000 units of affordable housing.
Singh promises to scrap the Trans Mountain Canada pipeline. Singh also wants to "effectively give provinces a veto on major natural resources projects that move through their jurisdictions." (CBC news, 2019)
Target to retro-fit all homes by the year 2050 through low interest loans.
Promises to raise taxes on the wealthy aka people who earn more than 20 million a year. It's about time someone raised the taxes on the wealthy.
4. Elizabeth May for Green Party
Vision that by 2030 all homes and businesses are powered by renewable energy. It is hard to imagine that it will happen by 2030, but that is still an ambitious goal.
Wants all modes of transportation to be electric.
60 percent emissions cut in a new Climate Change Act, this will double the current 30 per cent target.
No new pipelines, or coal, oil or gas drilling or mining, including offshore wells, would be approved under a Green government. I have a feeling the unemployment rate might go up...
National pharmacare that will cost around 27 billion a year.
Eliminating tuition fees for post secondary school by offering 10 billion. I mean all over Europe school is basically free, so why not? I think the United States have ridiculous tuition fees compared to Canadians, so it is not really a priority.
"Promising to impose a financial transactions tax of 0.5 per cent to collect nearly $18 billion in 2024-2025." (CBC News, 2019).
controversies
About the author
Hello fellow interweb explorers! I am Ada Zuba. I binge the Netflix shows and just recently Disney plus has been my happy place. I am a creative person with a big love for Disney movies. I hope to one day write and publish a fantasy novel.
Reader insights
Be the first to share your insights about this piece.
Add your insights