BryanWatch: April II
Steil Against DC Statehood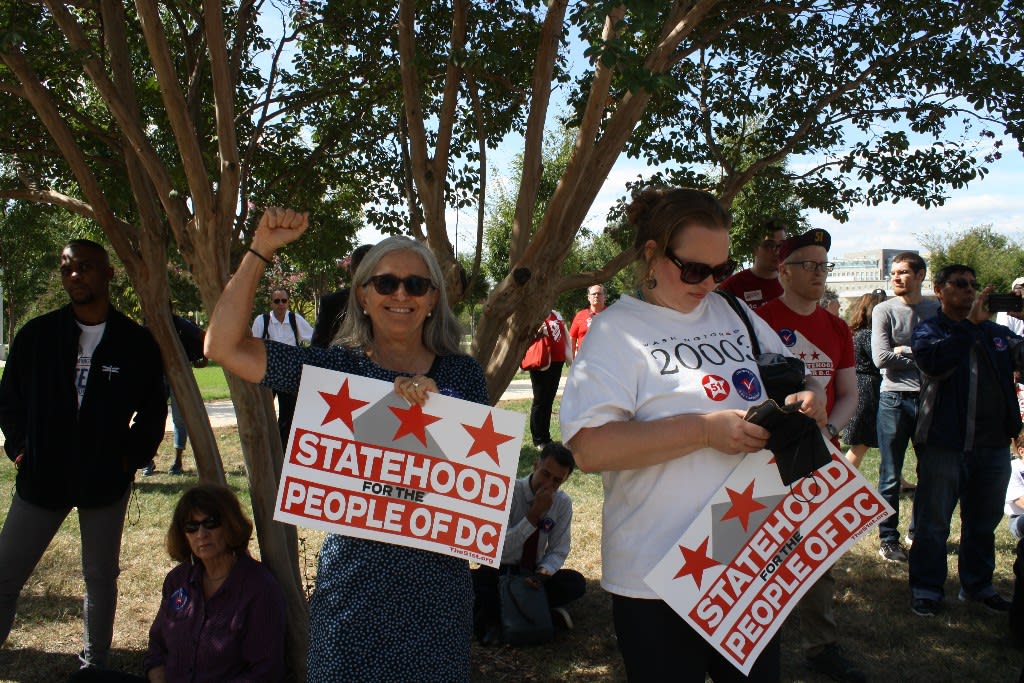 A relatively slow week for Congress, with only 14 votes this week, 10 of them party line. As usual, Rep. Steil voted with the Republicans 100 percent of the time this week.
The big vote of the week was admission of Washington DC as a new state (named Washington, Douglass Commonwealth), which would add two new Democratic Senators. It passed on a straight party line vote of 217 to 208 (RC 132, Apr 22)
Washington DC has 712,000 residents – larger than several states – and pays more in federal taxes than 21 other states. This is the second time the House has put forth a bill making Washington a state. Unless Democrats eliminate the filibuster in the Senate, there is little chance the bill will become law.
Perhaps the most absurd argument Republicans made against making Washington a state was that it was "not what the Founding Fathers wanted when they wrote the Constitution." Of course, Washington DC was not established as the Capital City until 1790, three years after the Constitution was drafted.
Steil did vote for a motion to recommit by Morgan Griffith (Virginia) that would make the District of Columbia part of the state of Maryland, something residents of the District have no interest in. Only one Republican, Tom McClintock (California) voted against it (RC 131, Apr 22)
On Tuesday, the House passed a package of fairly non-controversial bills, largely housekeeping things having to do with homeland security and financial programs. It passed 355 to 69, with Steil voting YES. (RC 125, April 20) Two days later, there was a move to reverse the vote, which the Democrats promptly tabled. The tabling motion passed on a bipartisan vote of 292 to 123, with Steil siding with the 76 sensible Republicans. (RC 133, April 22)
On Wednesday the House passed HR 1573, the Access to Counsel Act, which requires the Department of Homeland Security to provide people who are seeking to enter the United States access to counsel to protect their legal rights. Every single Republican voted against protecting the rights of asylum seekers (RC 129, April 21).
Republicans also supported a move by Rep. Darrell Issa (Jerk-California) to return the bill to the Judiciary Committee, effectively killing it (RC 128, April 21)
In a similar vein, the House passed HR 1333, the NO BAN Act (Full title: National Origin-Based Antidiscrimination for Nonimmigrants Act), which would seek to limit the power of the President to exclude immigrants to the United States based on criterion not related to direct threats to national security (RC 127, April 21). The bill was a reaction to the travel bans instituted by the Trump Administration. Only one Republican, Brian Fitzpatrick (Pennsylvania) supported the bill.
Republicans did support a move by Rep. Brad Wenstrup (Ohio) to send the bill back to the Judiciary Committee, effectively killing the bill (RC 126, April 21)
As usual, House Republicans voted against even considering the DC Admission Act, Access to Counsel Act and NO BAN Act. (RC 123 and 124, April 20)
Last but hardly least, on Tuesday, Kevin McCarthy attempted to censure Rep. Maxine Waters over her comments regarding the Derek Chauvin trial in Minneapolis. House Democrats quickly shot down the effort (RC 122, April 20)
There were several non-party line bills that passed last week:
- HR 1392, the Protection of Saudi Dissidents Act, passed 350-71. (RC 130, Apr 21)
- H Res 130, on human rights violations in Hong Kong passed 418 to 1, with only Tom Massie of Kentucky voting against. (RC 121, April 19)
- And the SAFE Banking Act (HR 1996), passed 321 to 101, with the Republican caucus split 106 to 101. Steil voted with the sensible half of his caucus (RC 120, April 19)
Scorecard: Total Votes 14; Party Line 10 for 10 (100 Percent); NPL: 130, 125, 121, 120 (Good)