Breaking News...
Black Lives Matter!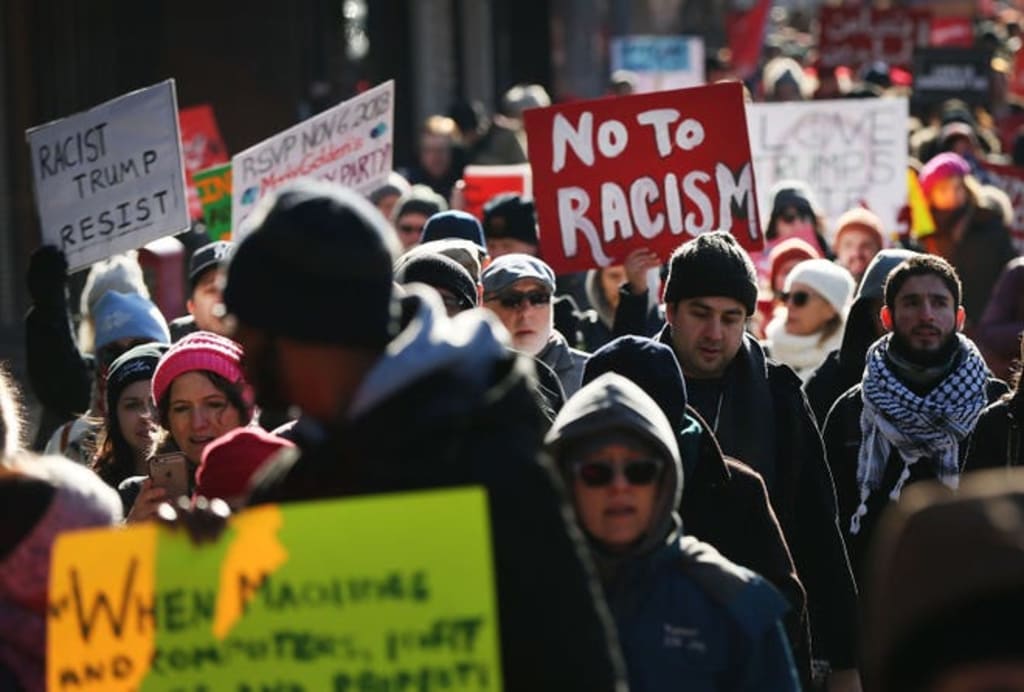 "NO! To Racism!"
"Breaking News: Black Lives Matter Protesting... Breaking News: Black Lives Matter!"
It's 2020 and black people are fighting the system to voice that Black Lives Matter, every news channel we switch through, black people are fighting for justice and for their voices to be heard. "Breaking News: Systematic Racism is Real" As real as racism is in 2020, yeah you read that right 2020 who knew Black Lives would be a subject that many did not think that mattered... Generation after generation, excuse me year after year there has been hatred towards Black Men and Women; how are they any different then you? "Breaking News: Black Men Shot Again." Why is the attack on being black so problematic for those who are not their tone, minding their business is a threat to you, yet adding them to your business to help you make revenue means nothing to you; "Breaking News: #BlackLivesMatter is…Trending." You take their trend to blend in, you want to stand out and not stand up so your voices can be heard, you #BlackOutTuesday and post about how you had a good day and those people you stole this "trend" from are fighting for a man who can't even go for a run. "Breaking News: NO JUSTICE! NO PEACE!" Louder and prouder! Ask them to give peace yet won't give them justice fighting for their rights to breathe yet held down screaming, "I CAN'T BREATHE!" Muting their voices as if they are nothing, NO JUSTICE! NO PEACE! It's too late now, the world is coming together as one to end racism, to end a mother losing her son or daughter, or end a daughter or son losing their father and then added to the system as fatherless children adding on to "stats. for blacks" being another number in a system, which is quick to dismiss us to the system. "Breaking News: Black Lives Matter is… Tired"…Tired of the bullshit they are put through, entertainment to your eyes yet, you are not outside seeing the pain in their eyes. NO JUSTICE! NO PEACE! Tired of being seen as a target for living, tired of being a target for a man who is only focused on, "Making America Great Again" as we go to war with each other; Black People are more than what the stats. has counted them up for – more than just numbers in a system who sees us very different. "Breaking News: America Cares?" When it comes to the Census we are told, "It's very important that you turn this in" being accounted for but what is America counting for. Taking a black young man away for a dime bag yet feeding a white man from a brown bag after murdering innocent souls. Why is it important that you make sure we are accounted for... To "fix" the zip codes which our kids play in? To fund the schools where the books are delaying?... Or is it to fund the hospitals where sick black men and women lay in bed as their hospital denies them care; comparing the pain America has inflicted on them all these years should be nothing to a "little" stomach pain here and there. Black America is tired of all the suffering, suffering of living on a land which was made by those like them, a white man takes a step and has a plan to steal, yet our protest is driving them to kill… us. Our men and women scream at the top of their lungs "NO JUSTICE! NO PEACE!" Peace they have been fighting for, for several years why fight against us when you took what made OUR America Great Again. Bombed us like a war zone but fight us for fighting for peace when you took a piece us, and our land which we found and funded; is that how we became the "threat" we left and stood strong on our own. NO JUSTICE! NO PEACE! "Breaking News: Black Lives Matter is Done With America's Bullshit."
controversies
Hello everyone I am the writer and creator of all post written, Rebekah! I've written for many years, however this is a time for me to be more vocal on real life and real situations.
I hope everyone enjoys what they read!
Ase!