Book Review: "Now in November" by Josephine Johnson
5/5 - a beautiful novel of loss, grief and despair...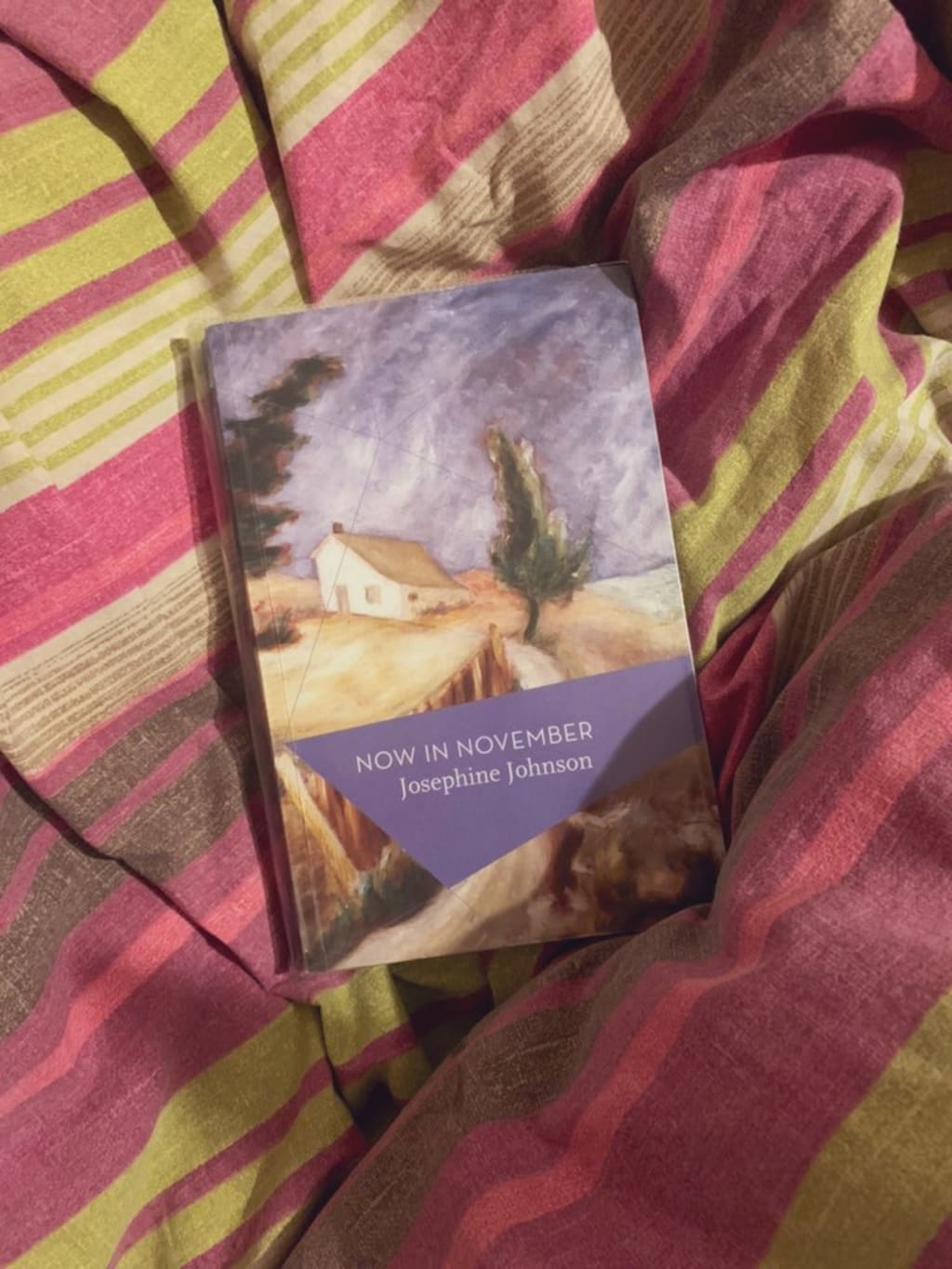 When I say I want a dramatic story filled with intense emotional turmoil and great turbulence, I mean a story like The Thorn Birds by Colleen McCullough, The House of the Spirits by Isabel Allende, One Hundred Years of Solitude by Gabriel Garcia Marquez, The Sailor Who Fell From Grace with the Sea by Yukio Mishima or, this one. It's called Now in November and it's by Josephine Johnson. Her debut novel written and published by the age of just 24 years' old. It tells the story of emotional breakdown in a family that has been practically kicked to the bottom of the barrell. An intense and foreboding story, it haunts the reader with its incredible descriptions, it beautiful landscapes and its amazing character development.
This story follows one middle class family in America who are kicked to the bottom of the social scale by the Great Depression. As they try to fight their way back by becoming farmers, the novel gives us a look into the different things that happen during the year and over the next coming decade or so. An incredible book, it moves us through time whilst the family suffers hardships they have never faced before. This novel is coloured by the family's unimaginable level of hatred for their positions and, with the Great Depression becoming ever more powerful, there is certainly a level we can understand them on. A deeply, connected human level.
Marget is the narrator and shows her family living a lifestyle that they once remembered had it not been for the depression of the 1930s, filled with emotional turmoil, her sadness and grief colour the novel and make it an overwhelmingly beautiful mess of grief for her old life. Only ten when her father loses his job, Marget tries to make sense of everything from start to finish whilst she flips back and forth from past and present, from one year to the next from start to end as she defines her family by what they have lost over time.
One thing about these characters is that they desperately want to be content with their position but keep grieving over their past as if that is going to make it come back. From the moment that the father loses his job it is as if they already know what's going to happen. I mean just check out this line about grief:
"Lord make me satisfied with small things. Make me content to live on the outside of life. God make me love the rind!"
It is like they are always begging not for something better, but to love the life they have because they still have life. Josephine Johnson writes an incredibly harsh novel about the horrors of the Great Depression but litters it with realism as these people know that they cannot have their middle class lifestyle any more. An intense look at grief means an intense look at thought as well, and with this philosophy it feels like Johnson really thought about the ideas of people who had, in fact, lost everything and yet needed to carry on regardless. Many people, as we know, killed themselves after losing it all.
In conclusion, this book is filled with beautiful prose, intense levels of grief and depression, ideas surrounding American history of the Modern era and the way in which we can still stand up given how bad our positions are. In this trip down the social scale, we see the opposite of the social climbing we saw in the Jazz Age novels - a dear and depressing shroud that covers reality with its brilliance and yet, serves us reality as being something we cannot simply forget.
Reader insights
Be the first to share your insights about this piece.
Add your insights