Black Women Prosecutors Under Seige Across The Country
But They Are Fighting Back Using the 'Criminal Justice System' Itself And The Media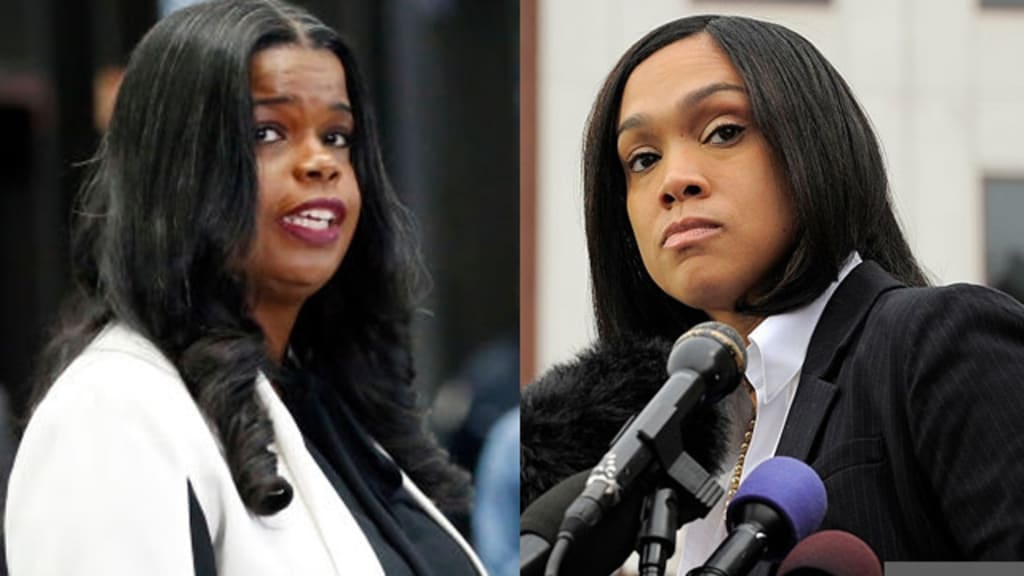 Chicago's Kim Foxx and Baltimore's Marilyn Mosby. Image Credit: https://images.search.yahoo.com/yhs/search?p=Marilyn+Mosby%2C+Kim+Gardner%2C+Kim+Foxx+pictures
Baltimore City's State Attorney Marilyn Mosby traveled to St. Louis recently and joined fellow top black female prosecutors from around the country to speak out against the racially charged attacks they all have experienced while in office.
Specifically, State's Attorney Mosby went to support St. Louis Circuit Court Attorney Kim Gardner, who is under fire for filing a federal civil rights lawsuit against the city of St. Louis, its police department and police union, the Officers Police Association. Circuit Court Attorney Gardner charges that these entities have coordinated and perpetrated white racist/white supremacist attacks and conspiracies against black people historically and herself currently in their effort to force her from her elected office.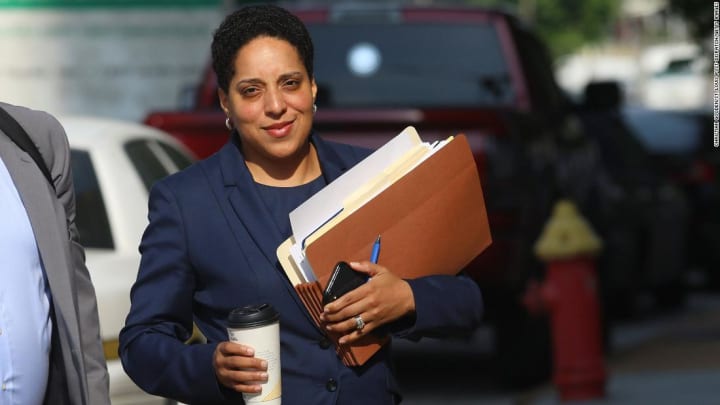 Likewise for State's Attorney Mosby. Almost from the very first moment she won election as Baltimore's top attorney in 2015, she has been subjected to relentless and virtually identical remonstrances from the Baltimore police department, and of course, its union.
But only days after her visit to St. Louis, Mosby began receiving thousands of emails, phone calls, and direct messages from the "general public," which may only be described as "hate mail."
One particular 60-second voicemail, however, stands out: The anonymous voice employed half-recited, profanity-laced proverbs and racially biased opinions before ending his message with this generalized comment about all black people: "If we'd known you all were going to be this much fucking trouble, we would have picked our own fucking cotton," the caller said.
Mosby has posted this prime example of "hateful rhetoric" on her Twitter page even as she doubled-down on her support of Gardner. She told ABC News that she was "not surprised" by the message, but found it "outrageous."
These are the types of attacks we encounter every day as women of color in a position of authority, and I traveled to St. Louis because this is the unfortunate experience of black female prosecutors everywhere, Mosby said in a statement to ABC News.
It's deeply disturbing that in 2020 we still have to experience such blatant racism. But this hateful rhetoric only strengthens my resolve to continue fighting for justice, and working to undo the blight of mass incarceration and its impact on communities of color.
Circuit Court Attorney Gardner is the first black woman elected as the top prosecutor in St. Louis, and her lawsuit against the city and its cops is the first time any elected local prosecutor anywhere has ever brought such a suit against cops and their employers for racially motivated civil rights violations.
As stated above, at the press conference announcing the lawsuit, Gardner was supported by other leading black female prosecutors from across the country including Mosby.
Solidarity Among The Nation's Few Black Women Prosecutors. Video Credit: https://www.youtube.com/watch?v=pefQDF_eZ5U
Quite candidly, Kim, like the others who stand before you today, has challenged the status quo and the keepers of the status quo don't like that, which is why she is being personally and professionally attacked, Mosby said at the presser. Every prosecutor here has had similar experiences to Kim.
Mosby, however, went further than merely describing hateful phone calls and emails. She also detailed a never-ending stream of death threats against her since taking office in 2015. Those threats escalated into the stratosphere when she indicted six police officers in connection to the death of Freddie Gray. Gray, a young black man, suffered a catastrophic and ultimately fatal spinal injury while in the Baltimore police department's custody, and ignited demonstrations and near-riots throughout that beleaguered city.
And in Chicago, pretty much the same situation obtains as in St. Louis and Baltimore.
Here, the first term Cook County State's Attorney Kimberly Foxx (and who will be overwhelming re-elected today) is under fire from both within and without the city and county's formerly white-dominated criminal justice system, and from both the Democratic and Republican Parties for her actions in office.
For example, Foxx has more than ruffled the feathers of heretofore comfortable high-up police officials and their union because she has boldly and unashamedly moved to end the Chicago Police Department's centuries-long practice of indiscriminately "stopping and frisking," rounding up, and mass jailing of Chicago's black populace.
Indeed, a "special prosecutor" has been appointed to investigate Foxx's handling of the Jussie Smollett case. He is the young television actor who supposedly staged a racially motivated attack on himself in Chicago and then accused or implicated Trump supporters. To the consternation of virtually all of Chicago's white police hierarchy, their union (The Fraternal Order of Police) and the city's like-minded fellow "conservatives," Foxx refused to criminally prosecute Smollett and instead allowed him to pay a fine and perform community service at Jesse Jackson's hated and routinely vilified Operation Push.
OPINION:
What we are witnessing, of course, in St. Louis, in Baltimore, in Chicago and beyond, are the death throes of a slowly dying socio-political order and a dismantling of an age-old racial hierarchy. And these long overdue "reforms" and indeed systemic restructurings are being spearheaded by black women. These are women who have educated themselves, who have steeped themselves in the true and unadulterated history of this nation-state, and who understand the true and unadulterated history of that "system." Yet, they still believe that they can make it work for everybody — without having to tear the whole damn thing down and start all over from scratch.
As noted above, both Circuit Court Attorney Gardner and State Attorney Mosby have dared to say it out loud. These are men (and they are almost always so-called "conservative" white men) who are not merely objecting to, but trying with everything they've got to hold back the surging black and brown masses and thus maintain the "status quo."
Harassing, brutalizing, locking up, and even murdering black people by white police officers, and doing so with impunity and immunity, has been the status quo since well before formal "police departments" even came into existence in this nation-state. That would be immediately before and following the Civil War.
Indeed, it has been well documented that "modern" policing is merely the reiteration of its racist progenitors — the Runaway Slave Patrols and Runaway Slave Catchers of old.

And so, as State Attorney Mosby says, it is indeed "not surprising" that these physical, spiritual and emotional descendants of Slave Patrollers, today, do not like, and in fact, refuse to accept that a new day is dawning, a day wherein they must not only recognize the new dispensation but take orders from and be held accountable to and by the very same people they are so accustomed to repressing and oppressing.
Oh, the horrors!