Andy Burnham, Andy Street, and Boris: Scrapping Midlands and Northern HS2 Madness.
Government Thinking of Scrapping Midland and Northern HS2.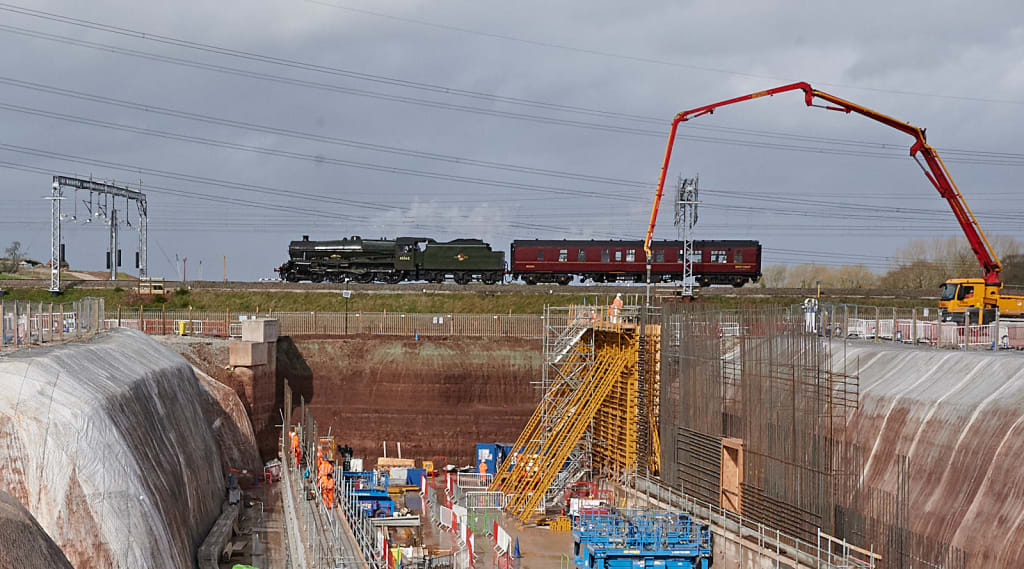 Ongoing Building of HS2 Rail Line.
HS2 ever since George Osborne announced it as part of his 'Northern Powerhouse" (to level up the midlands and the north of England) has been controversial. The plan is to link major rail lines with London, Birmingham, and Manchester. Birmingham and Manchester, were chosen, to link with London, because they are the next two major cities, after the capital.
Birmingham is the 2nd capital of England after London and Manchester, is the third. Hence these two massive conurbations being chosen. However, people beyond Birmingham and Manchester have complained about this connection, that it passes them by. And, it's easy to see why they would say or think that. However, another controversial theme is many people feel angry about the environment or that their homes will literally be bulldozed to make way for the HS2 line.
However, others feel, that linking Birmingham and Manchester to London will bring prosperity to the Midlands and North. And it will make, commuting between these areas, more efficient.
Boris Johnson, disgraced Prime Minister, that he is, has attacked the government's discussion to possibly scrap the midland and northern part of HS2. Boris has called this thinking "The height of insanity" and that it is "Total Treasury-driven nonsense". Also "It makes no sense to deliver a mutilated HS2".
The plan to possibly scrap the northern and midland parts of HS2 was announced last week. This comes one week, before the Conservative Party Conference in Manchester. Ironic that with talk of the Manchester part of HS2 being scrapped, Sunak and His cabal, should choose Manchester, to hold their annual conference.
Greater Manchester Mayor, Labour's Andy Burnham, said that scrapping the Manchester HS2 connection from London via Birmingham was "Pulling the rug from under us. While local government is doing the levelling up legwork".
West Midlands Mayor, Andy Street, a Tory, said scrapping West Midlands HS2 "Was (if it happens) the most expensive white elephant in UK history". Warning that "It would be a disaster for the country".
Those who wish to preserve the green belt and their homes will be hoping this scrapping, will come to pass. I can see their reasoning, even if compensated, they will still feel forced out of their homes. As for the green belt, it will be more land and wildlife, disrupted. So, those who do not wish to lose their homes or those who are standing up for the UK's Greenbelt have a point. But it could be argued, so do those, who wish or believe the scrapping of HS2 for the Midlands and North would be insane. As they think it will be prosperity for the north and midlands. And, ease of travel, to the south, midlands, or the north. Whichever side you take, will depend on your thoughts about HS2 and the fallout from it.
Burnham, Johnson, and Street believe that scrapping HS2 will be detrimental to the North and the Midlands. Besides the economic costs, it will leave the North and Midlands with Victorian railway infrastructure. While the Southern end of England will have a state-of-the-art, modern, railway infrastructure. With the ability to access and run high-speed trains of the 21st Century.
They think that scrapping HS2 for Birmingham and Manchester would create, yet another divide between these regions of England. I would use the term 'north-south divide' and that would be appropriate if the Midlands didn't exist. However, I feel that the term, 'north-south divide' because of the reason above, is wholly inappropriate. It is better to say, a north, midland, south divide. That may be a mouthful, so just call it, a divide.
A government Minister said the following, "The government is still investing" in the Midlands and the North. And the plans to scrap the HS2 wing of Birmingham and Manchester are just a consideration".
About the Creator
I am a freelance writer currently writing for Blasting News and HubPages. I mainly write about politics. But have and will cover all subjects when the need arises.
Reader insights
Be the first to share your insights about this piece.
Add your insights