Last year, having had enough teachers stepped away from their class rooms. All 55 counties participated in a work stoppage to increase pay for teachers.
Salary for beginning teachers in West Virginia is $32,435 a year, and the average teacher salary is $44,701. West Virginia ranks 48th in average teacher salaries.
Teachers knew if something wasn't done than more of their coworkers would be leaving. For as much as they were doing they were getting little in return. To change that they set out for the capitol. There they raised their voices with their signs. The rally was live-streamed on Facebook where students watched in support. Some students stood along with their teachers at the capital.
Although some parents were concerned about students missing school. They wondered how many students weren't being fed due to the strike and what they were missing out on. Teachers had already thought ahead. While some teachers were protesting others passed out bags of food.
After an over a week long work stoppage the government listened. The teachers went back to work with a promise of a pay raise.
Lesson Learned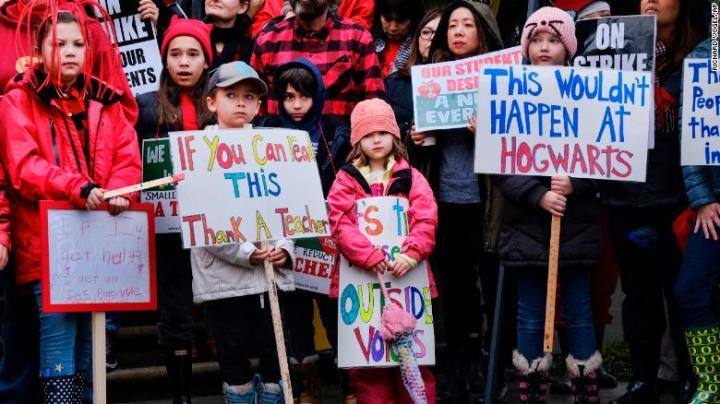 Following West Virginia's footsteps states across the U.S. took to the streets with their own demands. Some states demanded better pay while others demanded smaller class sizes for their students.
Because of a union who raised their voice suddenly an entire nation was standing up. Strikes continued; using WV as support.
Many have won against the legislature while some continue to work on agreements.
55 Strong: Inside the West Virginia Teachers' Strike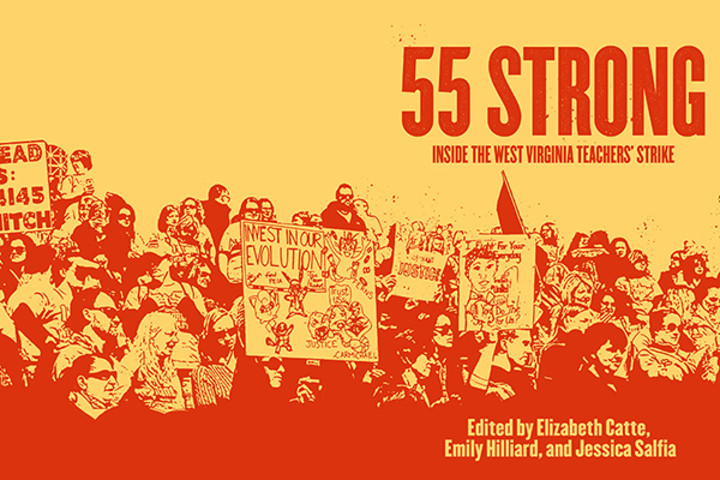 Edited by a West Virginia public school teacher, this book goes inside the strike that started it all. Photos of the strike at the capitol and facts are contained inside. It explains a group of teachers who started a movement that created history.
Help teachers receive a free copy by ordering an extra copy that we will send to a teacher.
Not Over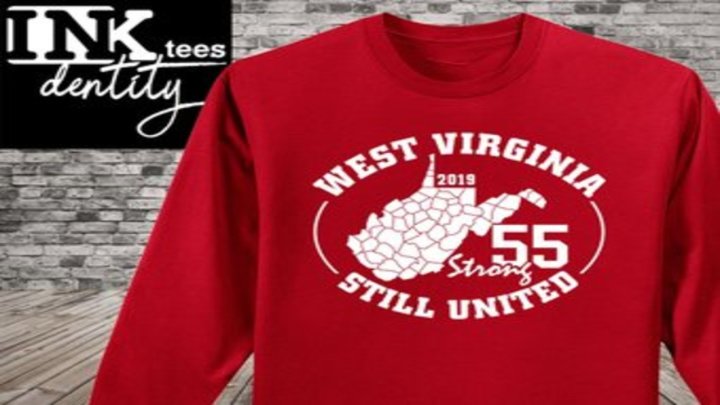 Traveling into the next year, WV teachers learned that it was time to raise their voices again. A bill had been proposed with the teacher's pay raise but much more was now at stake. The bill threatened the future of student's education so teachers left once again to "kill the bill."
This bill consisted of bringing charter schools into West Virginia, which were not economically good for the state, segregating special education students, and the loss of oversight on certain children.
Students and teachers were especially worried about the damage of bring charter schools into state. Charter schools are publicly funded independent schools where "teachers" do not have to contain degrees. They are usually used for profit or special studies. Unlike regular schools, they do not have to follow state guidelines and do not have to go under the same inspections. In other states, these could be good but one is dangerous to students to regular schools in West Virginia.
Students were once again heavily involved and stood along their teachers. Inside the capitols they joined arms and sang Country Roads. Their voice carried; sending the message that they would not remain silent. On February 19, 2019 the bill was killed.
The union leaders held a conference discussing everything later that night. It has not been said definitely if schools will be back in session on February 20th. Schools across the state have canceled due to inclement weather. Teachers may choose to push for a sensible bill that contains their pay rise but as of right now it is unknown.
UPDATE: West Virginia teachers are continuing to strike. Schools have been called off around the state.
Use the Hashtag #55strong to show support.