2018: A Time for the People of the United States
Your time is now to flex the power of your vote and your voice.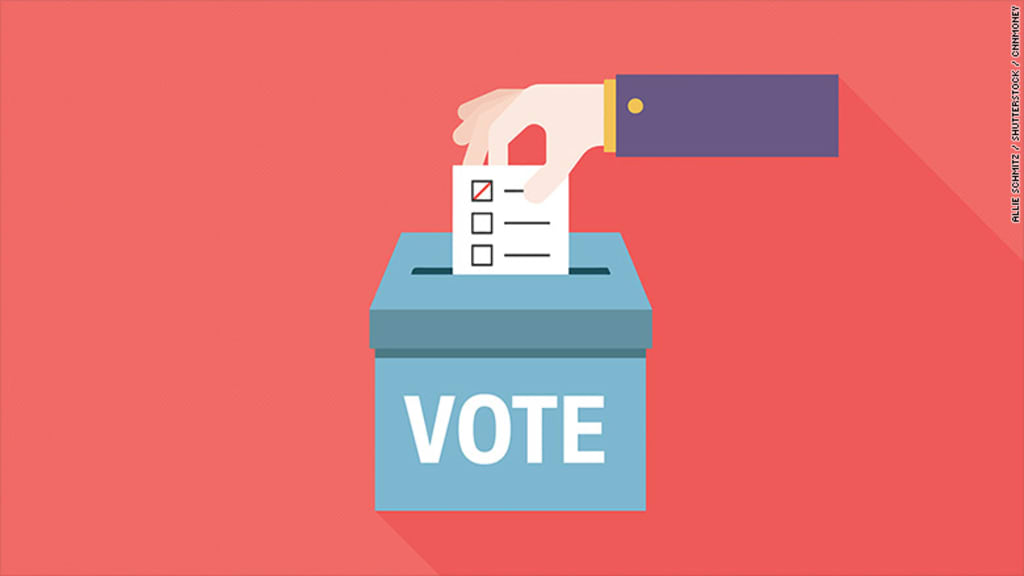 image: CNN Money
The arrival of 2018 has the nation at a crucial position in politics as issues from 2017 have yet to be resolved. Additionally, an opportunity has arisen for Americans to flex their power of the vote by turning their eyes towards gubernatorial elections as well as the seats in Congress that are up for re-election in 2018.
Congressional Elections in 2018:
This is an opportunity for constituents to flex the true power of the vote, by paying attention to what their incumbent senators and representatives promised and what they actually delivered; by analyzing how they served their voters.
Both elections for the House of Representatives and the Senate will be voted on November 6, 2018. That is, of course, the end of 2018, but the campaigning will no doubt begin on the state level immediately as several individuals have announced their candidacy in their respective states and districts.
The biennial election for all 435 seats in the House of Representatives will be decided by the people in each respective congressional district within all 50 states. To find your congressional district, visit the United States House of Representatives website and type in your zip code.
34 seats in the Senate are up for election in 2018. The states are as follows: Arizona, California, Connecticut, Delaware, Florida, Hawaii, Indiana, Maine, Minnesota, Mississippi, Missouri, Montana, Nebraska, Nevada, New Jersey, New Mexico, New York, North Dakota, Ohio, Pennsylvania, Rhode Island, Tennessee, Texas, Utah, Vermont, Virginia, Washington, West Virginia, Wisconsin, and Wyoming.
The Republican Party currently holds the majority with 52 seats in the Senate while the Democratic Party holds 46 seats and the last two are held by independents. Democrats will be defending 25 seats in 2018, whereas Republicans will be defending 8 seats.
Gubernatorial Elections in 2018:
36 states will hold elections for Governor, the head of each state's executive branch.
These states include Alabama, Alaska, Arizona, Arkansas, California, Colorado, Connecticut, Florida, Georgia, Hawaii, Idaho, Illinois, Iowa, Kansas, Maine, Maryland, Massachusetts, Michigan, Minnesota, Nebraska, Nevada, New Hampshire, New Mexico, New York, Ohio, Oklahoma, Oregon, Pennsylvania, Rhode Island, South Carolina, South Dakota, Tennessee, Texas, Vermont, Wisconsin, and Wyoming.
The Issues from 2017:
DACA and the DREAM Act:
The Deferred Action for Childhood Arrivals program was an Executive Branch memorandum enacted by the Obama administration in June 2012. The program was made due to Congress being unable to find a legal resolution for the Development, Relief and Education for Alien Minors (DREAM) Act introduced to Congress in 2001. About 800,000 young immigrants known as DREAMers, individuals brought to the United States by their parents, have enrolled in DACA since the program began. DACA's recipients all came to the United States at 16-years-old or younger. The program allows for these young people to receive impermanent amnesty in two-year increments in which time they can find jobs, receive education, and obtain a driver's license.
On June 15, 2017, then US Secretary of Homeland Security John Kelly rejected the 2014 Deferred Action for Parents of Americans (DAPA) program. Later in June 2017, a 10-state coalition led by Texas Attorney General Ken Paxton wrote a letter to US Attorney General Jeff Sessions threatening to reopen the same lawsuit that had been opened against the DAPA, a provision that had been signed by former DHS Secretary Jeh Johnson in November 2014. This policy would have expanded DACA safeguards to certain undocumented parents of legal residents or citizens of the US. According to General Paxton's website, DAPA had been blocked by courts after Texas led a 26-state coalition challenging it all the way to the US Supreme Court. DHS Secretary Kelly's memorandum earlier in June stated that DACA would remain in effect, along with some permits that had been issued under the 2014 DAPA expansion that had been overturned.
Texas Attorney General Paxton was using this as a basis to also challenge DACA. Paxton wrote in the letter to Sessions, "We respectfully request that the Secretary of Homeland Security phase out the DACA program. Just like DAPA, DACA unilaterally confers eligibility for work authorization and lawful presence without any statutory authorization from Congress."
Attorney General Paxton and the coalition promised to voluntarily dismiss their lawsuit challenging deferred-action programs currently pending in district court if the Trump Administration agreed by September 5 to end DACA and not renew or issue any new DACA permits in the future. "Otherwise, the complaint in that case will be amended to challenge both the DACA program and the remaining Expanded DACA permits," the letter stated.
Texas was joined on the letter by the attorneys general of Alabama, Arkansas, Kansas, Louisiana, Nebraska, South Carolina, Tennessee, Idaho, West Virginia, and Idaho Governor C.L. Otter.
Attorney General Sessions sent a letter to the DHS on September 4, 2017, stating that DACA "was effectuated by the previous administration through executive action, without proper statutory authority and with no established end-date, after Congress' repeated rejection of proposed legislation that would have accomplished a similar result. Such an open-ended circumvention of immigration laws was an unconstitutional exercise of authority by the Executive Branch." Sessions stated that DACA "has the same legal and constitutional defects that the courts recognized as to DAPA, it is likely that potentially imminent litigation would yield similar results with respect to DACA."
So, where does that leave DACA? Acting Secretary of Homeland Security Elaine Duke issued a memorandum on September 5, 2017 that overturns the June 2012 memo that established DACA. Duke's memorandum also set forward a plan for phasing out DACA which will officially end in March 2018. According to Homeland Security, the hope of this phased approach is that the Department of Homeland Security will provide a limited window in which it will decide on certain requests for DACA and associated applications for Employment Authorization Documents meeting specific parameters.
Special Counsel's Investigation of Russia and the Trump Campaign:
As a result of an independent special counsel led by Robert Mueller formed in May 2017 by the Justice Department, four individuals within Trump's 2016 presidential campaign have been charged by the probe.
Paul Manafort and Rick Gates. Manafort joined Trump's campaign of March 2016 and was appointed to chairman of the campaign in June. Gates was his deputy. Manafort left the campaign in August 2016 when it was reported that he allegedly took millions of dollars of discreet payments for his lobbying efforts on behalf of the pro-Russia Ukrainian political party Party of Regions. Both of these men were charged with 12 counts including conspiracy against the US, money laundering, and undisclosed foreign lobbying. None of the charges related to Trump's campaign. Manafort came under a lot of media scrutiny when it was discovered that he had a meeting between Donald Trump Jr, Jared Kushner, and a Russia government lawyer who claimed to possess implicating evidence against Hilary Clinton.
George Papadopoulos was a previous national security and foreign policy advisor to Ben Carson's 2016 Presidential campaign. After Carson stepped out of the race and gave Trump his endorsement, Papadopoulos was hired by Trump's campaign in March 2016. He pleaded guilty and was charged with making false statements to the FBI in October.
He offered to act as a liaison with Moscow due to his Kremlin ties. According to court documents Senior campaign staffer, Sam Clovis, encouraged Papadopoulos to go to Russia to meet with officials, "if it is feasible." After the meetings he had with Russian officials, Clovis had encouraged Papadopoulos that he had done "great work," as court documents state.
The court documents summarizing the false statements that he made to the FBI say that he lied about contact with an "overseas professor" with widespread connections to the Russian government. This professor informed Papadopoulos that the Russians had acquired "dirty" information on Democratic candidate Hillary Clinton.
Michael Flynn is the most recent and highest ranking member of the Trump campaign and the former National Security Advisor to the Trump administration. He is charged with making false statements regarding his meetings with Russian ambassadors when sanctions were imposed on Russia by the United States; a topic that was confirmed by Flynn's guilty plea was in fact under discussion. The guilty plea agreement states that Flynn will be giving full cooperation moving forward in the probe.
The probe is an ongoing investigation in 2018.
Net Neutrality:
Net Neutrality allows for a free and open internet. Killing net neutrality means websites that pay money can be easily accessed but internet users will have difficulty accessing websites that do not pay money. Net Neutrality was voted by the FCC to be repealed in December. However, Net Neutrality still can be resurrected. Efforts have been introduced on the state level such as California State Senator Scott Wiener introducing legislation for net neutrality as a requirement in California. Pro-neutrality groups are organizing lawsuits, but until those legal challenges can be resolved (an effort that will take an indefinite amount of time), FCC chairman Ajit Pai's vote will see net neutrality rules repealed. It is only a matter of time before internet service providers begin flexing their newfound gatekeeping powers of controlling internet traffic.
With the elections happening in 2018, a free internet is a crucial networking tool for activists and voters alike.
CHIP:
The Children's Health Insurance Program (CHIP) is a program with strong bipartisan support over the course of two decades. At the end of September, funding lapsed for the program and many states since then have begun sending out letters to families warning that their children are about to lose health insurance. Until Congress finds a way to fund CHIP, nine million children under the program can potentially lose their coverage as each state folds from lack of funding. CHIP is a program that helps lower- and middle-income families who are not eligible for Medicaid because of parents' earning wages being too high. Meanwhile, the tax bill passed by Congress would place a deficit into government spending by 2027 and gives that offset amount in tax cuts to corporations.
In the Congressional Budget Office's analysis of the Senate tax bill, the cuts would add $1.414 trillion to the deficit by 2027. That estimate does not include the amount that would be offset by the economic growth spurred by tax cuts, an occurrence that is not guaranteed. Profits are increased through tax cuts for corporations and those financial assets are under the discretion of those corporations.