Where to Find Your Recovery Phrase on Trust Wallet?
Step by step procedure to find recovery phrase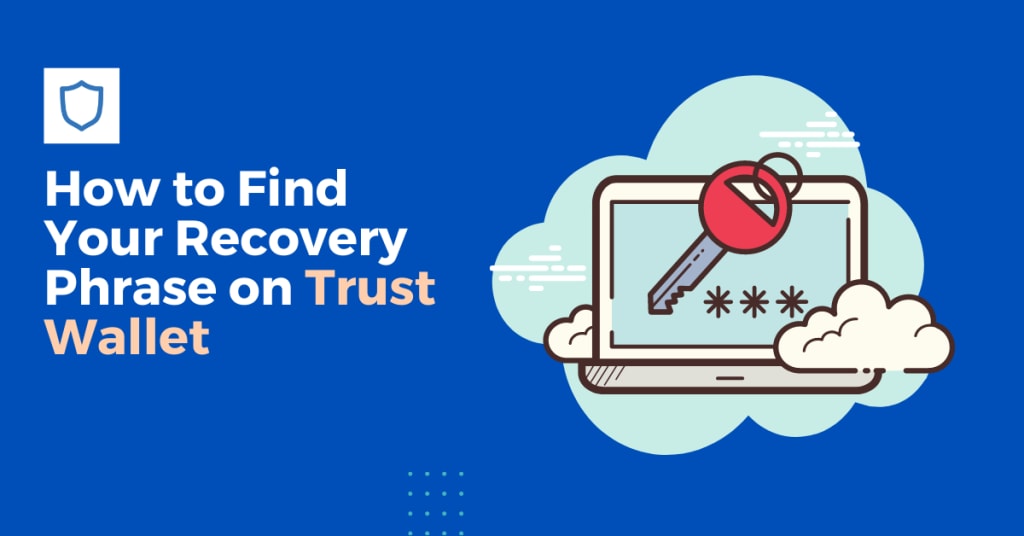 The Trust Wallet provides access to Bitcoin, Ethereum, Ripple, Binance Coin, Ethereum Classic, VeChain, ERC20 Tokens, ERC721 and ERC223, and more. In the future, it will be able to organize Bitcoin, EOS and other popular coins.
Six Days, LLC, an entity controlled by Viktor Radchenko, created Trust Wallet in 1998. With the purchase of Trust Wallet by Binance, the world's largest cryptocurrency exchange, the "HOT" spread of Trust Wallet has been boosted even further and became a great place to storing and exchanging BEP-20 tokens.
Adding greater number of features brings more bugs and difficulties and recovering phrase on Trust wallet is one of them.
You can find your recovery phrase by opening Trust Wallet and going to settings. Simply Tap on the wallet icon in your settings after tapping on the "Wallets" option. You can find your recovery phrase by tapping on "Show Secret Phrase".
You'll receive a 12-word recovery phrase when you create a Trust Wallet wallet. With the phrase, you can import or recover your wallet. The 12-word recovery phrase is needed when you have a new phone.
Furthermore, the phrase can also be used to export Trust Wallet to another wallet, such as SafeMoon.
Thus, you won't have to pay any fees for moving your cryptocurrency from wallet to wallet.
To retrieve your recovery phrase on Trust Wallet, follow these steps:
1. Log into Trust Wallet
It is first necessary to download Trust Wallet if you do not already have it. You can find Trust Wallet in the App Store and Google Play Store.
Once you've installed the app, open it. If you've never logged in to your wallet before, you'll need to do so after opening Trust Wallet.
2. Navigate to the settings page.
You must go to your settings after opening Trust Wallet. You'll see three icons on the app's bottom navigation bar.
You'll find "Wallet", "Discover", and "Settings.". The first step is to go to your Trust Wallet settings by tapping on "Settings.".
3. Navigate to "Wallets"
When you tap on "Settings", you will be redirected to the settings page. There are a number of options available on this page. Among these are "Wallets", "Security", and "Push Notifications".
On Trust Wallet, you can locate your recovery phrase by going to your wallet settings. To see your wallets, you must tap on "Wallets."
4. Select "Info."
Upon tapping "Wallets", you will be directed to the "Wallets" page. Trust Wallet shows you a list of the wallets you have on it.
In order to get the recovery phrase or to find the wallet information, you should tap on the information icon. Upon creating a Trust Wallet account, the first wallet created is called the "Main Wallet".
In other words, you can find the recovery phrase for your main wallet by tapping on the info icon next to the wallet name.
5. Click "Show Secret Phrase" to reveal the recovery phrase.
By tapping the information icon, you'll reach your wallet settings. Your wallet's name can now be changed. You will see a "Backup Options" header under the "Name" field.
There is an option to show the secret phrase under the header. View your recovery phrase by tapping "Show Secret Phrase" on Trust Wallet.
You will lose access to your funds if you lose your current device, so back up your recovery phrase as soon as possible.
6. Accept the risks associated with your account.
By tapping "Show Secret Phrase", a page containing important information will appear.
This information includes:
The recovery phrase is the master key to your funds. Never share it with anyone else.
Trust Wallet will never ask you to share your recovery phrase.
If you lose your recovery phrase, not even Trust Wallet can recover your funds.
Tap on the checkbox to agree that you understand the risks.
Tap 'Continue' to view your recovery phrase.
7. Take a note of your Trust Wallet recovery phrase.
The "Your Secret Phrase" page will appear once you've agreed to the terms and clicked "Continue". Trust Wallet will now display your 12-word recovery phrase.
The words can be copied or written in the correct order and saved safely. Simply tap "Copy" to do so.
Your secret phrase cannot be shared. A person who knows your secret phrase has full control over your wallet. Consequently, you should keep your recovery phrase in a safe place that is out of reach of others.
Congratulations, you have successfully learned how to locate your recovery phrase in Trust Wallet!
Conclusion
The recovery phrase should not be stored online since hackers can access it.
In order to prevent this from happening again, it is strongly advised that you keep it in a secure area in your house.
The moment you're logged into Trust Wallet on your device, you'll be able to retrieve your 12-word recovery phrase at any time so long as you're logged in.
The recovery phrase in Trust Wallet is encrypted, so please keep this in mind when using it. So it won't be accessible to the Trust Wallet team. Your funds are under your full control, as you are essentially your own bank.
For this reason, it is crucial not to lose your recovery phrase, or you will lose access to your funds for good.