How to Mint, Collect and Trade NFTs
Beginner's Guide to NFT trading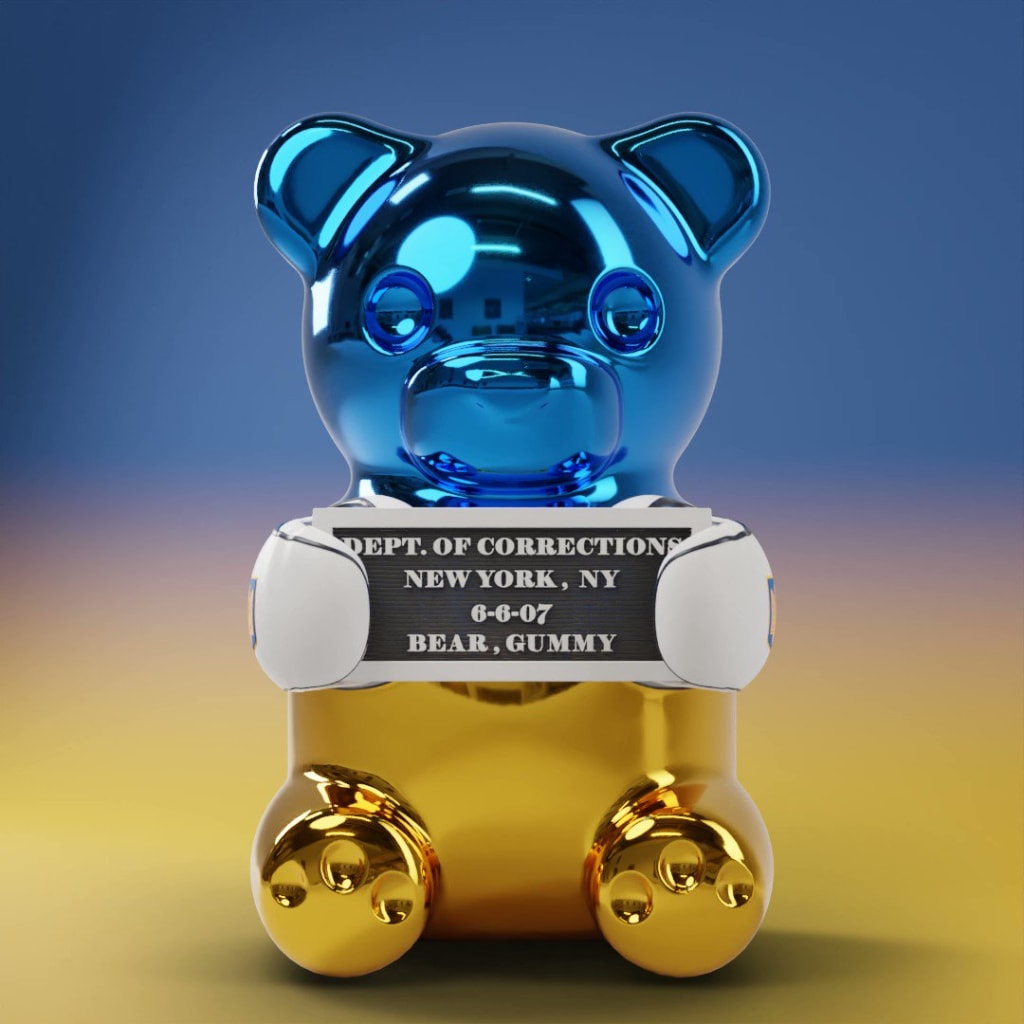 Credit: Valdanz For Ukraine NFT
In times of geopolitical crisis and uncertainty, I will shed some light on how to trade NFTs using the example of OpenSea which is the one of the largest platform for NFT minting, trading, as well as analytics tracking for the largest NFT projects on Ethereum network. OpenSea won the hearts of the artists and collectors due to lazy, 'gas-less' minting without additional fees (after you initialize your account for sales for the first time).
The advent of lazy-minting techniques has made it possible for creators to mint NFT without paying network fees. Note that all transactions and some activities executed on blockchains attract network fees paid to validators that confirm and add the details of transactions into blockchains. Interestingly, minting falls under activities that require network fees before they can be confirmed. For a blockchain like Ethereum plagued by network congestion, network fees, also called gas fees, can rise quickly, such that it becomes a lot expensive to create Ethereum-based NFTs.
With the relatively high prices of transactions, understanding crypto trading is essential to dive deep into NFT trading as well. When it comes to NFTs, their value is determined by multiple factors:
The quality of the art and the glory of the artist (some are more traditional and some introduce unique digital mechanics such as games, utility tokens, community events and giveaways, Metaverse events, etc.)
The maturity of the collection — number of tokens inside it, number of unique traits of each elements, number of quality of rarity
The volume of trade and the floor price of a collection, as well as marketplace rankings
Marketing campaign, hype of the collection or artist, as well as celebrities that participate in the project.
The particular NFT transaction in dollars is determined by the following factors:
The $ price of Ethereum or other cryptocurrency you are using for the sale/purchase (fluctuates every second)
Gas prices — the load on the network at a particular (fluctuates every 2–5 minutes depending on other users' activity)
The price of a particular NFT — determined by the seller/buyer/auction bids.
I am going to cover the essential elements:
NFT Marketplaces and payment options
Crypto-wallets for NFT transactions
Social causes and NFTs
Safety and security considerations
NFT Marketplaces
OpenSea and Rarible are prime examples of solutions that support a wide range of NFT niches. On both platforms, you will find NFTs that fall into the following categories:
Memes
Trading cards
Virtual lands
In-game assets
Crypto art
Collectibles
Domain names
OpenSea's most important math is the following: 2.5% trading fee for any transactions. In a new project, you can define royalty fees for creators and minters: it is usually 5–20%, OpenSea has a fixed rate of 10%.
Other NFT Marketplaces
Other notable NFT marketplaces that work similarly include Rarible, Nifty Gateway, Crypto.com, Binance, SuperRare, and Mintable. The difference is in the currencies and some process sequences but the principles are very similar. OpenSea allows its users to mint and access NFTs on Ethereum, Polygon and Klaytn, while Rarible extends its operations across Ethereum, Flow and Tezos. There are discussions on what NFT marketplace is the best, and they expand their functionality every day.
NFT Payment Tools
MetaMask browser extension helps to buy, store, send and swap tokens. Available as a browser extension and as a mobile app, MetaMask equips you with a key vault, secure login, token wallet, and token exchange — everything you need to manage your digital assets. MetaMask is a browser extension that is independent of any marketplaces but supports multiple currencies and networks.
MoonPay. You can easily buy crypto merely using your credit card deposited straight to your crypto wallet. The currencies operated include Bitcoin, Ethereum, Solana, Litecoin, Binance Coin, and also Tether. Tether is the crypto equivalent to regular USD dollar, never fluctuates and guarantees your money stability without having to move the funds from regular banking systems to crypto ones.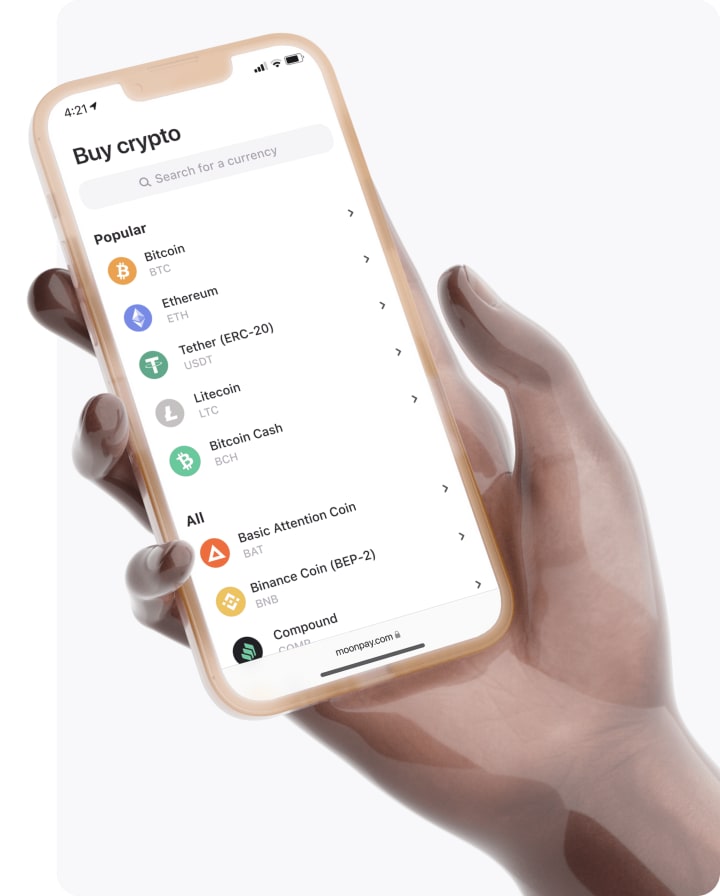 One of the safest ways to use crypto is to simply invest through a crypto marketplace, like Coinbase or Robinhood.
Coinbase and Coinbase Wallet.
The two services can be also mutually integrated to insure smooth movement between your Coinbase investments and wallet.
Also has a 'safe' option if you are ready to safely lock your funds and not worry about them being stolen.
Robinhood. Great mobile app design, good charts for watching the movements of crypto (better than Coinbase, in my opinion), and recommendations for investments if you take a portfolio quiz — that will include stock markets, EFTs and cryptocurrencies as well. There is also a waiting list for crypto wallets, so that function is not available just yet.
The drawback of Coinbase and Robinhood is that they both require identity confirmation with an ID, and also means connecting your crypto incomes to your taxable incomes (at least in the US). You also need a connection to a bank account of a particular country. Such identity verification was one of the reasons why Coinbase could identify 25,000 questionable Russian origin addresses with strange activity and block their usage, while Binance stopped accepting Russian credit cards to participate in crypto trading. Even though there is a pushback, it is an example of why MoonPay and OpenSea can be the anonymous alternatives to ID verifications in bigger crypto marketplaces.
Crypto-wallets for NFTs
Crypto wallets, on the other hand, are required for any NFT transactions and payments among users. They are more vulnerable for hacker attacks but you cannot trade NFTs without wallet functionality. Some regular crypto addresses would allow you to receive and send funds but NFT transactions are empowered by wallets only.
Since your NFTs are stored at your crypto-wallet (which is also a crypto address on the network), you can see them in your wallet. All the transactions you have are transparent and can be inspected on Etherscan (in case if Ether) or other network that corresponds to the used crypto-currency. It is a line of code that proves ownership, transits, and purchases, as well as mints — the creations of NFTs in the first place. Many minters become royalty holders as well as the creators of the project. Sometimes, your NFTs can produce an internal utility token. The example is BitBandits projects where bandits produce LUT for the next 8 years allowing to purchase merchandise and participate in giveaways for holders. LUT is redeemable into a crypto-wallet just like regular crypto-currencies.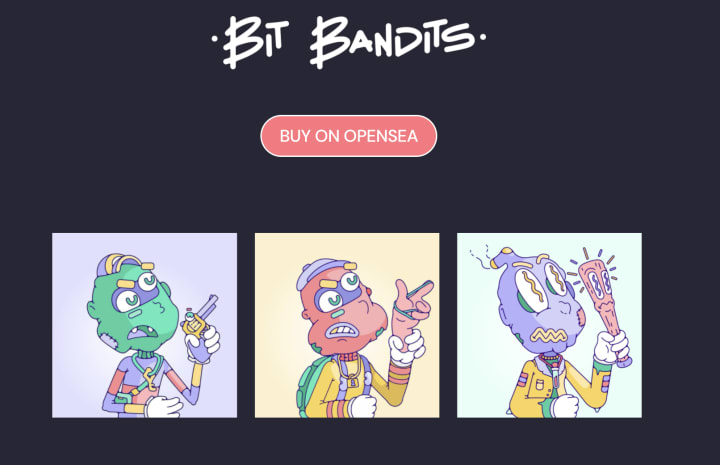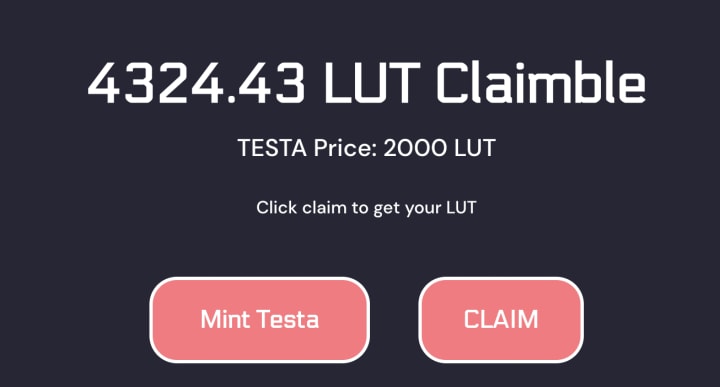 How to find an NFT project to invest into
It would be safe to assume that growing projects that trend on OpenSea are a good investment that will likely grow in price. If you look at the famous CryptoPunks or Bored Ape Yacht Club trading dynamics, you will notice how much prices fluctuate among items and from day to day.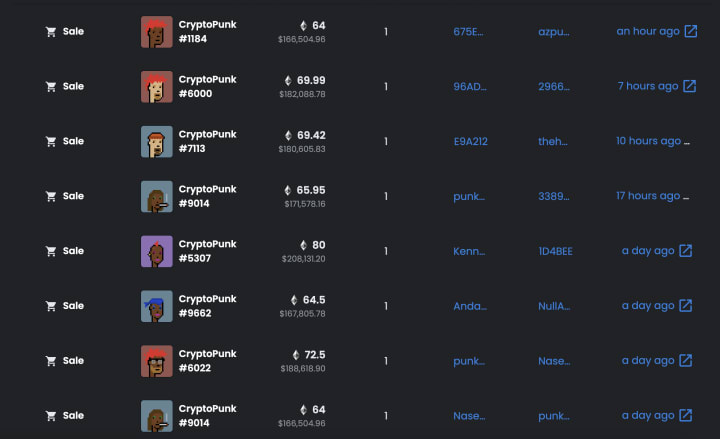 The problem of mature projects is that users get tired of them — there is a limit to items available that creates value, and those who did not get on the necessary train would like to search for new routes and new projects.
The biggest reward will come for those who become the initial minters of the artwork. It also implies the biggest risks as the majority of the projects will not survive the tough competition. Nevertheless, minters often get a part of the royalties from all the sales of NFTs. If you're interested in supporting a young project, you should do research — OpenSea and Twitter are good places to start.
NFT projects for social causes
Social causes is another way to start your NFT journey as you can support what you believe in and get art pieces at the same time. One good example is PUL3E project that contributes to heart disease relief funds with its sold NFT hearts.
PUL3E is a women-led, charity focused NFT project which was founded by Emilie after her partner Andrew was diagnosed with Heart Failure earlier this year at the age of 31. They are releasing a collection of 7676 3D animated NFT's based on a model of a human heart, designed to showcase a range of heart conditions and abnormalities. Hidden in these 7676 pieces will be 10 x limited edition 1/1 pieces which are totally different in design with totally unique traits. The PUL3E pledge and mission is to raise money for the charities that have supported them and many others during their journey through Heart Failure, whilst flying the flag for women rising on the blockchain.

Another fresh NFT example is the Ukrainian war relief collab Vandalz for Ukraine. This collaboration between Wladimir Klitschko and WhIsBe is a commitment to fighting back against the crimes being committed by Putin. 100% of the proceeds will go to Red Cross Ukraine, UNICEF Ukraine, and Ukrainian relief funds to support their vital efforts to provide humanitarian relief to the people of Ukraine. In this case the contract is exchange, and one item can be sold multiple times to raise necessary funds.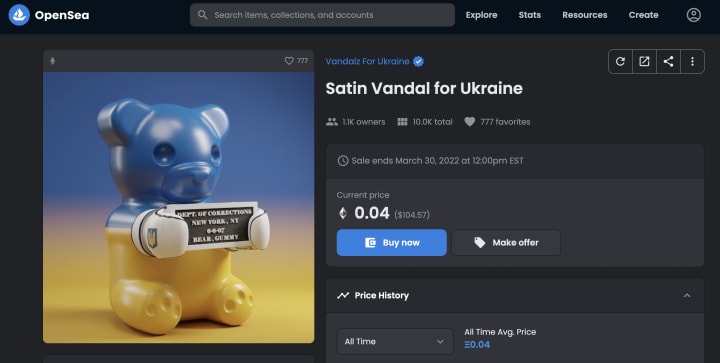 Safety Considerations
There are some important safety and security considerations too. Since NFT and crypto trading is somewhat a dawn of Web 3.0, there are some risks and concerns you want to take into consideration in this wild, wild west of the Internet:
Fishing attacks. With the growing capital in crypto-world and the lack of regulations, security or education, many users may become the victims of fishing attacks providing sensitive information to strangers (including private keys and 12-word phrases to reach their wallets). For example, with the recent OpenSea listing migration announcement, a lot of crypto-hackers targeted those interested in switching their NFTs to a new system. A total of $1.7 mln. was stolen this February, along with 254 NFTs transferred from wallets. It teaches us a lesson on information hygiene and security, no trust to unknown links and DMs from strangers.
Hacked wallets and accounts. You should always make sure no one has access to your private key or a 12-word secret recovery phrase. Once it is out there, and especially if your funds have been stolen, you should abandon your wallet and start a new one, as there are cases of users putting some new money in and that money disappearing from the corrupted wallet again.
Rug pull projects. This is relevant for both cryptocurrencies and NFT projects. The precaution is necessary due to the latest news about celebrities like Kim Kardashian advocating for crypto projects and investing heavily into them, only to end up taking all the shares out and leaving investors with nothing. Today, celebrity-driven NFT projects only raise questions, and you should look for other values, attributes and benefits when making this decision.