Difference between PCEX Member's Master Franchise, Franchise, and Freelancer Explained
what actually makes Master Franchise and Franchise different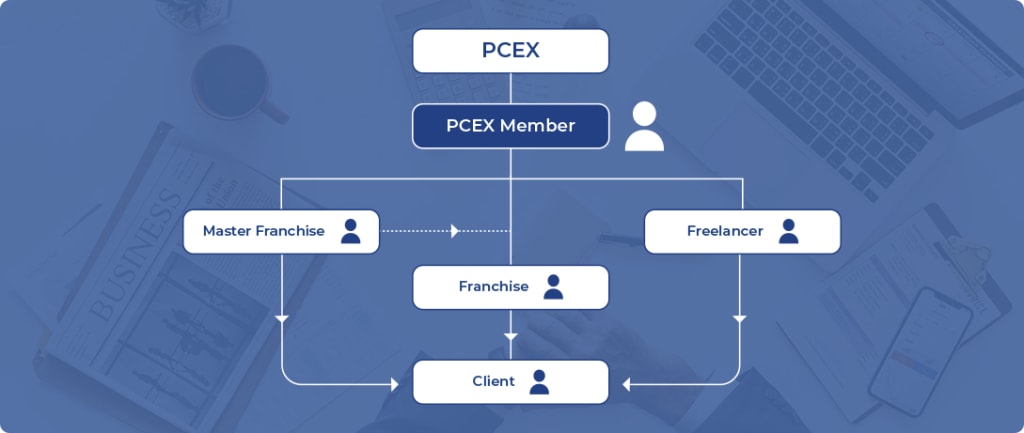 There have been positive sentiments returning back in the favor of BTC as 1 BTC to INR/US$ has been skyrocketing and reaching to the moon in October. Investors who had been ravaged by the crypto ban in India likely see opportunities on the investment horizon after the ban lift and BTC recovering by 6.5% since October 2, 2020, to reach $10,500 and with the likely swing around, an $11,000 mark is highly expected by the end of October. The reason to analyze the trend was to highlight the growth of Bitcoin business in India and you must have a strong Bitcoin business plan to sustain in this challenging coronavirus period. PCEX Member, a crypto-broker in India has launched a trading business plan via a franchise model where you can earn regular returns by bringing liquidity to the exchange. Let's look at the three models under which you can associate with PCEX Member and drive income for sustenance.
Basis of differentiation:
Criteria of Participation :-
Master Franchise - Master Franchise participation is meant for whales and big enterprises. To register as a Master Franchise, it is necessary that you are a Limited Liability Partnership or LLP, Limited Companies or Partnership Firms
Franchise - To participate under the franchise model of the PCEX Member (Crypto Broker), you must be LLP, Pvt Ltd
Freelancer-Anyone above 18 years of age and a matriculation degree can partner with PCEX Member as a freelancer.
Commission or Brokerage :
Master Franchise - 60% of the brokerage fee for all the trading that they bring to the exchange.
Franchise - 40% of the brokerage fee for all the trading that they bring to the exchange
Freelancer - 20% of the brokerage fee for all the trading that they bring to the exchange.
Qualification :
Master Franchise - 3+ years of experience in crypto broking is necessary to join as the Master Franchise with PCEX Member. In the span of 3 years, they must have the working knowledge of Stock, Forex, PMS, cryptocurrency Market, or wealth Management and also have exposure to B2B networking
Franchise- Recently starters in the world of cryptocurrency can register with PCEX Member under the franchise model. They need to have at least 1 year of exposure dealing in Stock, Forex, PMS, cryptocurrency market, or wealth Management and also have exposure to B2B networking
Freelancer - Newbies or enthusiastic traders who want to pursue a new career for sustainability can register under the freelancer model where they just need matriculation and 18+ years of age to register
Fees for Joining :
Master Franchise - To join as a Master Franchisee, you need to pay non-refundable INR 100,000 + 18% GST. There is an additional 750 + 18% GST payable for KYC.
Franchise - Franchise Members or (Sub-Brokers) can register on PCEX Member by paying 12,500 + 18% GST.
Freelancer - Freelancers are required to pay 750 + 18% GST to register on PCEX Member as a freelancer trader or sub-broker.
What are the Advantages of Being a Cryptocurrency Sub Broker Franchise On Any Crypto Exchange like PCEX Member?
With 1 BTC to INR soaring on the sky and a good future awaiting to start your Bitcoin business plan when you register with any big exchange like PCEX Member as a cryptocurrency sub-broker/franchise model collaboration, there is no going back to set-up a sustainable income portfolio. Here are a few likely advantages you get when you register yourself as a sub-broker/franchise with PCEX Member.
Legacy of Big Exchanges: Collaborating with very large exchanges with high liquidity like PCEX Member automatically makes you a crypto-sub-broker/franchise, a part of their legacy system. By riding on their legacy and brand value, you can easily convince other traders to come to the exchange and trade in cryptocurrencies. The more the traffic of the traders on the exchange, the better will be your earning potential.
Stable Career: As the market sentiments pertaining to the cryptocurrencies have strengthened lately, there has been significant growth opportunities building along the investment horizon. You can simply take PCEX Member as a freeway that will help you reach your destination of financial independence and the plan to achieve your sustainable development goals.
Lead Magnet: Partnering with big brokerage firms or cryptocurrency trading platforms like PCEX Member help you to get their specific customized market training. In the training modules, you are taught strategies to generate leads, optimize lead campaigns, and set-up a business dashboard for better operations. The resulting outcome will be the competency to bring more liquidity to the exchange, resulting in better income opportunities for you.
Minimum Investment But Maximum Returns: You need to invest a very little amount and grab more opportunities that follow when you partner with a big exchange platform dealing in cryptocurrencies. Bitcoin's business plan revolves around big exchanges that can offer you the best buy-sell plan to ensure high liquidity and consistent brokerage for sustainability.
Conclusion
The availability of diverse business models at PCEX Member does not take away the opportunity from the hand of those who want to scale higher in their careers. Financial constraints should be your deterrence when you want to dream big and work towards the same to achieve your goals. PCEX Member's three broad collaboration plans ensure that you are not left behind in anyways.