Build an NFT marketplace like OpenSea and make fortune in a short time
Acquire an OpenSea Clone Script and get a stronghold over the NFT industry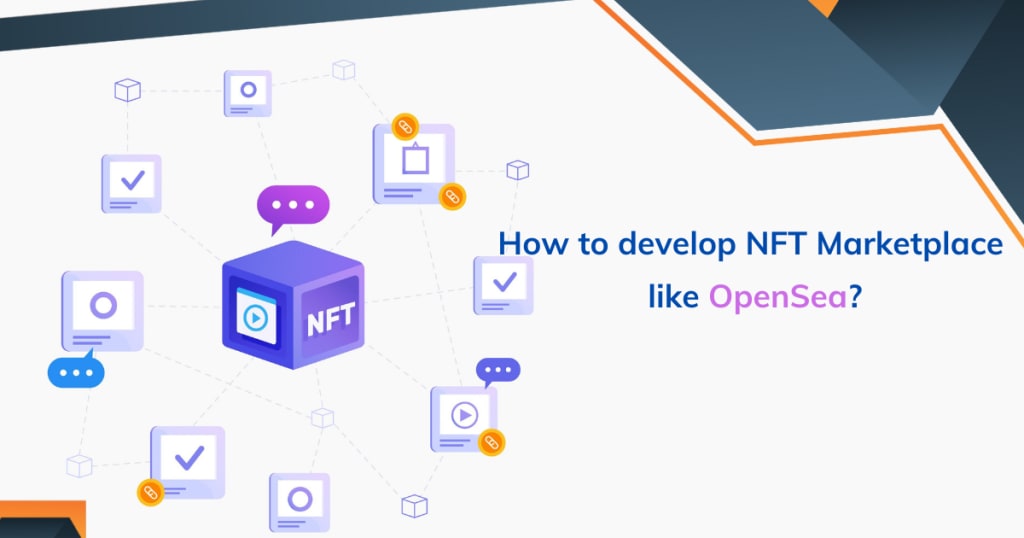 How to reach the top of the NFT trading sector? OpenSea, an Ethereum-based online marketplace has achieved it now. It has the highest daily trading volume ($46.75 million) in the entire industry as per DAppRadar. The OpenSea NFT marketplace is well ahead of rivals like Axie Infinity ($32.27 million), CryptoPunks ($2.58 million), and Rarible ($772,860). Hence, entrepreneurs can join the bandwagon by procuring an OpenSea clone script from a popular app development company.
Crunching the stats behind the success of the OpenSea NFT marketplace
76,680 traders processed 478,350 peer-to-peer (P2P) transactions in the last 1 week on OpenSea. The trading volume in the previous 7 days was $380.36 million according to DAppRadar.
The OpenSea NFT marketplace is getting high demand for 5 collections. More investors are purchasing crypto collectibles of Art Blocks Curated, Bored Ape Yacht Club, CryptoPunks, Meebits, and Parallel Alpha from the online platform.
121,680 traders bought and sold NFTs through the OpenSea platform last month. The total value of assets locked (TVL) in Ethereum smart contracts was $43,630 in the last 30 days.
Insight yourself on the 5 significant features of a White-label OpenSea clone
Activity Dashboard - It shares real-time information about bids, listings, sales, and transfers. Each NFT sale is shown in the Trading History panel. Investors can take a glance at the quantity and unit price. Further, they can search for the best-selling digital collectibles on 3 blockchain networks (Ethereum, Klaytn, and Polygon).
Dual auction options - Artists and publishers can select either a Declining or Fixed price listing on an OpenSea clone script. They are also called Dutch and English auctions respectively.
The cost of NFTs keeps on decreasing in a Declining price listing. It stops at a certain level after a buyer purchases the digital collectible. Investors who make the highest bid will get the crypto collectible in a Fixed Price auction.
Importantly, content creators can cancel their auction anytime but need to pay a specific gas fee. Generally, the reserve price of Non-Fungible Tokens (NFT) cannot be changed after the start of an auction on the platform.
Exclusive Drops section - Any kind of asset can be showcased in the Drops section. Content creators can list artwork, domain names, songs, sports goods, trading cards, and virtual worlds. Likewise, investors can purchase these rare digital collectibles from the NFT marketplace like OpenSea by participating in live auctions.
Artists can also schedule their NFT listing beforehand. They need to share information about the date and time of release and the name of the digital collectible.
Filtering and Sorting mechanism - Buyers can pick their desired crypto collectible by using the Filtering and Sorting option. They can split their searches based on most viewed, oldest, and price (high to low and low to high). Further, they can narrow down on a digital collectible by tapping the Recent panel (Created, Listed, Received, and Sold).
Integration with different digital wallets - Investors can back up their NFTs in numerous software wallets. They can use Arkane, Bitski, Coinbase Wallet, Dapper, Fortmatic, Kaikas, MetaMask, Portis, Torus, Trust Wallet, and WalletConnect.
Generally, these digital wallets have a Single-Sign-On (SSO) mechanism and are multi-platform compatible. The funds of investors are fully protected from hacking and phishing attacks. Hence, they can use either passwords or private keys.
What kind of files can be uploaded for selling NFTs on the OpenSea Clone?
Content creators can sell their audios, images, 3D artwork, tweets, and videos on the NFT marketplace like OpenSea. They must upload files like JPEG, MP3, MP4, PNG, and WEBP. Further, they can add a banner image, a short description, social media links, and unique properties. Later, they can fix the reserve price or the secondary sales fee.
How do gas fees on OpenSea assist entrepreneurs in minting more money?
There are 2 kinds of gas fees on the NFT marketplace like OpenSea. Cryptopreneurs will earn one-time and recurring gas fees since the Ethereum blockchain network uses a lot of computational energy.
Content creators pay one-time gas fees for account initialization, approval of digital currencies like (DAI and USDC stablecoins, and Wrapped Ether), and trading between the digital wallet and the OpenSea clone script.
Moreover, sellers pay recurring gas fees when accepting an offer, cancelling a listed NFT, freezing the metadata, and transferring their crypto collectibles to the buyer.
Similarly, interested buyers pay gas fees for cancelling their bids, conversion of Wrapped Ether to Ethereum and vice-versa.
The development cost for NFT marketplace like OpenSea
The cost of developing an OpenSea clone depends on several factors. The majority of expenses are on Ethereum smart contract development and testing, implementing digital marketing campaigns, integration of features to the front-end, issuing software updates, maintenance of the NFT marketplace, and paying hourly salaries to the blockchain developers.
Wrapping Up
Above all, OpenSea is the leader in the fast-growing NFT industry. 24387 traders execute deals on its online marketplace daily. With the financial backing of $100 million from Andreessen Horowitz (a16z), it will soon launch a new NFT marketplace on the Flow blockchain network. Likewise, the OpenSea platform will partner with Dapper Labs (owner of CryptoKitties NFT marketplace) for this path-breaking project.
Acceptance of credit card payments from investors will be another measure that will help the OpenSea NFT marketplace. It can disrupt the mainstream economy easily.
Hence, entrepreneurs can accelerate the growth of their crypto venture by launching an NFT Marketplace like OpenSea. They can easily bridge the gap between content creators and fans through the power of Non-Fungible Tokens (NFTs).