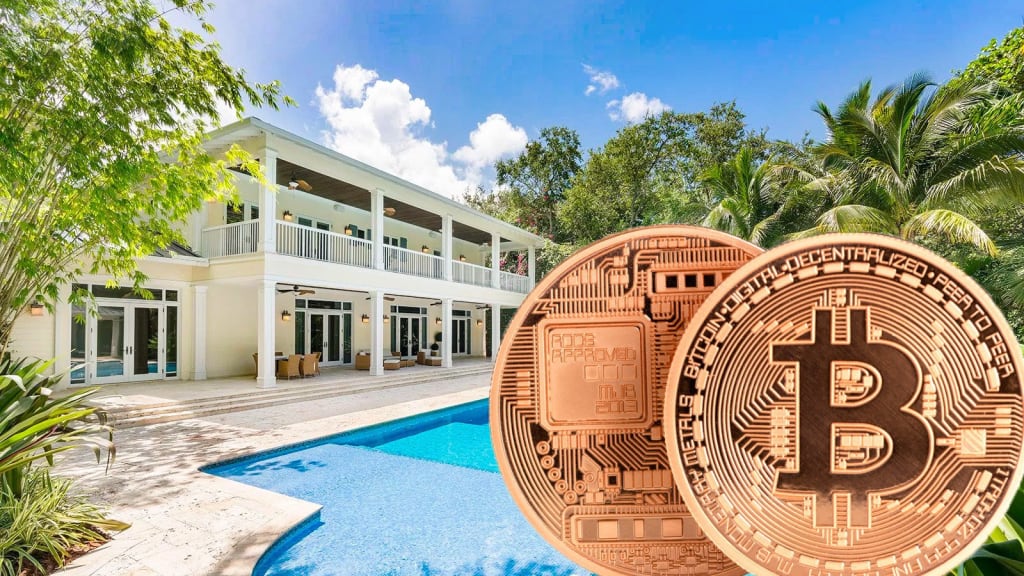 Bitcoin is a type of cryptocurrency and it's also a worldwide payment system. While it's the first decentralized digital currency, it's the most popular cryptocurrency up to date. You can use Bitcoins to regulate the generation of unites of currency as well as verify the transfer funds and operating solo of a central bank. Since it's already a global phenomenon, you can actually buy real estate with Bitcoins.
However, you can't actually buy property in just any city of the world. So far, there are only five cities in the world where you can purchase real estate in with Bitcoins. I won't be surprised if more cities are up for this, but as of now, these are the cities that let you buy real estate with Bitcoin.
Miami, Florida
Believe it or not, Bitcoin has been part of the Miami, Florida, real estate market for several years now. Even though the cryptocurrency coin was officially launched in 2009, real estate agents, buyers, and investors immediately got ahold of the new crypto. So when a Miami man made it big on the news when he sold his home in Coral Gables for over $6 million, which is about 1,600 BTC… the headlines completely rattled us.
Realtors are actually pretty confident that South Florida is the perfect market for Bitcoin. They view the coin to be a primary factor that's increased interest and attention to the region. And through an alternative of currency, this opens up more properties for buyers and investors to obtain from across the globe.
Lake Tahoe, California
Lake Tahoe, California, is among the cities that let you buy real estate with Bitcoin. When an anonymous buyer purchased a 1.4-acre property with Bitcoin on a 42-site resort, the undeveloped property was sold for $1.6 million—2,739 BTC. This single purchase became the biggest Bitcoin-driven real estate transaction in 2013. And the Bitcoin purchase was originally the buyer's main idea, according to reports.
Since then, no one else has seen another development including Bitcoin in the Lake Tahoe real estate market. Sales, in fact, shows off the potential of digital currency and what it can do in the industry. This idea basically opens future deals in both residential and commercial sectors.
Dubai, UAE
Among the cities that let you buy real estate with Bitcoin, Dubai, UAE, is one of them. Yes, the US isn't the only country that's growing in Bitcoin. In actuality, a developer located right on the Isle of Man has recently declared his plans for a joint residential-commercial development valued at $325 million. Possible residents will also have the ability to use Bitcoin to buy their property—like studio apartments starting at just 33 BTC as well as one-bedroom apartments for 54 BTC. This is all tallied at around $250,000.
Even though some of the development's units have been sold already for modern currency, the remaining residential properties are reserved for Bitcoin buyers only. In addition, commercial units aren't available to buy through Bitcoin.
New York, New York
Yes! The city that never sleeps is one of the cities that let you buy real estate with Bitcoin. Both real estate agents and investors have high expectations that Bitcoin is the future of currency. In fact, Magnum Real Estate believes that there will be a huge risk in accepting Bitcoin for deposits and purchases for recently converted apartments in Manhattan's East Village. While it's seen as Liberty Toye, the property stands out as a huge shift in the manner we conduct business this century.
However, real estate investment trusts have actually been looking into the diversity of their portfolios this year and NYC offers the best launching ground. Since this city isn't afraid to take risks at all, known as an entrepreneurial-minded place, there are already apartments and houses being available to buy for Bitcoin.
Bali, Indonesia
Lastly from the cities that let you buy real estate with Bitcoin is Bali, Indonesia. This island in Indonesia isn't the first place you expected a Bitcoin-backed real estate transaction—it's one of the first locations to support to well-known cryptocurrency.
As for those who's spend Bitcoins for property, an anonymous buyer spent more than 800 BTC for a villa in Bali. That's known to be around $500,000 during the time of the purchase. Even though residential real estate agents and buyers are satisfied with using Bitcoin in Bali, there haven't been any listings in the commercial or industrial markets just yet.
About the Creator
Will always catch him wearing a tux on the daily. Goes by Bond, hates his name Greg. You'll find him in high-end New York City bars making conversation with strangers.
Reader insights
Be the first to share your insights about this piece.
Add your insights