Why Firenze?
My Personal Argument for Why Florence Is Taking Over the Fashion World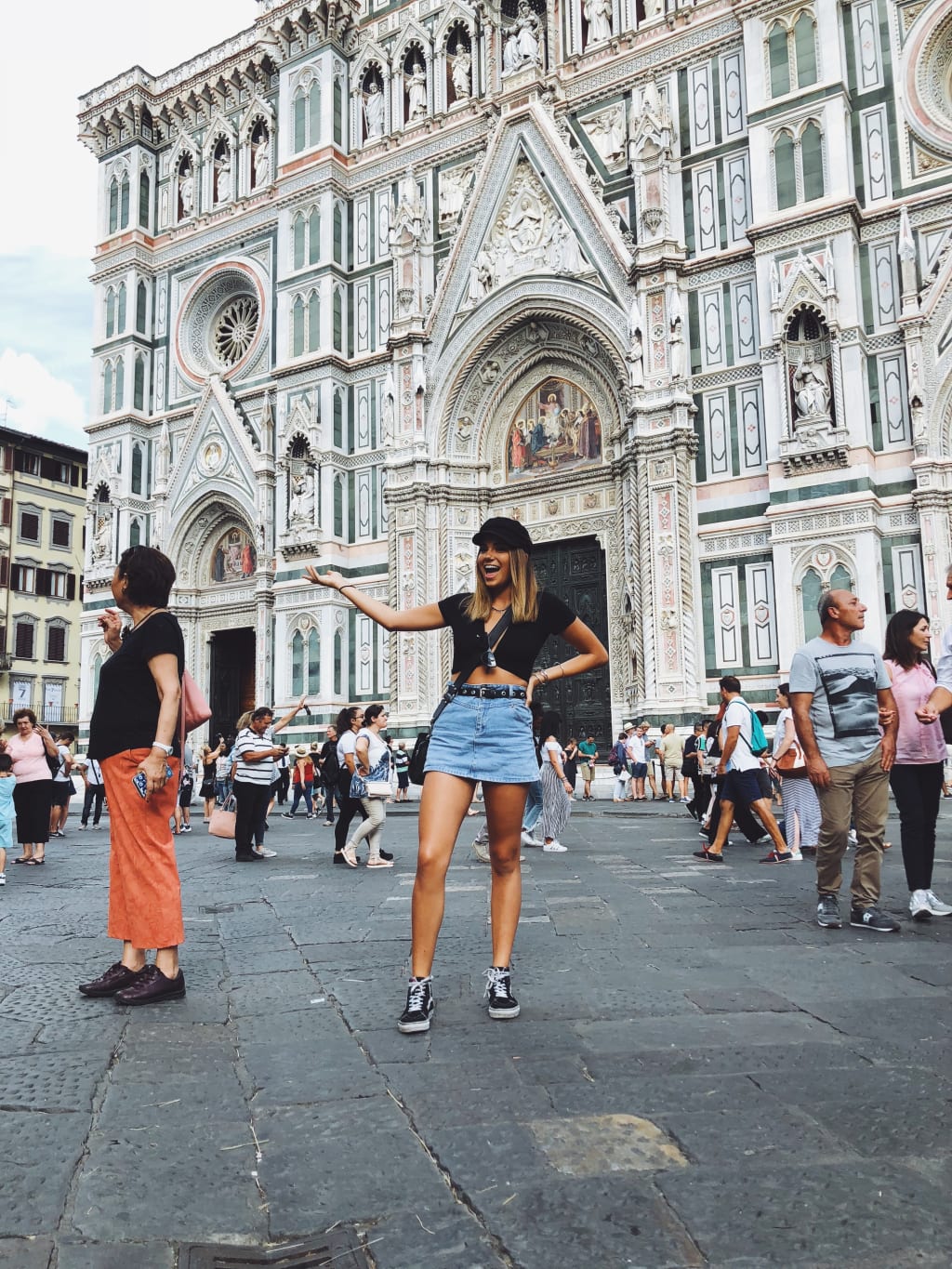 When walking down the timeless streets of Florence, Italy, it is unavoidable to see fashion bouncing between buildings. From hundreds of different dazzling stores, one of a kind boutiques, and glamorous luxury designers, to trendy locals that dress to impress, Florence acts as a fashion hub. The world is beginning to identify Florence as the new "It Place" for fashion. In their e-newsletter, the Telegraph reported that Florence is giving world famous fashion districts like New York City, Milan, and Paris "a run for their money," as the article went on to describe the streets as "heavenly," for lack of better words.
With such high standards in competition with these other hub cities, it is easy to ask: "Why Florence?"
For those who haven't experienced the fashionable streets of Florence, they are lined with beautiful shops and displays that showcase glistening jewels, extravagant clothes, and unique accessories that every fashionista would kill for. Aside from it's aesthetics, Florence is a city founded on markets. It is difficult to go more than 100 feet without bumping into a street market or vendor stand that sells just about every type of accessory imaginable. San Lorenzo, one of the most famous street markets, is held just around the corner from Luisa Via Roma, that houses over 600 luxury brands and designers.
Florence is additionally a city with great access to textiles, due to the fact that it is home to amazing leather and velvet factories.
Leather is a timeless asset in the fashion industry. For example, year after year, a new modification of the leather jacket is introduced in the winter time, and a new modification of the leather purse is introduced in the summertime. Leather is an ongoing necessity in Fashion, and gives Florence a home court advantage, because it houses so many leather factories, and craftsmen. In other regions of the world, new generations of artisans are being replaced by machinery that is able to produce mass amounts of products in little time. Florence, however, is still educating and cultivating artisans to carry on decade long fashion traditions. Just outside the heart of the city lies Scuola del Guio—the Leather School of Florence. Here, budding students are transformed into young craftsmen through years of training and experience. These craftsmen design and make leather products sold in markets all around the city. In today's blossoming world of mass production, it is very unique and valuable to find artisans that hand craft such quality items, and sell them for reasonable prices.
On the higher end, just a few miles outside of the city lies Fondazione Arte della Seta Lisio, a velvet factory that has been up and running since 1906, and is responsible for the creation of fabrics that create clothing and accessories for designers such as Fendi, Valentino, Gucci, and Versace. The factory is a bit rusty, but still up and running to preserve the "art of hand-weaving in silk" and "precious metals."
A large part of what makes Florence such a spectacular fashion hub is that an education in fashion is not limited just to fashion students, it is open to the public. In recent years, Gucci introduced the world to a showroom known as the "Gucci Garden," located in the heart of the city. This garden acts as not only a museum, but a tribute to the beautiful craftsmanship and history behind every stitch and pin of Gucci's products. Contrary to common assumption, the Gucci Garden isn't a place intended to only capture the attention of budding fashionistas and elite. It is intended to capture the attention of the general public—a "come as you are" montra, if you will. Despite competition between the two cities, even Vogue Paris, the magazine, gave a graceful acknowledgment to Florence in their article "Why You Have to Visit the Gucci Garden in Florence" by applauding the "ode to heritage and creativity" Florence holds in it's museum.
Less than a mile away from the Gucci Garden lies the Ferragamo Palace—a beautiful building that was once home to the famous shoe designer Salvatore Ferragamo. This building also invites the public to enter in and view the exhibit that lies in the basement. The exhibit is lined with hand-crafted shoes that once danced at the feet of celebrities and fashion icons, as well as videos, displays, and guides to educate visitors.
To complete the trifecta, just across the Ponte Vecchio bridge, that is famous for housing stores of exquisite dancing diamonds, lies Palazzo Pitti—the home to the Sala Bianca (White Room), where the first Italian fashion show was held in 1951. Just like all the other exhibits, the Palazzo is open to the public for people to enter in and view the exquisite Salal Bianca, that mimics the soft white beauty and radiance of heaven itself.
Between beautiful, decadent store fronts, easy access to complex, handcrafted textiles, timeless exhibits that capture the grace of Italian fashion, endless means for fashion history and education, and natives that capture the true essence of Italian style, there is no question why Florence is making its debut as the place to be for fashion students and lovers.