The (Small) Business of Fashion
It's never been more important to support emerging creatives, which is why I'm using my experience as a brand founder to build an all-inclusive, interactive and informational course on starting your independent fashion brand.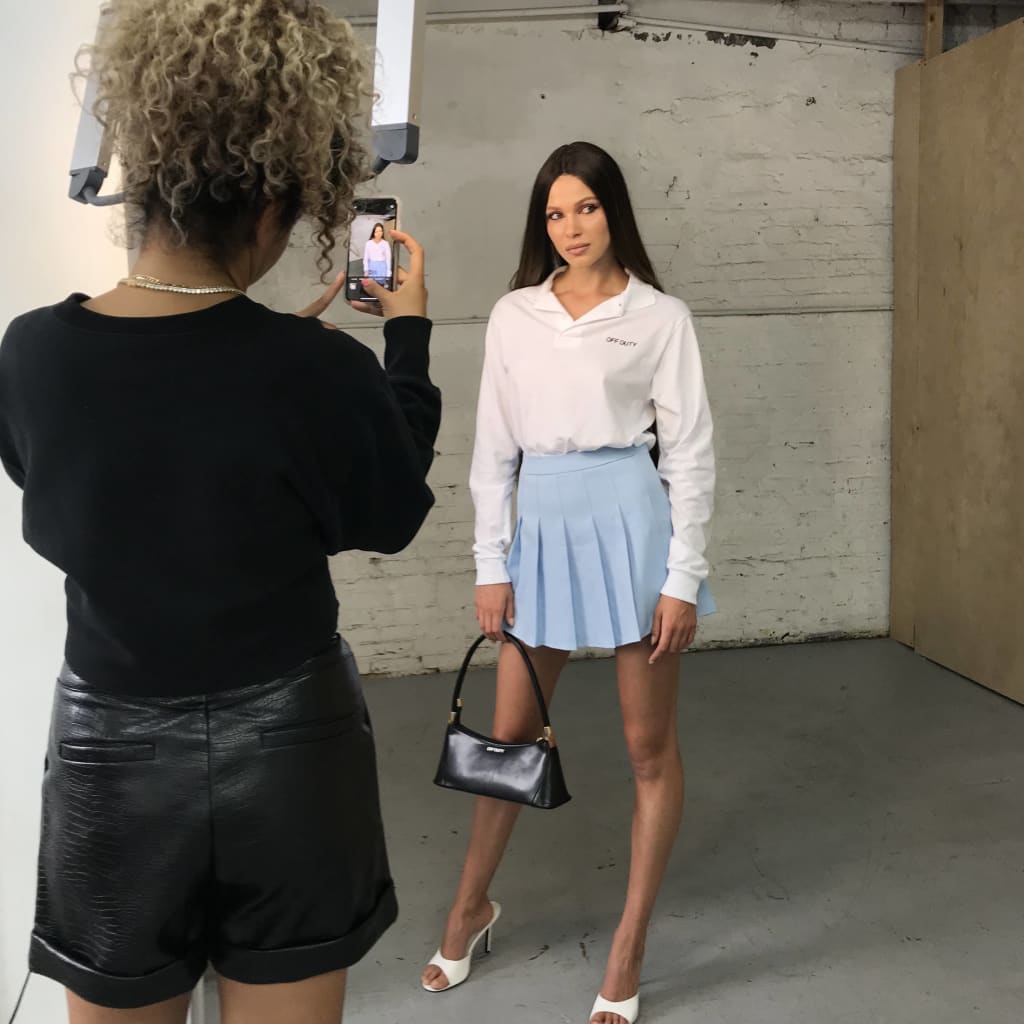 I began thinking about making clothes in 2018, though who knows how long I'd been thinking about it or visiting it in my mind before then.
The phenomenon of street style as uniform had long fascinated me on account of its duality. The phrase "off duty" garnered visions in my mind of models exiting Parisian fashion shows in full hair and makeup paired with a tracksuit and sneakers, or the girl walking down Mulberry Street wearing an oversized sweatshirt with patent leather knee high boots. The balancing act between high and low meant that off duty girls never had to resign themselves to either end of the spectrum. They could be both frivolous and uncomplicated, boisterous and intelligent, forthright and unassuming, or refined and playful.
Largely inspired by the off duty attitude, I started deconstructing sweatshirts and printing a blocky OFF DUTY logo onto the chest using a vinyl printer. I brought these and other homemade creations to the modeling agency in New York where I was working as an agent on the women's board at the time, and had the models we represented try on the sweatshirts, then put together amateur photo shoots in the office's in-house studio. Some girls even bought the hoodies from me, but that would be the extent of Off Duty as a brand for another two years.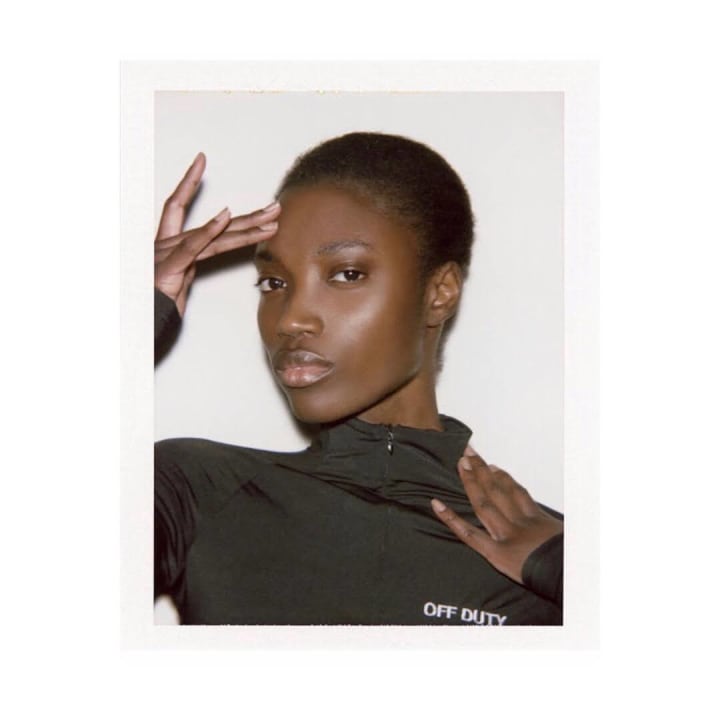 Two years later, I was laid off from my job at the agency due to the pandemic. A lot of people were. But it was much worse when it happened to me, because it happened to me. I was only 27 but already the constant lingering feeling of time running out had started to keep me up at night. The awareness that my life exhibited some sort of deficit of intention was always at the forefront of my mind, no matter where I was or what I was doing.
I wanted to create clothes that were powerful, elaborate and able to toe the line between repurposed and wearable. I had no fashion design background, but I was precocious of mind, and understood the power of a cold email.
After reaching out to manufacturers from Honduras to China, however, it became apparent that I overestimated the power of aforementioned cold e-mail. Based on factory minimums that ranged from 100-1,000 pieces per design, I absolutely did not have the money to start a clothing brand.
Instead, I set up what I generously called a factory at my parents house on Long Island, and what in reality consisted of: a vinyl printer, a rack of sweatshirts I had purchased for $4 a piece in black and white, a pair of fabric scissors, a heat press, and some iron on labels I had custom made on the internet. The idea was to cut up existing sweatshirts until they were just destroyed enough to be salvaged again, which is to say, so I wouldn't have to start from scratch.
Starting with a white cotton crewneck, I cut slits in the sleeve cap, removed the hem, and added shoulder pads from my mother's sprawling collection, which I had discovered in a Danish cookie tin where she famously kept her sewing supplies.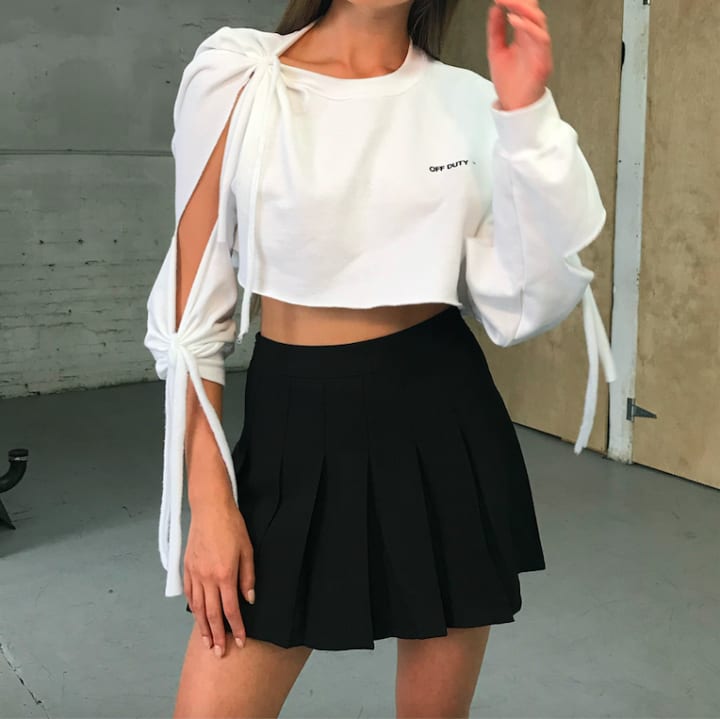 I was curious to see what would happen if I cut the elbows out completely, removed one sleeve but not the other, or let the hem trail asymmetrically. So I made another crewneck, in black this time. The more curious I became, the more sweatshirts I finished, and the better I got at whatever it was I was doing.
I threw away nothing, mostly because I needed every scrap to tie the sweatshirts back together. I had very little idea how to sew, and the idea of a garment held together by nothing but itself seemed like a tidy metaphor for my life at the time.
Surrounded by cut up sweatshirts, fabric scraps in every shape, mesh clippings, suede cords, elastic bands and spools of tulle that were wiry and impractical, I continued putting the pieces together until they resembled something wearable. I printed quotes from my favorites books or parodied corporate logos onto the rebuilt sweatshirts. I did nothing but cut and tie for days at a time.
In a rare moment of clarity, after weeks of putting off plans with friends or having a proper nights sleep, I thought to myself, maybe this project is too important to me, and I liked that.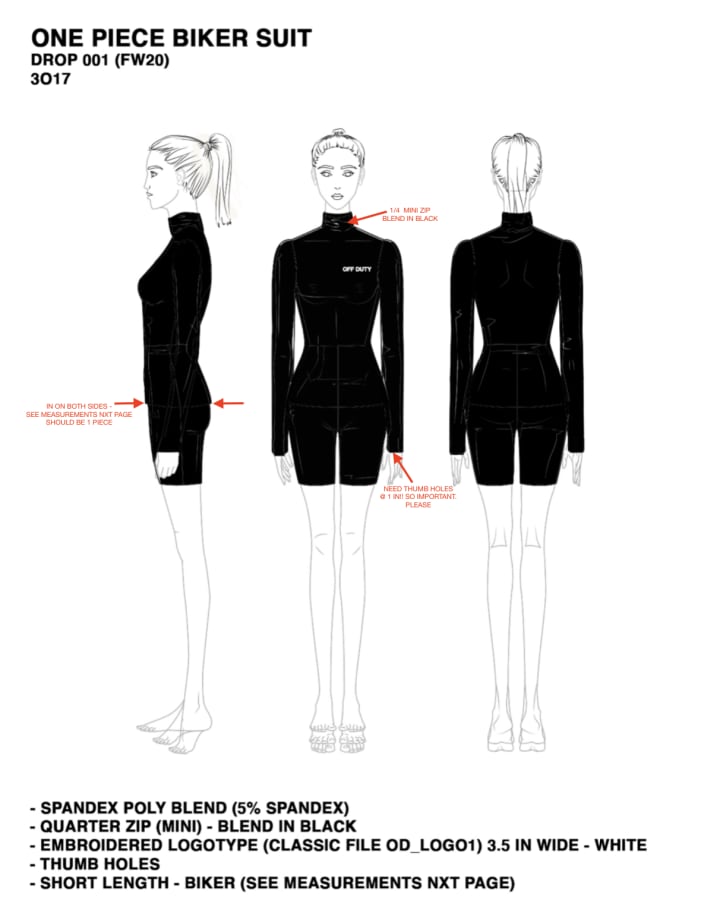 Up until this point, my career had always belonged to someone else. I was someone's assistant, or someone's agent, or I produced a photo shoot for someone. The past 6 years of being someone's someone were necessary, but I couldn't discount how good it felt to call something my own.
I asked two models I had kept in touch with from the agency to be the first "Off Duty Girls" and both agreed to shoot the first campaign for free. There was no photographer, lighting, or equipment. We were three girls in a Chelsea photo studio I had rented for $50/hour.
The first collection sold mostly to my friends, and otherwise badly. Financially, I still hadn't broken even by the time I decided to make a second, but at this point the money meant little to me. It felt like my sanity was riding on my ability to keep creating.
Then in early 2021, after a year of delayed deliveries and giving away my homemade sweatshirts to models for free in exchange for promotional content, an Italian boutique carrying exclusively independent and emerging designers called 5way reached out via Instagram about selling Off Duty in their Milan shop. It had been almost a year since I made the first cut and tie sweatshirt and I had now reached the point at which I could meet factory minimums.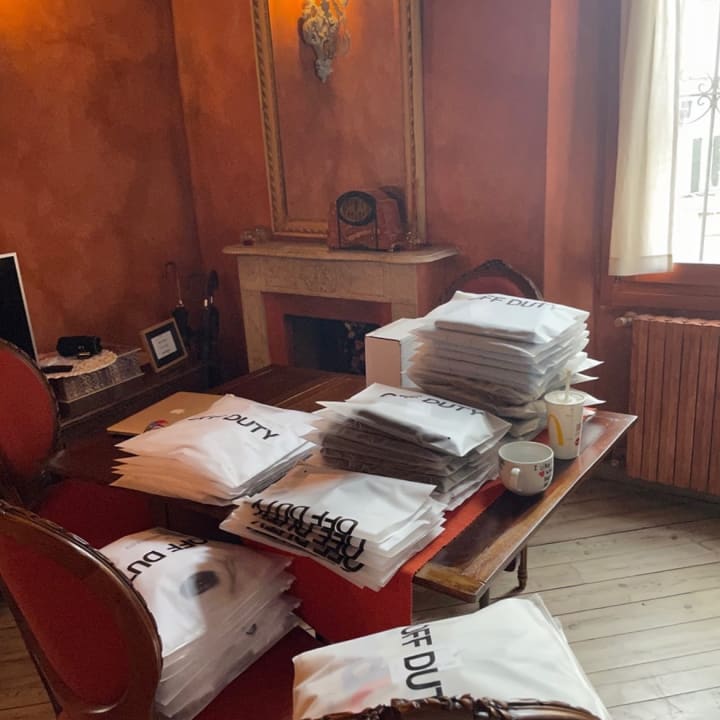 Bemused and elated, I flew to Milan in May to see the second collection of Off Duty hanging in the windows of a boutique in the city's center. It had been the type of year during which it was difficult to be a creative. Everything changed, so I did too, but somehow an original thing was born from trivial debris.
•
From the start, Off Duty had been based primarily in an attitude and less in the logistics. I wanted to create a community and a mindset for the girls who were wearing the clothes as much as I wanted to create the clothes. What you wear is, in large part, a signal to others that you have something in common. It's how unlikely conversations start and countless friendships are forged.
With the help of a membership program like Memberful, the first thing I would do is introduce a monthly newsletter that offers more than discounts and product announcements. Having a background in magazines and photo production, I'd create a newsletter that reads like a mini magazine, featuring photo shoots produced by teams of emerging creatives, and articles written by guest writers and submitted by our subscribers. The Off Duty newsletter would be an art piece in itself, always keeping in mind the brand's mission to empower women through our clothing and showcasing talented writers, photographers, directors, hair and makeup artists, stylists, and more.
Espiecially in the beginning, I was approached often with curiosity and questions from friends and strangers about starting Off Duty with virtually no knowledge of design or textile manufacturing. I imagine Memberful as a platform to answer these questions on a larger scale, in service of young designers and those who don't know where to start.
Memberful would also be the perfect place to engage with other young designers through mediums like educational blog posts, interview style videos, and Discord chats that would be available to our subscribers as sources of both information and inspiration.
Add to this the plethora of resources that aren't made widely available to designers outside of the industry, from reclaimed fabric sellers, to digital sketch templates, to free design software and tutorials, that could be compiled and made available via Memberful.
The ultimate objective of the Off Duty Memberful subscription would be to provide an all inclusive, interactive and informational course on starting an independent fashion brand, no matter where you're starting from. In addition to providing insider access and advice, the idea is to offer subscribers a community where their questions never go unanswered, and we are all able to support our respective brands while celebrating each other's creations, victories, and progress. •