The Great Depop Debate
How sellers can be more responsible on the secondhand site.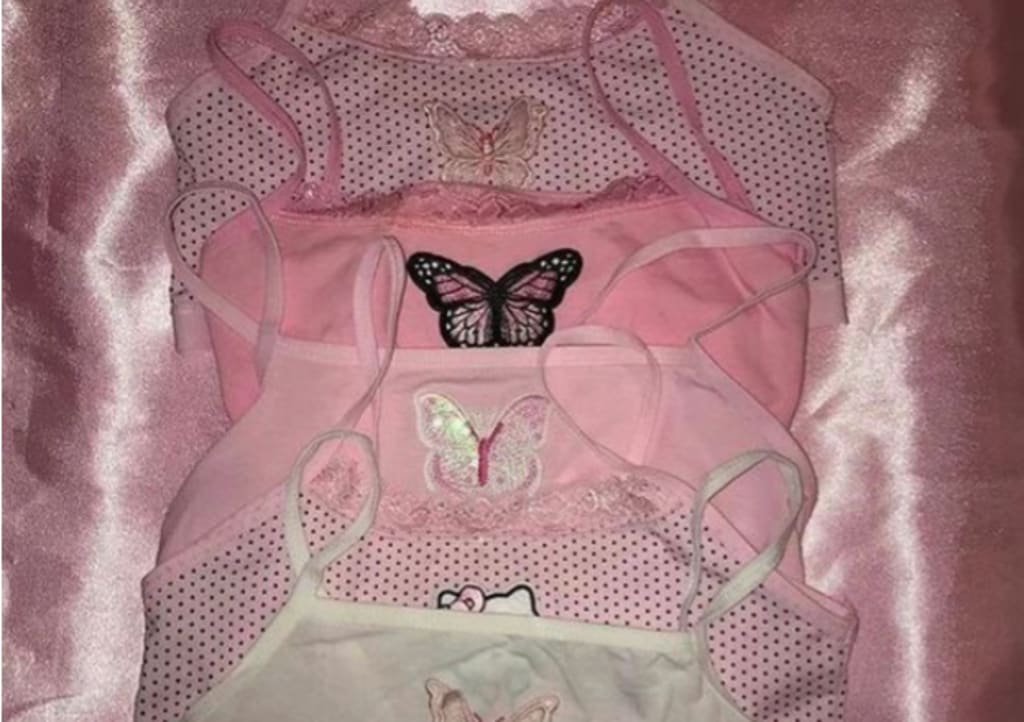 Articles with titles like "How This Teen Made $18K Selling Her Pre-Loved Clothes!"seem to constantly float around the Internet lately. Almost every influencer has a side hustle selling the fits they wore once in an Instagram photoshoot. And on TikTok? Thousands of tutorial videos on how to turn XL clothes into cute little sets, or how to redesign Walmart jeans and then make them cute enough to sell for $45.
The sharp incline of Depop's popularity in the last 5 years has sparked debate over how ethical the trendy side hustle is. Sure, selling clothes you've grown out of or no longer fit your style is a great way to help the environment and help others find clothes that they may not have access to IRL. But what about those who clear out Salvation Army and Goodwill locations, buying vintage skirts and tops for $4 and turning around to sell them for $20? Even worse, when XL, 1X, and 2X items are bought up just to be turned into "sets", which mostly range around XS to S.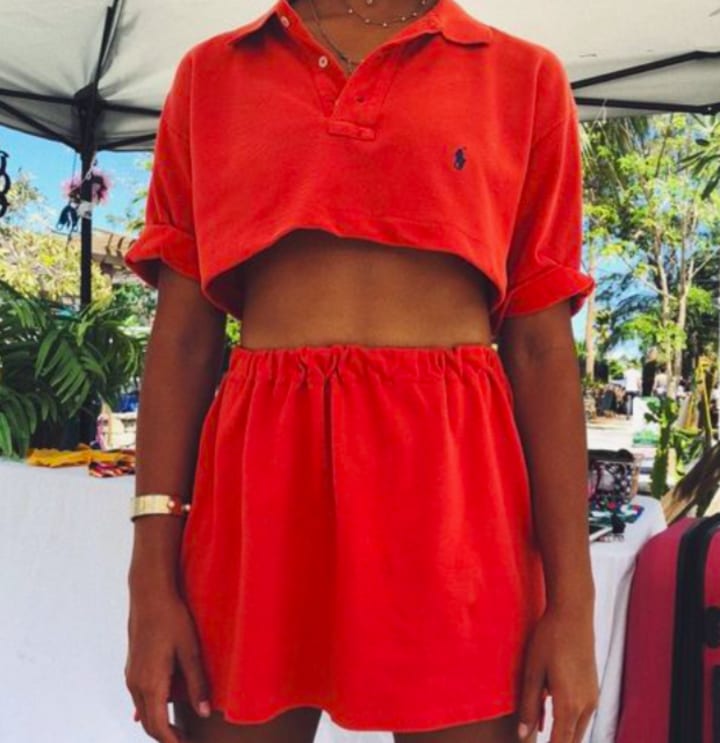 The argument is that basically, the sudden increase of bulk buying from thrift stores has raised prices significantly, making it less accessible for those of us who shop secondhand for financial reasons. To buy plus sized clothing just to "revamp" or upsell it makes it less accessible for actual plus sized people. But looking at it from a customer's lens can make things a bit skewed -- we're biased in our own way!
So I reached out to Kiki, owner of Shop Keeby. Kiki sells their items both on Depop and through their Instagram, and has been selling consistently through Depop for the past year. Kiki's clothes are all their own, and they describe their store's inventory as "a pretty eclectic mix of current trends and vintage".
Kiki has some beautiful insight into upselling thrifted plus sized clothing. They put it this way: "I'm personally not a huge fan of upselling thrift store finds in general, but I understand folks need to make money however they can. I do think seeking out plus sized items specifically is problematic, as so many brands exclude larger sizes, or even charge more for sizes over a large. Finding affordable and trendy plus sized clothing is hard enough that I think we really should be trying to bridge that gap and make it a little easier for people who already have a hard enough time in the fashion industry."
But when it comes to the process of cutting up perfectly wearable plus sized items and "recycling" them to make it into a new fit, Kiki and many other sellers have some apprehension. "There are SO many stores that cater to thin people and so many places where you can source fabric for cheap to make items from scratch that it really doesn't seem necessary, especially if people are explicitly asking you not to do this because it makes shopping harder for them," Kiki explains, "If anything, upcycle older plus sized items into more modern, trendy options for folks of that size!" And there are so many ways to alter clothes and make them more modern that doesn't involve changing the size of a product. For example, Kiki does clothing revamping in ways that don't require the size-altering process of chopping the piece up, by experimenting with painting clothes and fabric to bring pieces a new life.
Fashion is the ultimate form of self expression! Yet, like clockwork, every summer comes a debate around who can wear what, and what bodies are good enough for streetwear and high fashion. This past July posts mocking "American streetwear" circulated Twitter, and yet again plus sized individuals were the butt of the joke. @theshirarose on Twitter put it simply: "A skinny person posts a picture of themselves in a tee and jeans and the Internet is like, OMG SUCH FASHUNNNN. A fat person posts a picture of themselves in a tee and jeans and the Internet is like, OMG PROMOTING THE OBESITY EPIDEMIC, so UnHeAlThY, haha probs shops at Walmart!"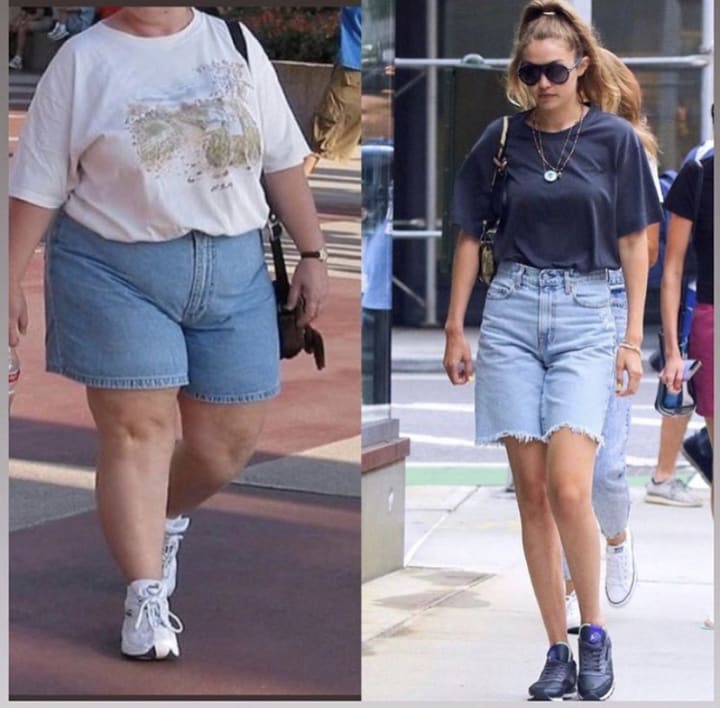 Fatphobia has infiltrated every part of Western society, and street fashion isn't where it ends. Tess Holiday, a plus sized model and author of "The Not So Subtle Art of Being a Fat Girl: Loving the Skin You're In" made a post in lieu of the new "strawberry dress" trend. The Internet's penultimate cottagecore piece is designed by Lirika Matoshi from New York. Fan artists have drawn Hatsune Miku in the pink tulle piece, and the $490 dress even had its own write-up on Vogue. But long before the "strawberry dress" made its TikTok debut, Tess Holiday faced backlash for wearing the kawaii-inspired piece on the red carpet.
Tess wrote on her Instagram: "I like how this dress had me on worst dressed lists when I wore it in January to the Grammys, but now because a bunch of skinny people wore it on TikTok everyone cares...To sum it up: our society hates fat people, especially when we are winning.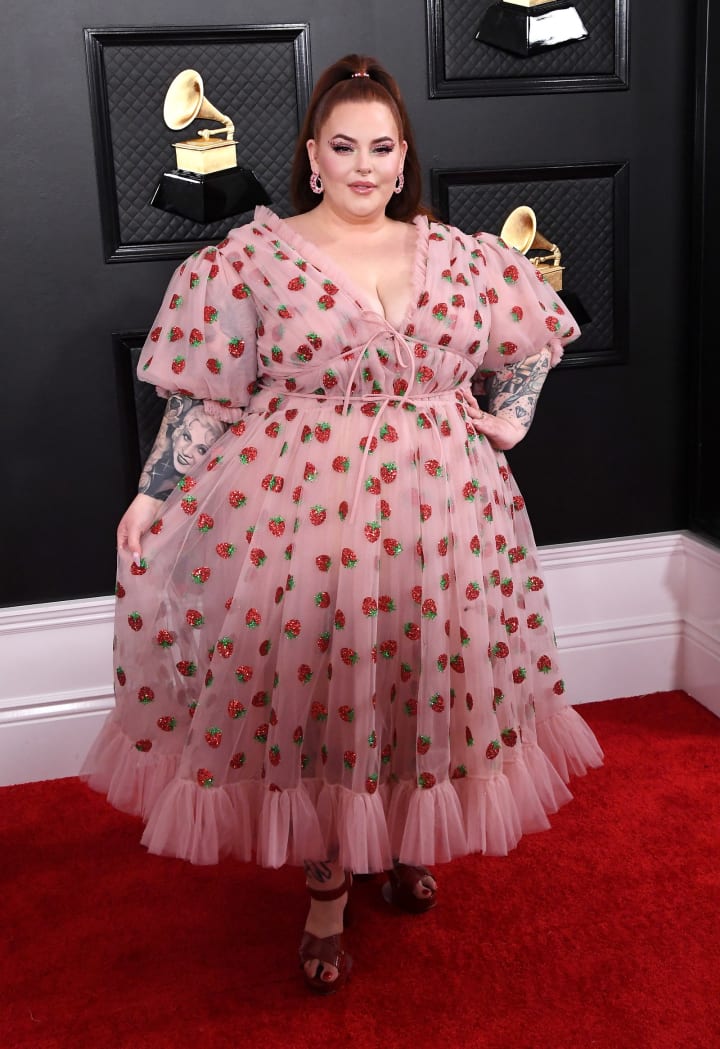 Fatphobia is not a Depop-specific phenomenon. Unfortunately, it's not specific to any industry or part of our society. But instead of becoming existential about fatphobia having a chokehold on the way we navigate the world, we can use that realization to examine how we may perpetuate fatphobia in our everyday lives. Maybe, if you're a Depop "upcycler" and you were never really sure about the ethics of it before, this might be a good time to reexamine what's up in your shop.
Depop, in its own special way, has given a platform for clothing and jewelry creators the world over. It's also been instrumental in making alternative and vintage fashion "mainstream", and with the birth of the e-girl movement. But with the controversy around selling through the site being a constant point of contention, many people can feel turned off to say the least. So if you're unsure about selling on the site, Kiki puts it this way: "Depop feels a bit more personal and modern in that it merges social media with the process of selling, so you have an opportunity to know your customer's interests and personalities a little better. I feel like I'm still starting out so I have a lot to learn myself, but communication goes a long way on Depop."
So, to keep it short and sweet like the strawberry dress, as long as your heart is in the right place and you retain the ability to listen and learn as a Depop seller, it'll be smooth sailing. But maybe think twice before snatching up a $5 XL Ralph Lauren polo shirt to turn into a matching set.