The Famous and Beautiful Kente from Ghana!
Kente cloth, Ghana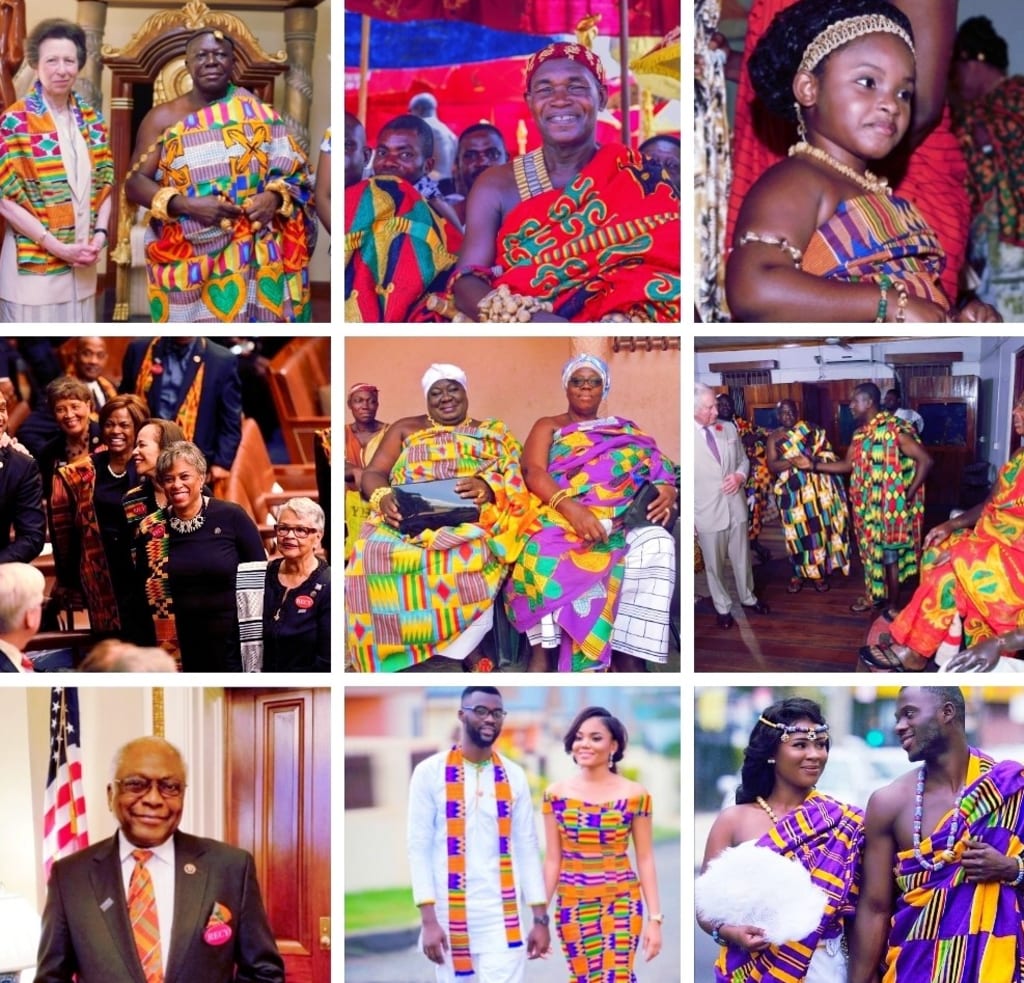 At the mention of Kente, the first thought is the Asantes from Ghana. Yes, there are several groups that are also associated with Kente, but the Asantes are more in touch with Kente cloth than anyone else. It was created 375 years ago, in a village called Bonwire in Ghana-Asante region, and was established between 1701 and 1717. This was when the Asante King (Asantehene), Nana Osei Tutu I was in power. Interestingly, the first kente cloth was made of raffia fiber and only belonged to the Asante clan. Years later, there was a redesign of the cloth.
Kente, AKA "Nwentoma" in the language of the Asantes, is silk and cotton made of tangled pieces of cloth. Nwentoma means woven cloth. In fact, the cloth is the official traditional clothing of the Asantes from Kumasi in Ghana. Call on any of the Asante Festivals to justify my claim, and your attention will be focused entirely on any of their events, which take place every year. Enjoy the original color representation in beautifully woven kente.
In Ghana there are more than 350 models of Kente. The pattern is made by hand-weaving, and determined by the braid of yarn. Only if you want it for certain occasions, there are a number of genuine and very popular models that will make your spirit easier to accept when you wrap them around.
Adwinasa is one of the best Kente models with a unique style. These are decorative images that repeat in design or pattern.
Historically, the person who designed the adwinasa fabric had the motive to collect unique fabrics to satisfy the king of Asantehene. Unfortunately, he used all patterns for only one material, and it was stunning! The cloth is considered one of the most luxurious designs from Asantes, with rich kings who wear them. It is represented by all the adjectives—elegant, expressive, brilliant in appearance, and extraordinary.
One name that caught my attention, when it comes to the Kente cloth, is Obaakofo mmu man. Initially the cloth was called Fathia Fata Nkrumah (Fathia deserved to be Nkrumah's wife). It's was nice to know that it was named after the first couple of the land (Ghana) at that time (1957). Later, the name was changed for obvious reasons. "Obaakofo mmu man" literally means—one man does not rule a nation. In realism, most of the Kente designs were named based on historical increases of the Asantes. Because of that, "obaakofo mmu man" is no exception. It is contrary to an autocratic government, and is based on a democratic system of government. If you widely open the cloth, you will see nine boxes, representing nine strands of hair. It's called "Mpuankron" in Akan language of Ghana, and these boxes are ceremonial deductions for some royal people who help traditional rulers make good and useful decisions.
What about the knowledge of the Kente fabric "Sikafutro?" Sikafutro is a gold powder. For gold, this is very meaningful to use as a pattern presentation. It is clear that the cloth represents wealth. As the name implies, Sikafutro fabric has a complex structure with orange and red colors that replicate the visual properties of gold dust. So you could say Sikafutro kente designs are clean, rich and elegant.
Abusua ye Dom is a beautiful Kente incline model. In Akan society, large families are very important in all their decisions. Therefore, the name Abusua ye dom, which shows that the extended family is an army, is responsible for the physical and mental well-being, protection, and safety of all members. The Abusua ye dom fabric has been specifically designed to overcome the subtle features of the extended family system. Thanks to creativity, designers have created different background colors, which means strong family relationships, unity, teamwork, responsibility, and cooperation.
Emaa Da is one of the Kente models, designed by one of Asantehene's main weavers in Bonwire, a popular town in the Asante region, which is known to produce the best kente in Africa. In the local parlance of the Akans, Emaa Da means "never before." Nana Akwasi Afranie, head of the weavers, said that one of Asante's kings, who for the first time saw his woven kente, was very surprised at the quality and uniqueness. He was totally "broken" down. All he could say was: Kente "yi de3 ebi emaa da," which means this type of kente has never existed. Therefore, the cloth was intentionally provided for the exclusive use of the Asante King, Otumfuor. After a while, the emaa da cloth spread to high-ranking people. In terms of texture, weight, and color maturity, this type of Kente stands for innovation, uniqueness, perfection, and extraordinary.
Toku Kra Toma is another Kente from the Asantes. Briefly breaking it down, "okra" in the language of Akan means soul and "Toma" is simply cloth. Therefore, collectively it is called the 'Toku soul cloth.' This fabric is designed and made to honor the soul of a brave queen. Although Nana Yaa Asantewaa was defeated and executed in a fight with Nana Opoku Ware I, a King between (1731-1742), she was considered a brave woman. In the past, these cloths were worn by rulers and senior figures during the sacred ascension ceremony. It was worn to treat people with such caliber respectfully. It is clear that courage, guidance, sacrifice, heroism, spiritual strength, and reincarnation are adjectives that describe this Kente cloth.
Wo fro Dua Pa A Na Y3pia Wo, sounds like a long name, is it? Yes, it means —anyone who climbs a good tree deserves a lot of support. The name speaks for itself, and since it is intended to express social intentions, everyone with good intentions deserves the support of the community. This opinion improves the sense of hope, sharing with people and excellent work in society.
Kyeretwie stands for bravery, and that means "lion hunter." This kente cloth was as a result of an incident that occurred during the reign of king, Nana Kwaku Duah in 1838, who reigned for 29 years. He tested the courage of his soldiers, ordering them to go into the forest to hunt for a live leopard. The fabric has black vertical lines that depict only black hair of the skin of a leopard. These are bold and inspirational performances.
Akyempem kente fabric was also associated with a shield that was used by the well-organized militia of thousands of men and women who defended the kingdom of Asante from external aggression. In short, the name of the material, which means "thousands of shields," symbolizes unity through strength, courage, spiritual protection, and boundaries. "Apem" means thousands, so one of the right arm of the Asante King, Akyempemhene, was the shield bearer. It is believed that Akyempemhene and the guards of the then king were considered his own sons.
Kente has recently been designed in a variety of styles, including jackets, bridal wear, ties, pants, skirts, belts, hats, shoes and many other designs. Of course, Kente is still used for traditional events in Ghana, especially for events that attract the attention of the whole country. At the inauguration ceremony in Ghana in 2016, the President of Ghana was dressed in a beautiful and bright Kyeretwie Kente scarf, which meant that his leadership was promising and encouraging.
I was recently at a wedding ceremony, and the whole place was decorated with Kente. Honestly, it was beyond imagination. Both gender were seen clad in charming kente cloths with matching accessories. Kente has a unique look that can "smash" your face at any time. At a number of parliamentary houses around the world, members of the house sometimes wear Kente dresses to highlight the beauty of African fabrics.
Kente was founded in the 17th century by people from the kingdom of Asante; from 3,000 BC, it can be attributed to the long tradition of African fabrics. Thanks to Kente's reputation in the world, we now have a diverse group of people both inside and outside the continent who also weave unique designs. Elegant Kente fabrics are always in demand in and around Ghana. The fabric itself is part of the African heritage, and its platform plays an important role in beauty. There are other beautiful colors with a deeper meaning. There is a symbolic meaning of the Kente fabric. Black is maturity, yellow stands for spiritual energy, maroon—the color of mother earth; healing is the world. Pink is also associated with the character of women and the soft red color is for nobility. In general, these colors signify unity, love, and harmony.
This fabric is used by almost all the tribes of Ghana. Kente is derived from the word "kenten," which means in the Akan language Basket. Akans also call the Kente "Nwentoma" (woven cloth). This is an Akan royal garment, used only in very important times.
Kente is the most famous and celebrated of all the textiles used in the country.
In Ghana, tourism is one of the most important sub-sectors of the service sector and the third in terms of foreign exchange income. Kente cloth is no exception. It has also boosted tourism in various ways. Many people from all over the world visit Ghana to get original photos of the cloth and learn how to make and wear this traditional dress of the Asantes.
About the Author 🇬🇭
Osei Agyemang is a passionate, creative writer and editor, with a zeal for creating exciting and innovative content. Osei is also a junkie fan who loves to visit and tell of interesting sites around the world. He is a useful National artist who has studied Psychology and Journalism. Osei is also a Fashion enthusiast.
Email: [email protected]