Susan Alexandra, Beyond the Beaded Bag
Let's talk about the beaded bags that are breaking the internet, shall we?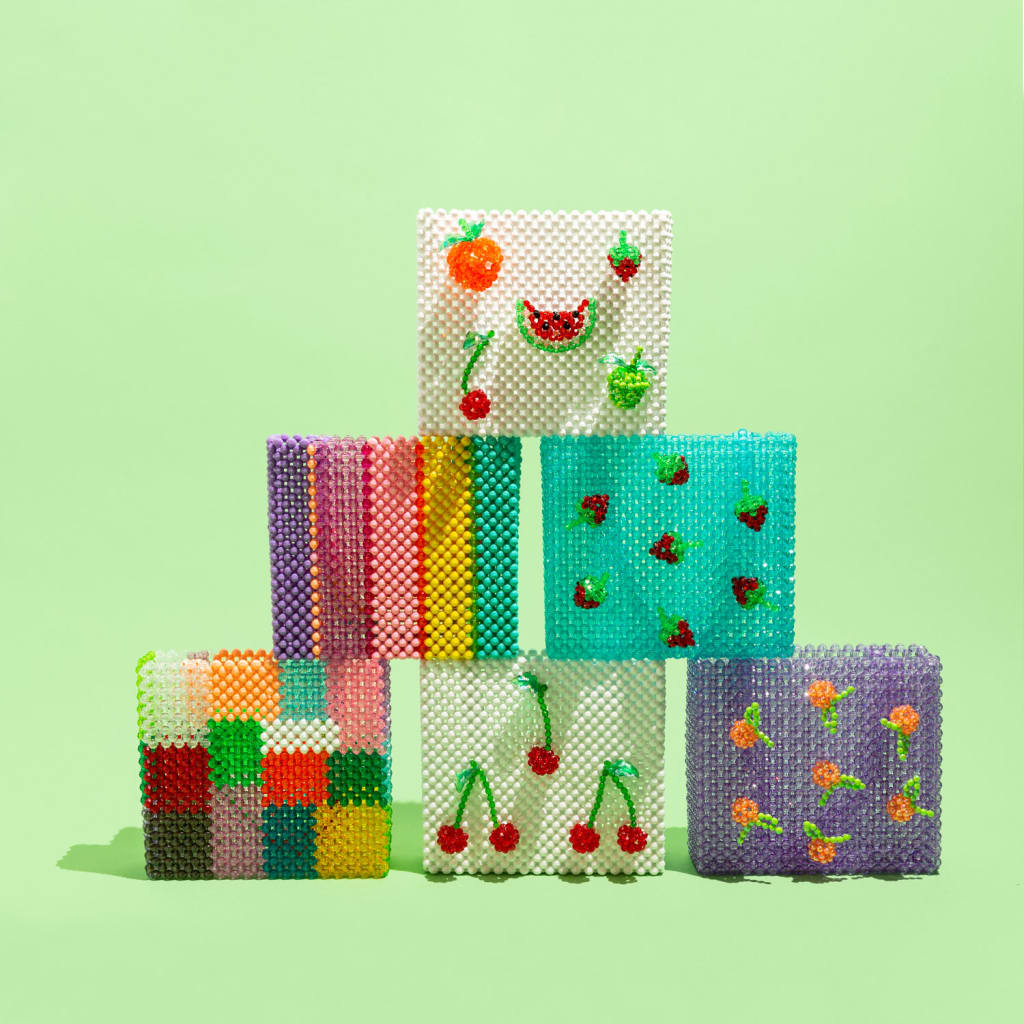 Photo by Suzanne Saroff @susanalexandra
I finally got my hands on one of Susan Alexandra's iconic beaded bags and it's safe to say I'm officially obsessed. The size, the colors, the shiny little beads, everything about it is just right—so much so that it's become my go-to bag for essentially any and all occasions.
It feels like a lifetime ago when I first saw these beauties while scrolling on Instagram, but it really hasn't been that long. They've been on the market for just over a year, yet they've managed to build an almost cult-like following unlike anything I've seen before! Susan Alexandra went from designing eclectic and unique jewelry in Chinatown, to becoming an Instagram phenomenon and the creator of today's IT bags in a matter of months. What started with a watermelon purse quickly escalated and left us all wanting the beaded bags that pay ode to our 90s inner child.
Who would've thought that one small accessory could be so enthralling?!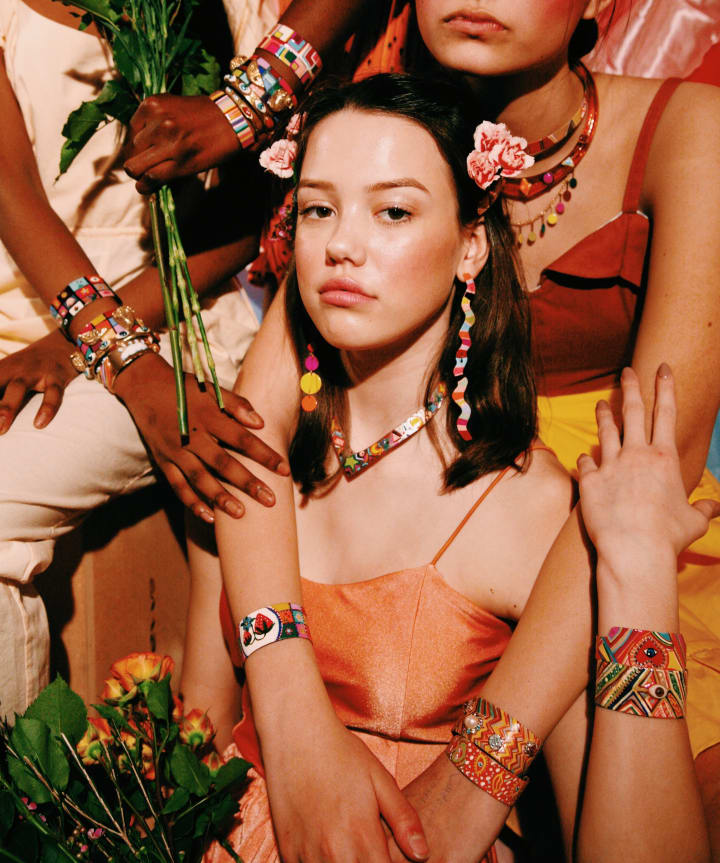 The truth is, I'd been eyeing her website for quite a while, waiting for the perfect chance to get myself a Susan Alexandra original. A friend of mine got the Merry Bag and another friend got the signature Best Friends Earrings and all I could think of was a) WOW b) I need one and c) WOW!
I knew the bag would be stunning—I'd done extensive research and sufficient stalking to know so. The earrings, however, were out of this world. You could see the handmade detail in each little face, and I was truly blown away. After this I think it's safe to say that I developed a slight, but totally normal and absolutely justified, obsession with Susan Alexandra.
Behind the Magic
Earlier this year I attended a panel in NYC hosted by SF-based boutique label, Lisa Says Gah. Susan Alexandra was one of the featured panelists, and I couldn't contain my excitement—keep in mind that this was pre-purchasing my beloved bag. As expected, she was awesome. You could tell how passionate she was about every bag and piece of jewelry she sold, and it wasn't really about the products so much as it was about the women helping her make these. She talked about her creative process and how important it was to have these women hand-making every single bag, bead by bead. I was captivated by her genuine tone of gratitude. Despite her brand growing so much so quickly, you still see the hard work that goes into each item and you can't help but love the whole thing!
Leaving the panel, I was inspired by all the women speaking so highly about their efforts to make it in the fashion world, while prioritizing sustainability. This is why fast fashion sucks is kind of what I was thinking the whole time, and although Susan didn't comment on the fast fashion houses that have essentially ripped off her designs, it's sad knowing that those knock-offs do exist. Small, independent designers have it hard enough already, don't make it even harder for them.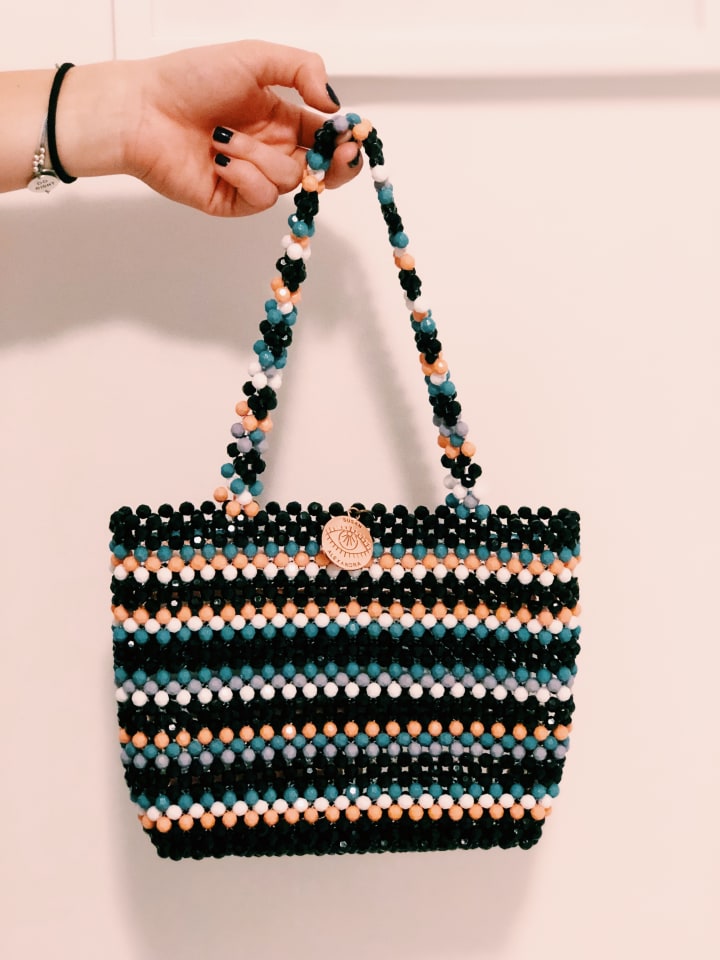 In the months that followed I kept my eyes open for any pop-ups or events in the city where I could see her bags IRL. I knew I could order them online, although they sell out fast, but living in NYC I wanted to take advantage of the possibility of physically trying them on before purchasing them. Luckily, I didn't have to wait too long until she had a small pop-up at a Brooklyn cafe. Seeing her pieces in real life was everything I hoped for and more! I say more because I was able to chat with Susan for a little bit, and not to fan girl too much, but she was the sweetest most inspiring artist and entrepreneur. Her personality just confirmed my eagerness to support her brand, and alas I bought my first, definitely not last, SA beaded bag.
In Conversation with: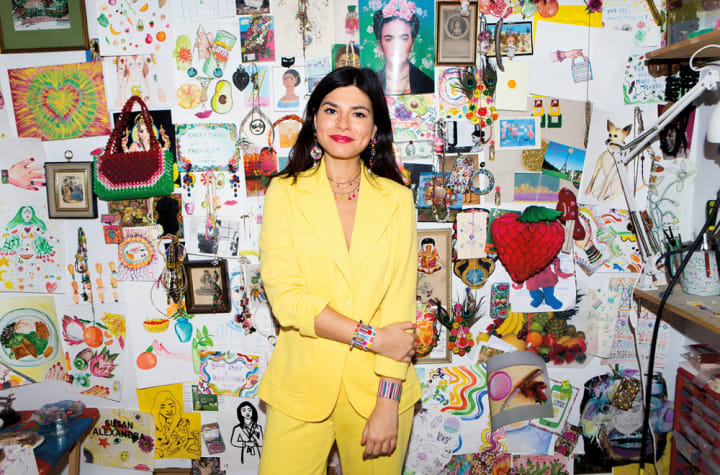 I was curious about what goes on in the mind of someone coming up with such eclectic and powerful pieces. If you follow Susan Alexandra on Instagram, you'll get a pretty good glimpse into what inspires her, but why not ask Susan herself? Three simple questions can go a long way:
Daniela Bao: How would you describe your brand in 3 words?
Susan Alexandra: Color, Vibrance, Escapism
What inspires your products?
Signs in bodegas, signs from the universe, kids toys!
What do you love the most about your loyal customer base?
I love the creativity, brilliance, style and humor of all the people who connect with my work. Endlessly and continuously inspiring!
This brief exchange just goes to show the kind of community that has developed around Susan and her brand, highlighting the beauty in the simplest of things. Her products have personality, and don't we all want some of that in our go-to purse or favorite statement necklace?
It's. Worth. The. Hype.
Susan's jewelry and purses are truly a work of art. Yes, beaded bags are in, but more than that, if you're going to buy one of her products, do it because of everything that it stands for. Susan Alexandra is all about empowering small designers, celebrating handmade products, and supporting sustainable fashion. Through her products, and obviously even more after meeting her, I realized how important it is to have designers like her, who succeed not only because of their products but because ultimately her brand goes beyond the bags. Her brand is about building a supportive and creative community around her products, and she's making it happen!
Her charismatic personality drove me to snatch my first, and one-of-a-kind, bag and there's no going back now... I'm currently on the waitlist for her highly demanded leopard bag, and trust me, you're gonna want to get on that ASAP!
(This is not an #ad, genuinely love this designer and simply want to spread the love!)
designers
lima | nyc 📍
Creator Relations @Vocal