Reasons to choose an Anuschka bag
What makes Anuschka bags so special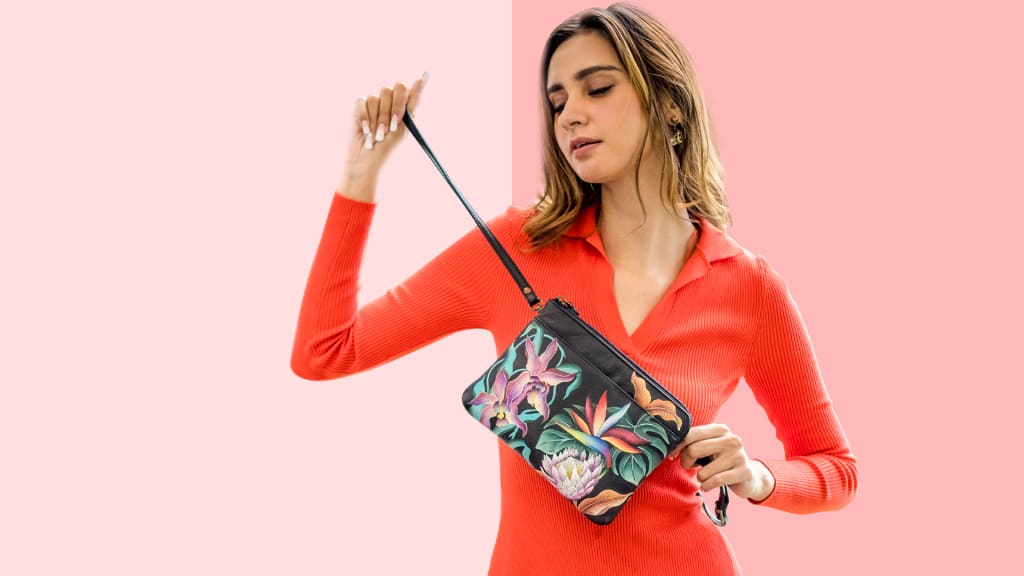 Going above and beyond
Each Anuschka handbag is a one-of-a-kind creation that has been handcrafted for over two decades. An Anuschka handbag has a unique painting and elegant leather finish, making it a valuable possession. With its beautiful appearance and high endurance, the purse is a wonderful acquisition.
An exceptional touch
An Anuschka bag is an object of considerable artistic value that has been produced by hand with an exceptional design exclusively for women of exceptional self-confidence. They're preferred worldwide for their exclusive attractiveness.
Each Anuschka bag is a testament to our commitment to exceptional design and artistic value. Our bags are carefully crafted by hand, with every stitch and every detail thoughtfully considered to create a stunning masterpiece. We take great pride in our ability to create unique designs that are both functional and fashionable, ensuring that our bags are not only beautiful but also practical.
An Anuschka bag is more than just a fashion accessory; it is a statement of confidence, individuality, and artistic expression. It is a symbol of the exceptional women who carry it, a reflection of their inner beauty and strength. If you are looking for a bag that is as unique and exceptional as you are, look no further than Anuschka.
Casual yet pleasingly comfortable
Many people tend to shy away from leather bags, believing them to be too bulky and cumbersome to carry off. However, Anuschka is here to prove them wrong. Our high-quality handmade leather bags are made from the softest premium leather, making them lightweight and easy to carry. Our bags are designed to be both functional and stylish, with plenty of room to store all your essentials while still looking chic and sophisticated.
The USP of Anuschka lies in our exquisite designs. We take great pride in creating unique, hand-painted artworks that are meticulously crafted to perfection. Each bag is a masterpiece, with intricate details and vibrant colors that are sure to turn heads wherever you go.
One of the most alluring aspects of leather is the intoxicating aroma that it exudes. The distinct smell of leather is instantly recognizable and adds to the overall appeal of leather products. An Anuschka hand-painted leather bag is not just a beautiful accessory; it is also a sensory experience that engages all your senses.
Our hand-painted leather bags make for the perfect gift for someone special in your life. Each bag is a unique work of art that is sure to be cherished for years to come. Whether you are looking for a practical and stylish accessory for yourself or a gift for a loved one, an Anuschka hand-painted leather bag is the perfect choice.
Versatile and unique in its way
When it comes to accessorizing for any occasion, there is nothing quite like a hand-painted leather bag. These stunning accessories bring a touch of sophistication and elegance to any outfit, making them the perfect complement to formal attire, such as a kilt or tuxedo. The luxurious texture and timeless design of leather bags are sure to elevate any ensemble and make a statement wherever you go.
While leather bags are undoubtedly a go-to for more formal events, they are also incredibly versatile and can be worn for more relaxed occasions as well. A hand-painted leather bag adds an element of effortless style to any casual outfit, whether you are wearing denim, a sundress, or a pair of shorts. It is the perfect accessory for running errands, going out with friends, or exploring a new city.
What sets hand-painted leather bags apart is their unique and personalized design. Each bag is a one-of-a-kind work of art, created by skilled artisans who take pride in their craft. The hand-painted details add a pop of color and personality, ensuring that the bag stands out from the crowd and makes a statement all on its own.
Reader insights
Be the first to share your insights about this piece.
Add your insights