My Love of Al Wissam Leather Jackets
The Best Leather Man On Earth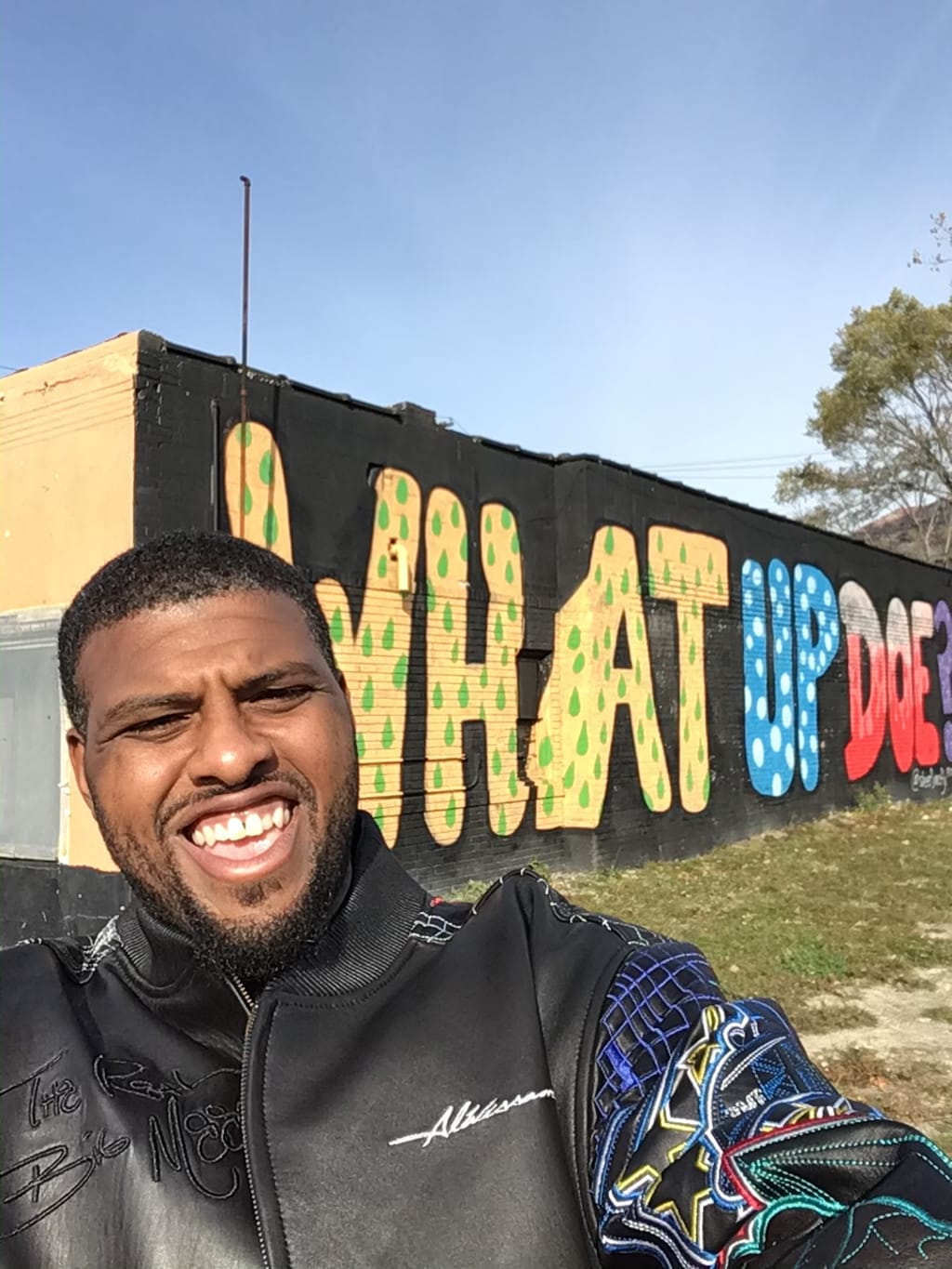 Al Wissam is a clothing designer brand based in Detroit that has some of the most beautiful jackets you'll ever see in your life. Though mostly only Detroiters wear them they can be purchased online by anybody that wants to buy one. Al Wissam is the Rolls Royce of leather jackets from the slick one-of-one designs to the multi-colored stitching and exclusive price tag. This kind of quality doesn't come cheap and you get what you pay for in life and leather jackets are no different. I started my journey with the brand in 2003 and I've been hooked ever since. Women in particular love these jackets they can't help but touch them in admiration it's like they have a love spell on them or something.
This jacket was a hit with all the people who saw me in it of all races. They marveled at the graceful hands that created it also the high-quality butter soft leather is guaranteed to be a hit with the ladies. You have to be careful while wearing an Al Wissam because they often attract the attention of neighborhood wolves. But it's worth the risk every day is an experience with an Al Wissam jacket if COVID-19 wasn't stopping people from going to public places I'd probably get myself into trouble if you know what I mean. What's overstood does not need to be explained. I wore this jacket for years much longer than I've worn any jacket because it's inspired by Michael Jackson. It's fitting attire even when it's time for me to speak truth to power in protest.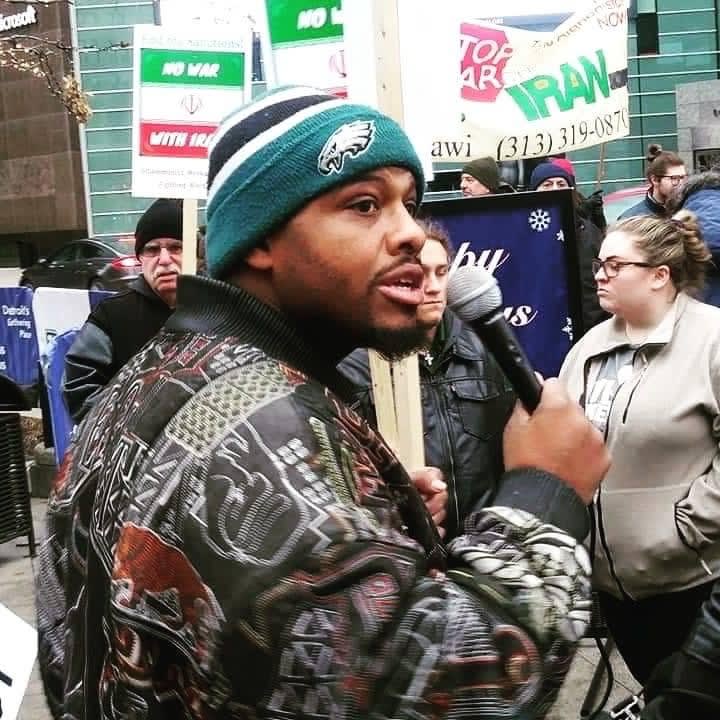 Yes the jackets are stylish but they are fit for any occasion and that's what is to be loved the most about the jackets. Not only was the crowd listening to me freestyle my speech about former President Trump's oppression of Iran they could not help but check out the giant old-english text letter "D" on my back and the tigers that represent the "Detroit Tigers" as well. The different era Michael Jackson images on the jacket are on the right sleeve. The images ran from the thriller's iconic and ceiling shattering performance at "Super Bowl XXVII" to the slick "Smooth Criminal" old school gangster suit he wore on the video game and music video. And I often asked women that looked at me in amazement "Annie are you ok?" I said that as they paused to stare at my jacket. Though I delivered a mighty speech the jacket was clearly the icing on the cake adding that old school Detroit swagger to every word I spoke. In the words of M.I.A. "No One On the Corner Has Swagger Like Us." The jackets have honored "President Obama" to legendary businessman "Big Meech."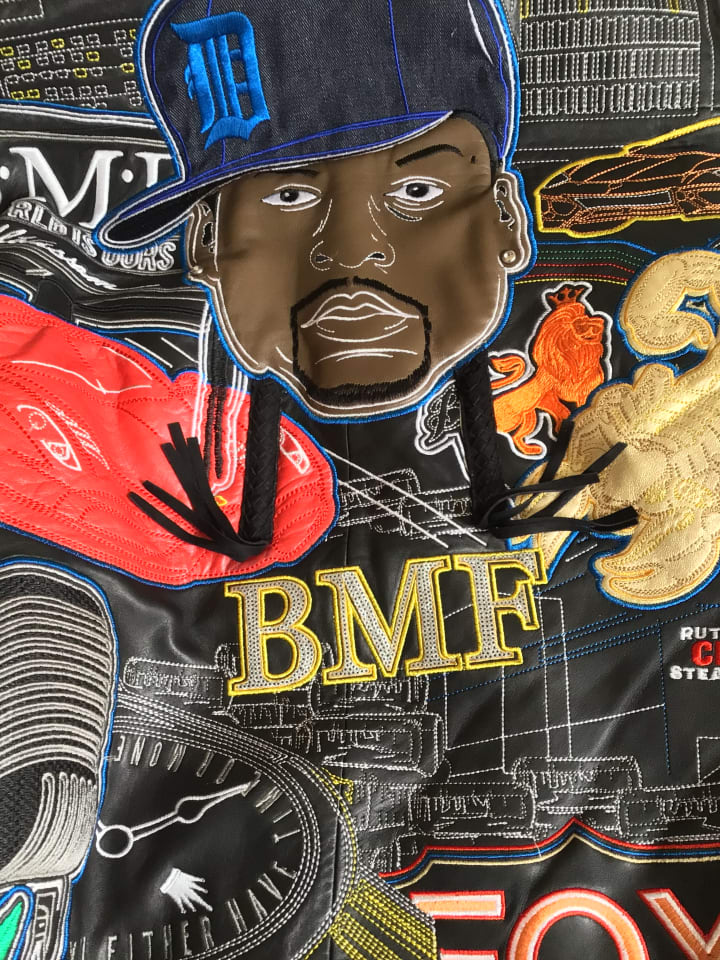 I purchased this jacket because Al had outdone himself once again on this one. Al honored "Big Meech" as he should have because of what he and his younger brother "Southwest T" mean to the black community of Detroit that's why I had absolutely no problem with the price of this edition. Every colors pops and so does every stitch on the colorful masterpiece of a jacket. I have people ask me all the time how much does it cost and I just smile. I think is tacky to boast about price to people that are having difficult times financially I just stay if you buy one just make sure you can afford at least five of them. I even got the chance to chop it up with "Al Wissam" himself and the great brother "Southwest T" when I bought the jacket. When I met them that it felt like a great moment in history to me two people I've wanted to meet since I've been an adult.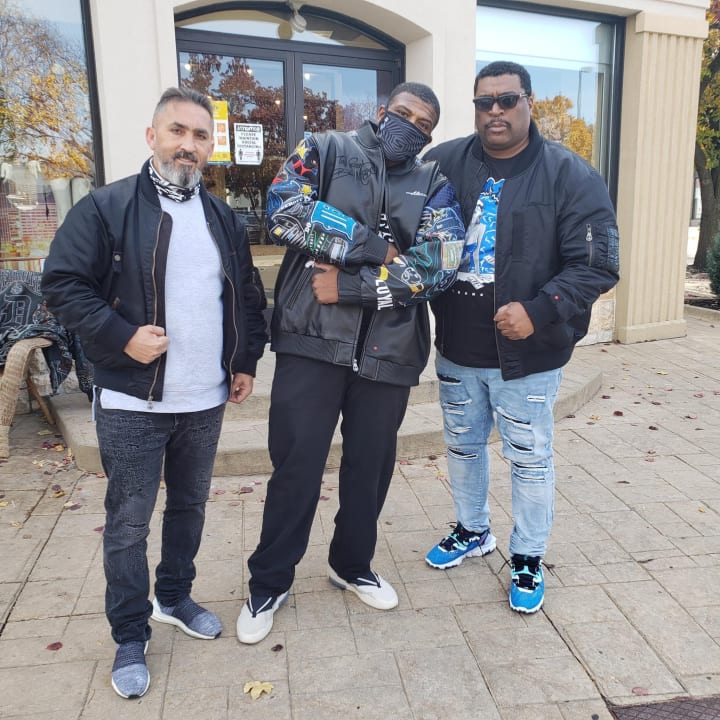 When I made purchases at Al's store I always bought for his younger brother but this day I got to meet both masterminds in the flesh and strike a flamboyant pose for our the photo. The world renowned rap mogul Curtis "50 Cent" Jackson is currently doing a mini-series based on the contributions of "Southwest T" and his older brother "Big Meech." The show will be aired on the cable network Starz summer 2021 it's called "BMF." I look forward to seeing the show it's going to be a star-studded cast to say the least. Though it was cool to meet them Al Wissam's creation is clearly the star of the photo. My love for his jackets is borderline obsession.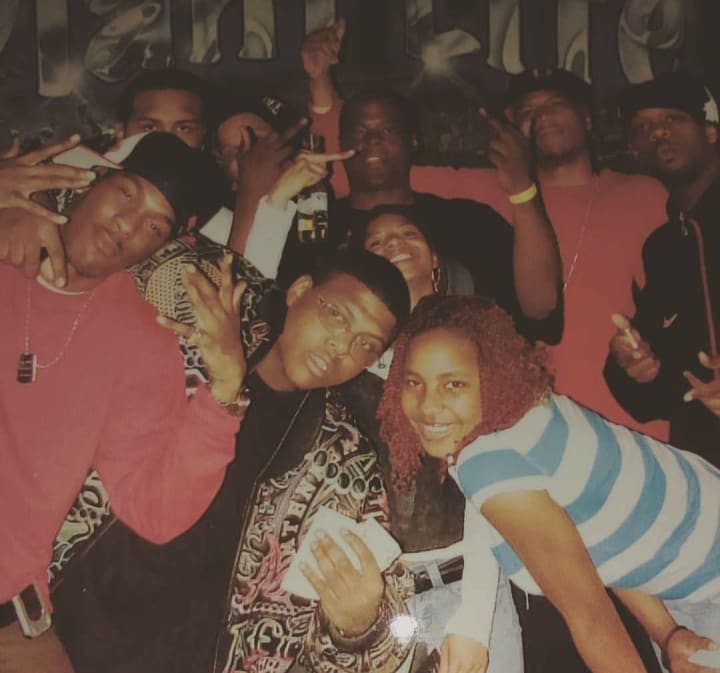 On this night in 2007 in a local bar me and family had a good at the club and my jacket of many colors turned heads the entire night as I danced with young ladies and drank champagne at my table enjoying the moment. I gave that jacket away to a person in need a few months later. I felt I was getting too materialistic at that time and I needed to humble myself. But I got my money's worth and wealth of women out of that jacket for sure before I gave it away. This night in particular the jacket seemed to give me super powers but the only thing I was saving was my passenger seat for a young lady willing to ride with me that night. An Al Wissam jacket makes you get the idea of how powerful urban luxury really is.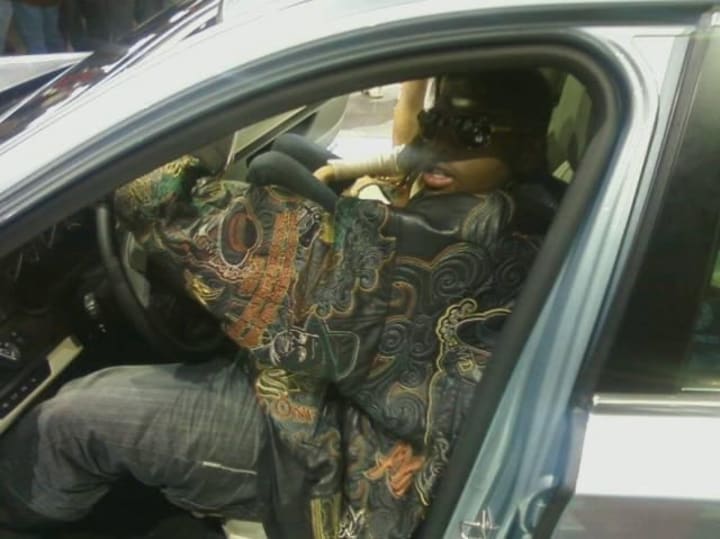 This was another great edition unfortunately burglars stole this jacket from my house when they broke in while in was in class at college. The jacket had all the bells and whistles just as the rest of the others I bought. But to be honest I must say my favorite besides the one I have now is between the Cinco De Mayo edition and Super Bowl XL edition with the fox fur tail brim on the hood. It's a classic that more people need to know about because it honors the mother of all sporting events.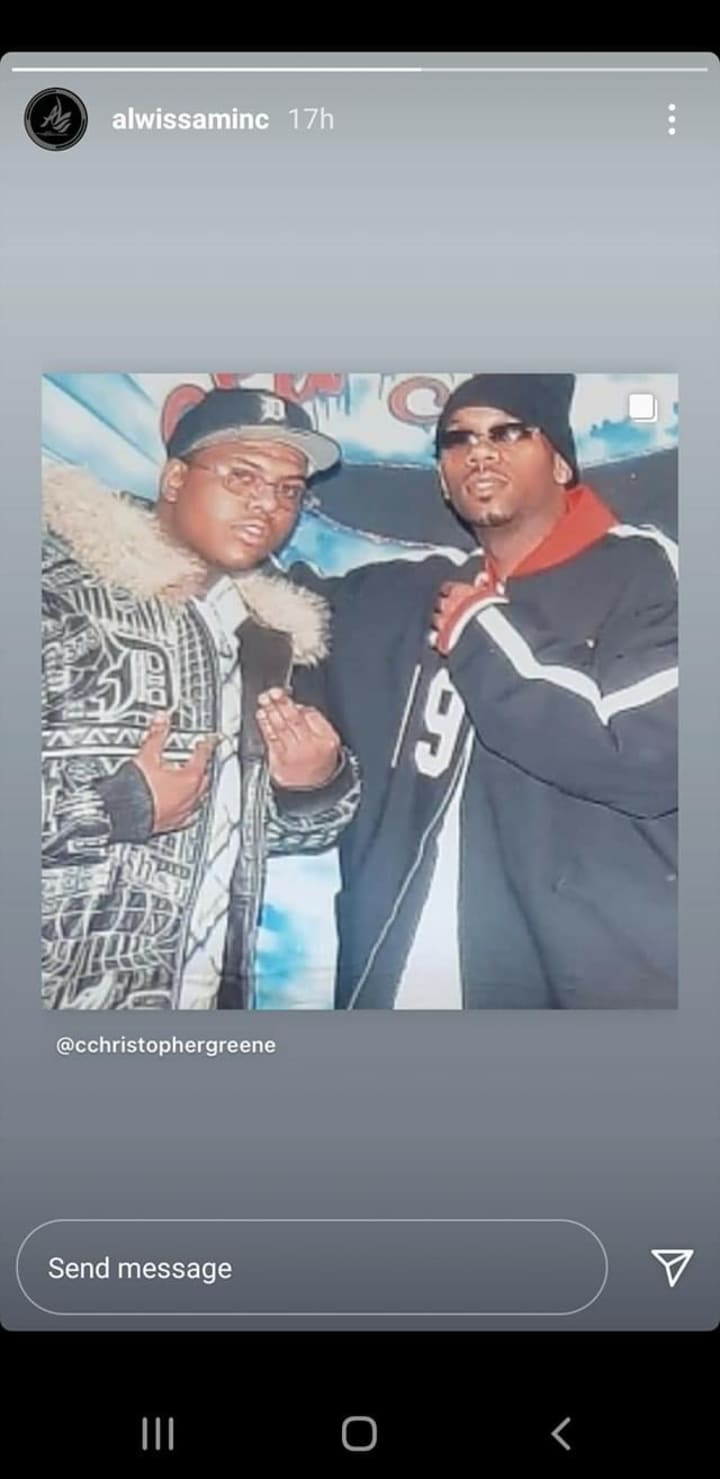 The good life lounge (an old bar in Detroit) welcomed me and my friend that night as the only people from my neighborhood can be welcomed. Women were touching my fox tail brimmed leather and the haters where looking as if I stole their glory. The times we went downtown to enjoy the festivities were always epic but the Al Wissam took it to the next level. I did not have a Rolex flooded with diamonds and I was getting the same attention as the people in the club that did. And that frustrated the other gentleman but they remained peaceful I guess you can call it good sportsmanship. I had no problem sharing the wealth of women.
Al Wissam jackets are urban luxury in Detroit and the brand always will be because of the masterful craftsmanship it takes to create them. As long as I'm able I will continue to support the brand. I've had 10 so far and it doesn't look like I'll be slowing down anytime soon. If you ever want to get a head turning jacket and you do not live in the city of Detroit go to www.alwissam.com you will not be disappointed because they are simply the finest leather jackets ever created.