"Maison Lucile"
Lady Duff-Gordon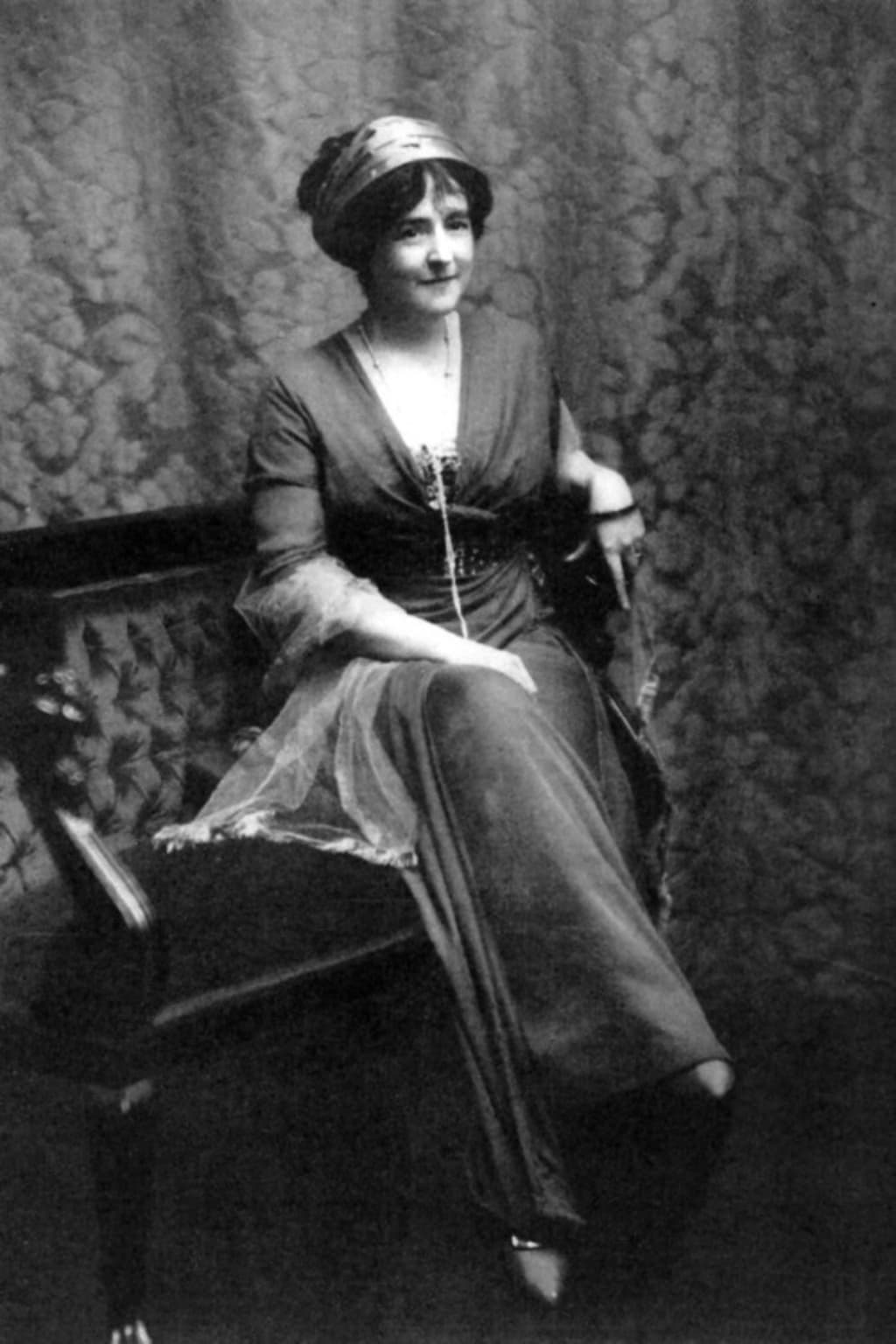 Lucy Duff-Gordon
On 27th July, 1904, the best of London society crowded into a large, grey-walled Georgian room in Hanover Square, with an empty platform at one end. Music played, lights flashed and the Lords and Ladies sat in their chairs, looking at their programmes. Six stunning 'models' swayed, unsmiling, across the stage, wearing such delights as "Spring's Delirium" and "Pleasure's Thrall". Although remarkably familiar for us today, this was a brand new 'event' in 1904. This piece of theatre was watched over by its creator, the 41 year old Lucy Duff Gordon, whose business 7 years later became "Maison Lucile" — the first international house of Couture.
Lucy Christiana Sutherland was born on 13th June, 1863, in London, to Douglas and Elinor Sutherland. Her father was a civil engineer and her mother was an Anglo-French-Canadian. Lucy's childhood was a disrupted childhood. After her father died of typhoid fever, Elinor took Lucy and her baby sister back to live with her parents in Ontario, Canada.
Elinor re-married (to David Kennedy) in 1871, and the family moved to live on the Isle of Jersey. Lucy developed her love for fashion by dressing her 'collection' of dolls, studying gowns worn by the women in the family paintings, and (when she was older) by making clothes for herself and her sister, Elinor.
Lucy did not have a good relationship with her step-father, and as soon as she could, Lucy left home by marrying at the age of 21. James Wallace was in his early 40's, a good-looking wine merchant with a 'terrible' reputation. Her mother and step-father were horrified but Lucy was headstrong and stubborn, and married James on 15th September, 1884.
Lucy had a baby daughter, Esme, by her husband James, who was frequently drunk and unfaithful. Lucy started having affairs, and had a long relationship with the famous surgeon Sir Morell Mackenzie. In 1889, her step-father died and her mother and sister relocated to London, taking a house in an unfashionable part of Mayfair. Lucy and James (with their baby daughter, Esme) moved in with her mother and sister. However, their marriage fell to pieces and in April, 1892, James left his wife and child by running off with a chorus girl.
At 29 years of age, Lucy had to support herself and her daughter, and used her talent and love of fashion to start dressmaking. Fashion in London in the 1890's was not a game. Department stores were starting to open and Parisian houses like Worth and Paquin were up and running, with over 2,000 dressmakers copying every style as it came out of Paris. It was a competitive business and Lucy had no 'formal' training.
The divorce between Lucy and James finalised in1895, and in 1900, Lucy married Sir Cosmo Duff-Gordon, who was a Scottish baronet, landowner and sportsman.
Working as a dressmaker from her mother's flat, it wasn't long before Lucy opened "Maison Lucile" in 1893. The shop first opened at 24, Old Burlington Street, which was in the heart of the fashionable West End of London. As the business grew, the shop moved to 17, Hanover Square, Westminster, and then to 14, George Street, Oxford, where the business was incorporated as "Lucile Ltd" in 1903. Maison Lucile then moved on to 23, Hanover Street, where it operated for the next 20 years.
There was plenty of demand because the women who moved in the highest circles needed a large wardrobe. At each meal, the lady changed her dress, as well as to go riding, to church and afternoon visits. For Queen Victoria's afternoon drawing rooms, Court dress was a requirement. Evenings out at the theatre, a dinner or a party also required a new dress. Henley, Royal Ascot, Cowes and the opening of the Royal Academy Summer Exhibition all meant new dresses. Even a "Saturday to Monday" stay in the country meant a trunkful of (usually) new dresses.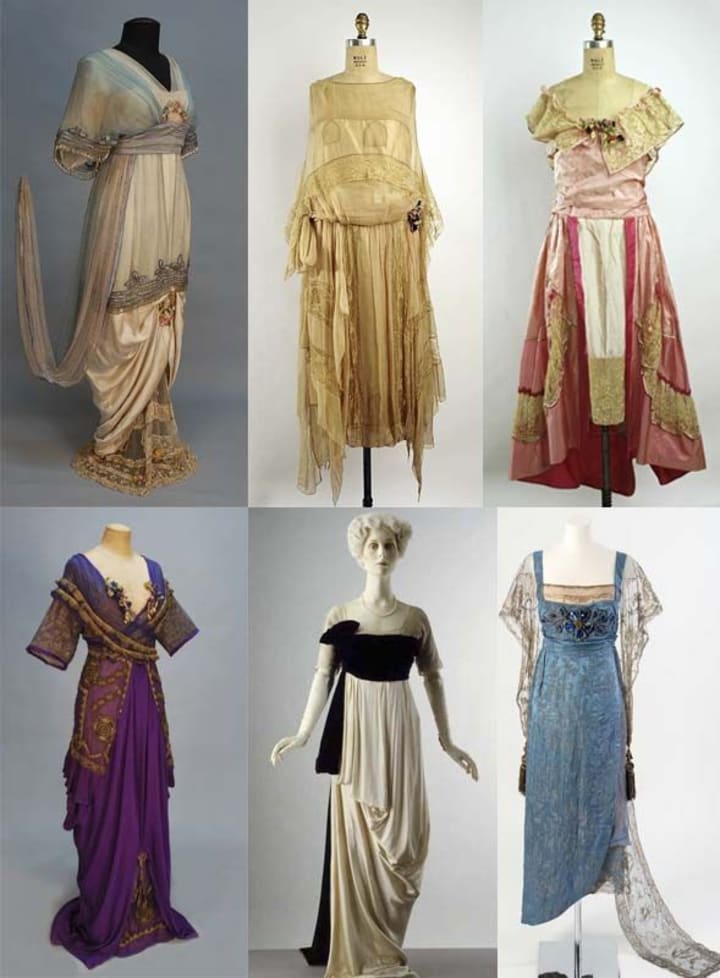 Weddings presented Lucy an opportunity to show off her own designs. When her sister, Elinor, married Clayton Glyn in April, 1892, Lucy designed the wedding dress, the bridesmaids' outfits and Elinor's trousseau. With her new husband, Elinor moved to Essex, and her new, stylish wardrobe sparked great interest with her new neighbour, the Countess of Warwick. Along with her half-sister, Lady Angela St-Clair Erkskine, the Countess became a new customer for Lucy, paying 'only' £8 for one of her dresses, (equivalent to c.£1,000 now or 8 weeks worth of wages for a new secretary back then).
"Maison Lucile" served a wealthy clientele, which included the aristocracy, royalty and even theatre stars. The business expanded to salons opening in New York City (1910), Paris (1911) and Chicago (1915). The "House" became famous for its lingerie, tea gowns and evening wear. Some of her gowns have been preserved in the Victoria and Albert Museum.
Lucy has been credited with training the first professional fashion models. Twenty years before the first model agency was established, Lucy found tall, striking young women, taught them how to walk, showing off the new designs they were wearing, and she even invented stage names for them like Gamela and Dimarzade. This gave many of these young girls a fast route to fame and fortune. "Maison Lucile" parades were hugely famous, with the invitations "sought after".
Lucy Duff-Gordon promoted her collections within the journals of the day, including the Hearst newspaper syndicate (1910-1922), Harper's Bazaar and Good Housekeeping (1912-1922). Lucile's designs also appeared in Vogue, Femina, Les Modes and L'art et la Mode (1910-1922).
In 1912, lady Duff-Gordon, along with her husband under the alias of "Mr and Mrs Morgan", travelled to America, first class, on the ill-fated Ocean Liner RMS Titanic. They survived the sinking, but lost all of their luggage.
This design empire began to collapse, partly due to Lucy's extravagant spending but also due to the fact that Lucy 'acknowledged' that many of "Maison Lucile's" dresses were no longer designed by her (1911). The company closed in September 1922. Lucy penned her best-selling autobiography "Discretions and Indiscretions" in 1932.
Lucy Duff-Gordon died on 20th April, 1935, at the age of 73, from breast cancer, which was the fourth anniversary of her husband's death.
About the Creator
I love all things Earthy and Self-Help
History is one of my favourite subjects and I love to write short fiction
Research is so interesting for me too
Reader insights
Be the first to share your insights about this piece.
Add your insights