Goldsetu is the best online platform for wholesale Gold jewellery business?
Know the benefits your business gets when purchasing wholesale gold & diamond jewellery from Goldsetu's online B2B jewellery platform.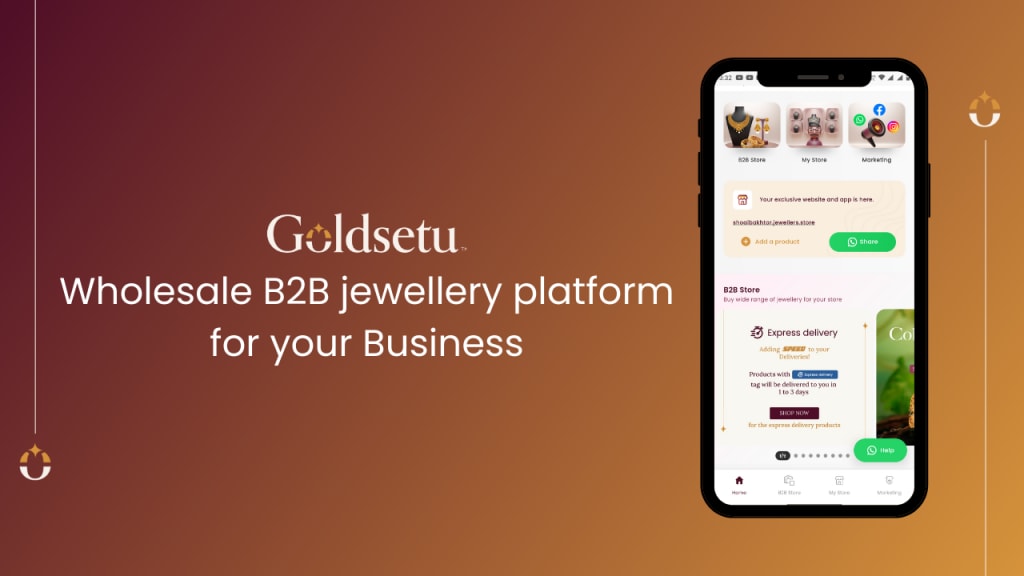 Goldsetu is the best online platform for wholesale Gold jewellery business
Finding a reputable and trustworthy supplier who can provide wholesale gold jewellery is essential to thrive in the jewellery market. Looking for a jewellery supplier who can provide your business with wholesale gold earrings, engagement rings and much more should always be easy. But, it has recently become a daunting task to locate one because of few reputable jewellery suppliers.
So, how can one quickly obtain premium quality gold and diamond jewellery for their business?
Enter Goldsetu, a leading B2B jewellery e-Commerce platform developed for retailers like you to ease your business operations. Join us as we uncover the remarkable ways in which the platform can empower you to grow your business exponentially. Let's start with the benefits that you will get when you choose to do business with Goldsetu.
The Benefits of Using Goldsetu for Jewellery Retail Business
A. Wide Range of Products:
Sitting in the comfort of your shop and browsing over 45,000 gold and diamond jewellery pieces is immensely satisfying. That is what you get with Goldsetu's App! You can access thousands of designs in the app's B2B store, and daily updates on trending jewellery are an added bonus. You can easily purchase premium quality wholesale gold jewellery at aaj ke sone ka bhav through the app's B2B store. You will also find wholesale diamonds for your business if you need to offer your customer the best.
B. Quality Assurance:
One of the main of goldsetu is to provide retailers and their customers with premium quality gold and diamond jewellery. That is the reason why over 5000 retailers regularly do business with Goldsetu.
The jewellery manufacturing team at goldsetu provide you with meticulously crafted jewellery products, which then reach you in pristine condition. This commitment is what sets us apart in the market, to ensure that your business is always booming and catering to several customers at a time.
C. Convenience and Efficiency:
Goldsetu's jewellery is one aspect of the Jewellers App. It does provide you with the convenience of browsing and ordering thousands of wholesale gold jewellery products from the app's B2B store. In addition, we provide digital tools for your business that you can use to grow your business.
You can use the My Store Dashboard of the app to manage your shop's inventory or maintain a digital inventory. You can even manage your customers to ensure that they have the best experience when they do business with you. The Marketing feature on the app allows you to create jewellery banners and post them on WhatsApp, Facebook, or Instagram with a few taps on your phone.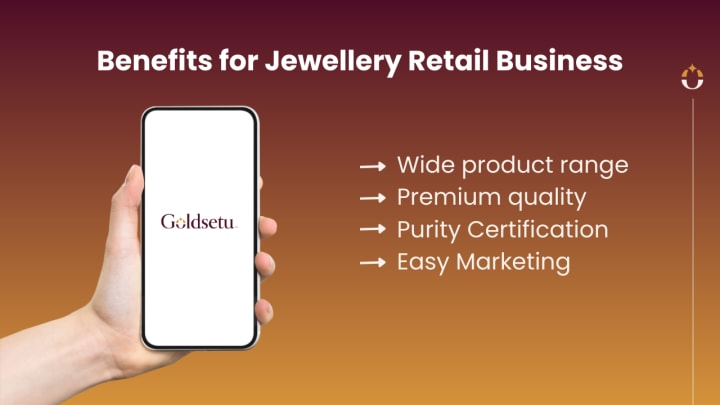 How Goldsetu Simplifies Jewellery Retail Business
Now that we have discussed the benefits of doing business with Goldsetu let us look at how the app can simplify your business operation.
A. User-Friendly Interface:
When you first open the Goldsetu App, you are greeted with a simplified homepage that gets you quick access to the B2B store, My Store and Marketing dashboards. You can tap on them and easily go about your business without worrying about how it works. We want you to focus on your business, and we will handle the rest.
a. B2B store: The interface has different Karatages of gold and diamond jewellery. You can get 18 Karat, 20 Karat and 22 Karat gold jewellery and diamond jewellery in 14 Karat and 18 Karat gold. We also provide all our products in yellow, rose and white gold to appeal to your broad client range.
If your customers want wholesale engagement rings designs, we got them! Does your customer want wholesale gold earrings or wholesale diamond jewellery? We got that too! In rare cases, your customer wants custom wedding jewellery. We got you covered. Connect with the Goldsetu team to get your order processed with ease.
b. My Store: The My Store dashboard is your central hub to manage your digital store. Yes! We said digital store. When you register with Goldsetu, you can launch your own personalised website/app through the app. What else? YOu can easily manage all your customer's interactions with the dashboard. You can collect payments and share digital catalogues and savings plans from the My Store dashboard.
With all the essentials of business operation in one place, you will have more time to do business rather than managing it on physical ledgers. You can now do everything on the secured Goldsetu App from your trusted mobile phone.
B. Transparent Transactions and Certified Jewellery:
Our billing and ordering system is intuitive and simplified for you to find each detail you want before purchasing. Goldsetu app shows the details about wastage, aaj ka sone ka bhav, and making charges for products you wish to offer your customer. Once you place the order, the order reaches you after certification from the proper institutes. All the gold jewellery is BIS-Hallmarked with no brand name, enabling you to sell it under your business name. Institutes like GIA, IGI or SGL grade diamonds in jewellery.
So, you are giving nothing but the best wholesale gold and diamond jewellery for your business. It ensures that your customer is satisfied when they leave the doorsteps of your store.
You never have to worry about collecting all the necessary information to file your yearly taxes because you will get them all in one place. Each business transaction with Goldsetu is secured with modern encryption and security features accessible only through your registered business account.
C. Safe and Secured Delivery
At goldsetu, we hold the security of your wholesale gold jewellery orders with utmost care and ensure a hassle-free delivery experience. Our dedicated logistics and dispatch team ensures you always get your parcels on time and in pristine condition.
We also provide insurance on your parcel so you can put your mind at ease that your business investment is safe even during transit. You can even order items for your customers using the Express delivery tab to ensure you get the products your customer wants within 2-3 days on your counter.
Goldsetu team work tirelessly to ensure you can focus on growing your business confidently and leave all your worries behind.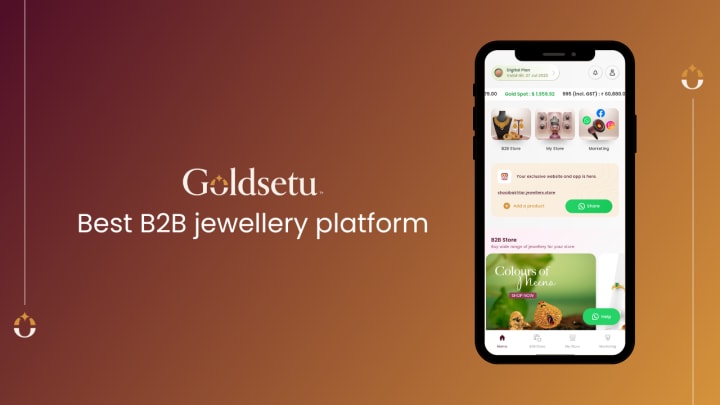 Conclusion
In Summary, you obtain a complete jewellery business solution when you work with Goldsetu. It is even correct to call Goldsetu's B2B jewellery e-Commerce platform "Jewellers ka Operating System".
Reader insights
Be the first to share your insights about this piece.
Add your insights