Fashionista Shmashionista
Bend a few rules and be sure to break then make your own
She could easily have been a manifestation of the goddess so WEARING that dress as she glided with her teen son close by across the grocery store parking lot.
Man, I miss that.
People with inner vibes that so OWN all that deliciousness.
It is the part of the fashion world I most resonate with. So much of the remainder comes across as shallow and materialistic. Jaded and fickle even.
Seeing that woman walking reminded me of many dynamic people I've been fortunate to know in my short life. In particular, one designer. What he shared with me aided an about-face in my outlook.
Sure I like clothes. Could have a field day shopping whether at a national chain outlet or thrift store. But clothes, to me, like everything else, are energy. They carry a vibration. And when we reach points in life development where we've leveled up (like where I am right now), we often yearn for a whole new wardrobe to reflect and hold that vibe. To the heights!
How intriguing it was learning from that one fashion designer, the approach taken to garment making. He would have the ideal outfit for someone who had just come through a divorce or chemotherapy. He connected on intense personal journeys that clientele experienced and how it affected them, then made clothes to facilitate balance and self-expression. Spirit Wear. Healing.
Those pieces were timeless.
I still have some of them.
And they ain't going nowhere!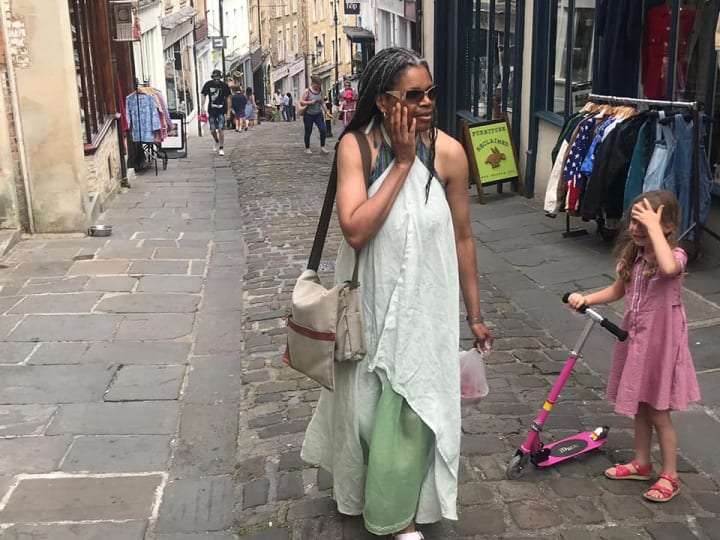 During my childhood, fashion was unimportant. I liked comfort. I liked colors (except pink!) What I wore had to be functional for impromptu swimming, cricket games, climbing trees, or finding a good book to curl up with at the library.
No one seemed to bat an eye.
You're a kid, and free passes weren't required as long as your clothes were relatively clean and didn't expose sensitive body parts.
Somewhere around teenagerhood (as with many), how I looked—as in what I wore—started to matter. I developed a favorite this or that, but I was by no means obsessed. I preferred pants or jeans. No skirts or dresses except for mandated church attendance. Fashion purchases were small beans.
But as I grew older, I became aware of a world that judged you incessantly by what you were dressed in.
The dreaded self-appointed Fashion Police.
Some arbitrary code of whether it was cool or clownish. GQ or ghetto. Like choosing a poorly coordinated outfit meant that somehow you were less of a person, intellectually challenged, or unworthy of attention.
From my youth, certain events like national holidays or parades necessitated having a new outfit.
Original and eye-catching. As the public at large would look you up and down. There would be full-faced expressions and/or whisperings after you turned to walk away.
Somewhere I blinked while living life. And young seven or eight-year-old somethings stated with fire eyes that they "would not be caught dead in a one-piece bathing suit" because apparently, "they're only for babies."
Outfits for young girls on sale in the stores seemed more appropriate for 25-year-olds in committed intimate relationships.
I felt fashion had failed. Seduced purity and condemned it to the gallows as the masses looked on in horror but were too dumbfounded and weak to take any action.
The worst kind of betrayal.
Turning us into commodities on the stock exchange instead of one-of-a-kind artistic expressions. In truth, more accurately, society had misused fashion for its own ends and did not bat an eye with the fallout because—HELLOOOOO?!—Multibillion-dollar industry.
Even though it's been a given, I still feel the sense of disparity (and muted outrage.) The women's section in department stores (even thrift stores) is often so gargantuan, you'd think that men never go on shopping sprees. Or just wear their clothes forever until they die. Even in the children's section of independent stores, the girl's merchandise routinely takes the lion's share of space. It starts early.
Even in my head, the question sounds ridiculous:
Part of our value as women is inextricably tied to our dress choices?
And the industry knows it.
Why is that?
So much of who we are and how we portray ourselves in society is wrapped up in externals. The body and features that we're born with leaves fewer options for change, but apparel selection is a no-holds-barred free for all.
I miss simple jeans and tee-shirt days but have developed a deeper understanding of this thing called fashion. I went from being influenced by advertising, marketing, window displays, and societal trends to somehow effortlessly carving out my own unique style. But it took sweet time. What I felt was fashion-worthy by me for me. I merged into the wisdom of what feels comfortable, grants you centeredness, manifesting as confidence. And ultimately, the same thing applied to bodies. The self-consciousness, judgment, condemnation, revulsion—real or imagined—ebbed away. And I could feel as chilled in my own skin wearing cut-off thrift store dungaree shorts as well as a chic designer electric blue maxi dress suit.
Clothes should not make you who you are. You make the clothes. But the fashion world philosophy gone awry has turned down some dismal, questionable, rotten, stinky alleyways, and decades of disease and carnage have been the result.
Saving grace: The industry is not some otherworldly cyborg separate from our own making.
How are the designs more influential than the designers?
Somewhere along the way, people let the crop top, linen shorts, and tailormade double-breasted jacket wear them instead of the other way around. Bondage crept in. Oppression. Bougie cliques. Fashion opinion became a tool to belittle fellow human beings rather than build up and beautify. Positive-based fashion communication could encourage individuality and the germination of neo-fashionistas. You know—the ones who don't give a rat's ass what anybody thinks.
But that invisible grip felt rigor mortis rigid:
Are you really gonna wear that skirt with that blouse and accessories?
Out in public?
With me?
While we are walking?
Like, together?
In many ways, that running commentary still lurks, smirking pretentiously at everyone who "gets it wrong." The negative, toxic aspects that I despised. Placed there by people masquerading as human beings with alleged beating hearts.
A pity when a sundress can butterfly lift spirits generating limitless exuberance. Or casual light cotton shorts and shirt ensembles can make a man feel like he can do anything and not fail. It's really supposed to be about empowerment and seeing the beauty in each other and saying out loud,
"He-eyy, looking mighty sharp today!"
Or
"Aaaaahhh—suki, suki now! Wear that thang!"
The easy camaraderie meant to bring us closer together, not drive us apart.
So, as soon as I was near that earth-bound goddess at the check-out line, I told her how gorgeous she looked in that Indian print maroon-mahogany-magical-something maxi dress. And she smiled.
"I wanted to treat myself," she said.
Felt right special she did.
Complimenting someone's fashion choice appears by extension to be affirming their good taste. Waving a big flag that has You sure know what you're doing! written across it in large bright letters.
But the fact of the matter is whatever we wear should make us feel special/supported/confident/empowered/relaxed/lovable without catwalk or commentary every single day. As if it's the most commonplace thing in the world.
And another thing: If reading this story brought back fashion memories of your own or inspired you to create some new ones, let me know @thedaniwriter. Truly memorable content may just inspire me to write about you.
Also, if you enjoyed reading this story or others, please like and share on as many digital platforms and formats as you can. It supports me and all of the other writers on Vocal.
Thanks a bunch!
shopping
My earliest memory is of being in ocean. Born and raised in Bermuda, I lived a childhood made of pastel joys. I've learned to make a delicious vegetarian lasagne, train as a registered nurse, and keep the juiciest of secrets. @thedaniwriter
Receive stories by The Dani Writer in

your feed