Different Ways to Style Boyfriend Jeans
They're simple, comfortable, and ultra-stylish—a staple of any chic wardrobe. So check out these fashionable ways to style boyfriend jeans.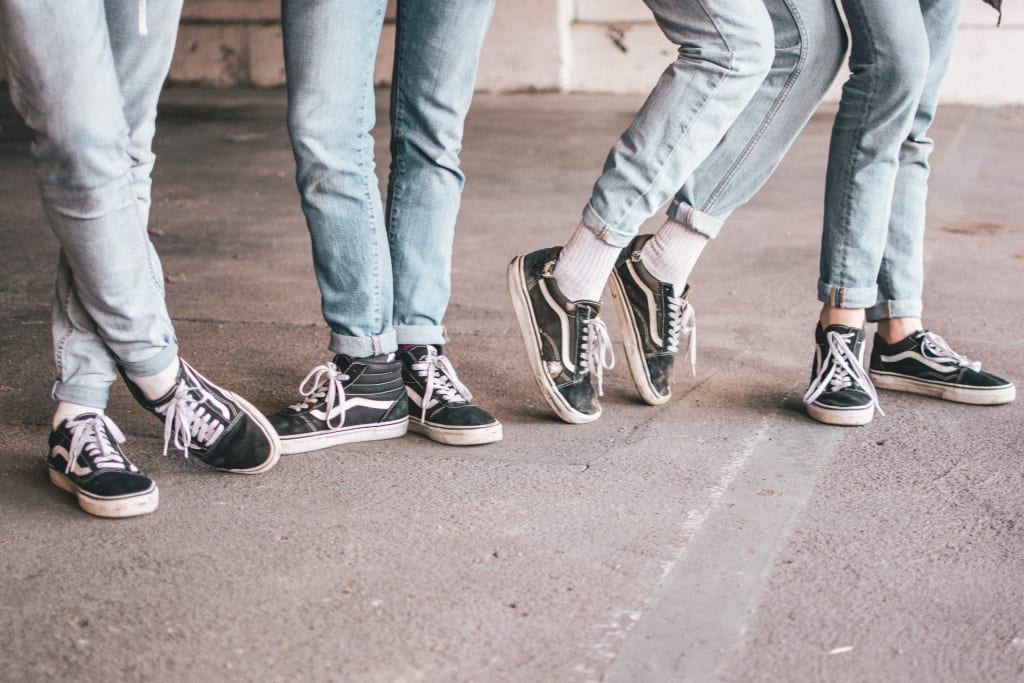 Boyfriend jeans are a must-have staple for every fashionable wardrobe. They're extremely comfortable and easy to wear, but still show off impeccable style and taste.
But as with any basic wardrobe staple, even boyfriend jeans would get old if you wore them in the exact same way, every day. So keep your style fresh and fashionable by switching it up with these different ways to style boyfriend jeans– after all, they are one of the most versatile pieces you can own.
In the hot summer months, there are still plenty of ways to style boyfriend jeans that won't make you choose between comfort and fashion. One of the easiest ways to do this is with a fun crop top. This look works especially well with a pair of high-waisted boyfriend jeans and a shorter crop top, to show off just a bit of midriff. Wear a pair of simple Birkenstocks or other sandals for a breezy, beachy look, or jazz it up with a pair of heels for a popular, sophisticated street style that looks great in any context.
A loose, sporty crop top and sneakers or Converse will also work for an extremely comfortable, but fashionable, look – whether you're lounging around at home, or out and about, showing off your style. Good thing you already know the ways to keep your white sneakers looking brand new!
It's easy to spice up any outfit with a bold, statement belt. This is also a great way to style boyfriend jeans. Keep the rest of your outfit simple, with a neutral, casual tee or crop top and some basic shoes—simple heels or ankle boots go great with a fancier belt, while a more natural belt like this thick, braided one might work best with a pair of simple sandals or sneakers.
By wearing a pretty neutral outfit around it, a brightly colored belt or eye-catching belt buckle will really pop. But if you're a little bolder, you can go for a matching look by matching your belt with your shoes, handbag, or other accessories to really tie everything together.
For a very chic street style, you can pair your boyfriend jeans with some strappy heels. Add a blazer or simple black top, and your casual jeans are suddenly ready to go out.
Casual, cozy, professional, fancy—there are so many ways to style boyfriend jeans. Another look you can easily pull off with the versatile pants is a breezy, boho look. Try pairing them with a patterned peasant blouse and a pair of sandals to achieve that fashionable, free-spirit style. Simple sandals like Birkenstocks or even just some casual flip-flops will go well with this look, and you can emphasize that boho style with your accessories, like a natural belt and feathery earrings. Don't be surprised if people mistake you for a member of one of many forgotten 60s rock bands!
This is another versatile style for warmer weather, as you can opt for a short-sleeved, loose peasant blouse as well, or a similarly styled crop top and sandals look that fits in at the beach, at home, or out and about.
We all know that the '90s grunge aesthetic has been in again for a while now, especially with the younger crowd (and we see you listening to the best grunge bands on Spotify!). And boyfriend jeans are perfect for capturing that Winona Ryder vibe. In fact, this is probably my favorite way to style boyfriend jeans.
Choose a pair of Doc Martens or clunky combat boots, and pair it with a band tee and leather or denim jacket. This look works especially well with distressed denim, and with light wash pants to contrast the darker colors in the rest of the outfit. For a bit more daring a look, you can also go with some exciting clunky boots, like colored, metallic, or patterned boots - especially with a high platform sole to add a little extra edge to the look.
Part of the reason boyfriend jeans are so popular is that they are just so comfortable. Unlike skinny jeans, you can wear your denim without feeling constricted. But you don't want to go overboard with bagginess or looseness – so one of the best ways to style boyfriend jeans is with a tight top or bodysuit. This provides a little balance and variety to your look, and keeps you from treading into "one step above ratty sweatpants" territory (not that there's anything wrong with ratty sweatpants, of course – it's just not quite the high fashion we're going for here).
One of the most classic ways to style boyfriend jeans is with a simple pair of black boots. You can go for a basic ankle boot, or a heeled boot – either way, the simple black style goes great with your boyfriend jeans, and will be sure to match with the rest of your outfit, so you guarantee yourself a chic, fashionable look, without spending hours in front of your closet in the morning. And if black's not your thing, that's fine too - this look can work with any neutral ankle boot, like a brown or even white - just watch out for dirt.
The best part of this basic look is that leaves open so many options for tops and accessories, which can all give your look a very different vibe: these boots would go well with a peasant top for that boho style, or a crop top, or a button-down and blazer for a professional look. Whatever your style, you can't go wrong with basic black boots.
Boyfriend jeans are comfortable and easy, making them the perfect option for casual looks. I love the contrasted neck and sleeve on a basic tee, but any casual tee or tank top are great ways to style boyfriend jeans. Add a pair of sneakers or Converse, and you've got a classy sporty chic look that feels almost like wearing pajamas - but looks much more put-together, with a cute, boyish charm.
You can also choose a shorter, crop-top style sporty tee to add a little something extra to the look, and make it even nicer for the warm summer months. But you might also add an oversized sweatshirt or jacket when it gets cool. Boyfriend jeans are, after all, one of the most versatile pieces you can own.
You can make your outfit stand out by wearing your boyfriend jeans with a pair of bright, bold shoes. As with the statement belt, a pair of shoes against a neutral outfit makes a daring, fashionable statement without becoming outlandish. But with some tasteful matching accessories, you can go for an even more put-together look. The point is to find ways to style boyfriend jeans that add a real "pop" to your look. A pair of brightly colored, high-heeled shoes will be sure to do just that. But it doesn't have to be heels - for a more comfortable, casual look, you can wear a pair of brightly colored or patterned boots, sandals, or sneakers for the same bold effect, just a couple of inches lower.
Boyfriend jeans are always stylish and street-ready, but they don't necessarily have a reputation for being work-ready. But with a pair of classy, dark-wash boyfriend jeans (forgo the distressed denim this time), and a standard button-down, you can have a look that would turn heads at the workplace only because of how fashionable it is. You can also make your boyfriend jeans work-ready by pairing it with any old work blouse and a pair of boots. For a fancier look, you could also opt for a pair of moderate heels.
women