Daily Crossdressing
It's not just for girls anymore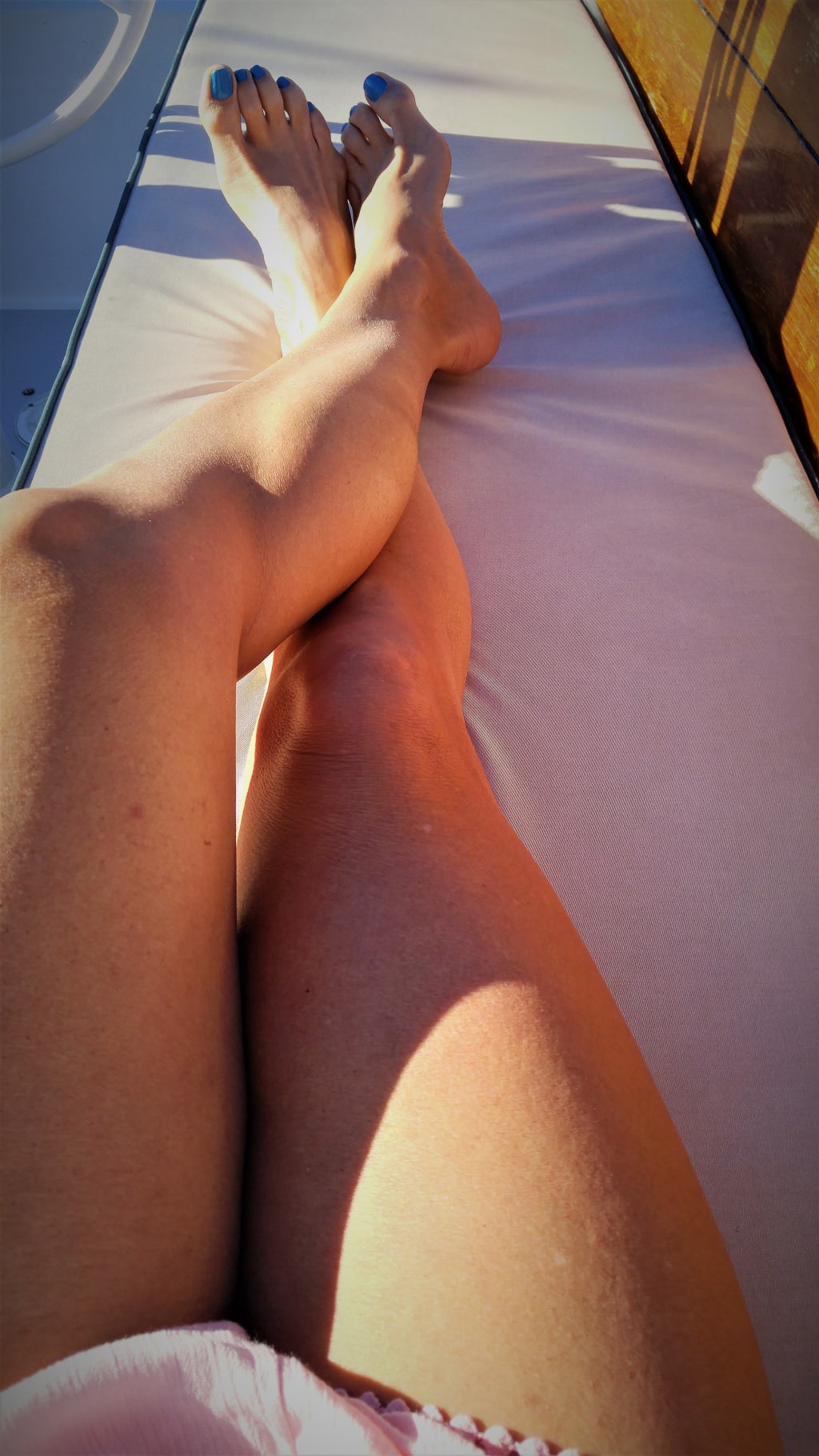 The bloody alarm clock just has to have its way with me. I have got to do something different. Getting up at 4:00 in the morning is for the birds. Some days they don't even get up before I leave for work. Oh well, the perks are great, and I can do anything for a while. I doubt I will be the employee of the month any time soon, but I still have a perfect show-up record.
I hop into the shower. I start with a warm shower and finish with a cold rinse – it seals the pores. The daily routine is to shampoo first and use the suds for body wash. Then lather up and shave head to toe. The daily routine of it has a ten-year track record and it works. The feeling of smooth skin from a previously hairy guy is delightful. I wish that I had started this earlier in life. Who knows what directions I would have been able to go. Nonetheless, the daily full-body shave is a pleasure. Even feeling the stray missed bits can create a pleasurable experience. It takes about 20 minutes to get it all done, shampoo, shave the body, and shave the face. After applying a mix of olive oil and Tea Tree oil all over, panties are the next thing. But what color? So many to choose from and what texture, cotton, lycra, lace, thing, brief, bikini, or something new? Choices, choices.
Everything is color-coordinated in some way to have it work out for me. The socks, the panties, and the shirt all need to be the same general concept color-wise. The outerwear will consist of a shirt, maybe a sweater, and a pair of pants or shorts depending on the season. Now in winter, pants rule and the usual choice is jeans.
Speaking of jeans, the choice to wear women's cut jeans is a delight not to be missed. They are short on pocket space, but the fit is invigorating. It's always a treat to pull up jeans and feel the mix of fabrics that slide up your legs. The addition of even 1% lycra can make a simple pair of jeans feel like a fine fabric. That little touch of softness that the lycra adds as well as the stretch – a squeeze, is a delight for the early morning senses.
Almost ready to go, just need the shoes. The barrier between men's and women's shoes is slowly evolving into a non-barrier. In regular running shoes it is the fit that is the biggest difference – so go for the look you want and adapt for fit. In nearly every other area of shoes, the classics are still being made and can easily be made to switch over from a woman's to a man's foot. I wear a man's 8 or a woman's 10 depending on the type and maker it can go a half size up or down. The fact that woman's shoes are far more interesting to look at as well as enjoy the feel of should guide you. You can choose to be bold or sedate, but the choice of colors, textures, and look is far more interesting in the women's section.
Case in point. Looking for a replacement for a deck shoe that had developed a hole in the upper body of the shoe. I went to DSW for a replacement. Looking through the men's section there were two colors, one blue and one off-white. Neither was very interesting and that was it. The other options were the classic leather deck shoes. Take a stroll through the women's section and you find nearly 20 versions of the shoe I wanted to replace. The colors, patterns, styles, the overall look, it was all very enlightening. So of course, I bought the cool ones with the red canvas, flamingos, and palm trees.
Not to say that men's shoes are boring but… they show no advancement in years on the overall scale of fashion. Yes, they do have some new shapes different from the classic golf shoe-looking wingtip with the tongue cover. But overall, you would be able to find grandpa the same pair of shoes he has been buying since he was a kid. Don't get me wrong on this, the classics are a great place to start your voyage into shoes. Many transfers from men's to women's shoes but in total men's shoes are just flat-out dull and unenlightened so why bother with them?
Today it's going to be a custom shoe by Canara. The lower is like a skate shoe but the upper is vibrant blue, white, red, and yellow with royal blue laces. Comfy and stylish. I don't wear these too often as they are so distinctive, I like to have them stay in perfect order. Today is my lucky day. I add to the look a dark blue pair of jeans, a polo shirt in the same blue as the laces, and underneath the outerwear, all is soft and comfy.
Like any other day, the look is more like a soccer mom. The finishing touches are a Polo sweater in cerulean blue. Ready to go out the door I put on a lovely below-the-rear-length zippered winter weight down jacket. The shape of the jacket has a built-in flair in the hip area. The zipper does close on the left side.
Pooh just noticed that my nail has a chip in it. I quickly do a color repair, blow dry the top, and put a new topcoat OPI clear on. Now I am ready to go out for the day.
Not wanting to mess up the nail color is key. Pulling out the keys first and any other pocket-held items is essential to the survival rate of the nail color. Today there is a green tip covering a light purple nail color. Both are so perfect together. I know how bold. But you would be surprised at the number of men who are wearing their nails colored. Maybe not in Washington, D.C. during the day, but there are a bunch. It's almost a club. When one sees another, they recognize something that is just a bit different than the rest. A sense of adventure, and the wild child, all come to mind but what it is can be summed up far more succinctly in one word – authentic. The ability for women to wear any color they want, anywhere they want need not be a single-gender-only experience. Fact, nails look good with color. Unlike tattoos, they can also be clear as day in minutes. Another good reason to add some color to your day. Who does it hurt – not one single person. So why not. There are tons of videos about how to apply nail polish and do special treatments with stamps, stipes, and appliques.
Being feminine at work. Is there a way to pull it off? Yes, yes there is, and without alarming the gender police. It's all about how you accessorize. I have two rings I wear all the time. My father and grandfather's wedding rings. Both are white gold with diamonds. Not too showy but they do have the shine and sparkle that a girl likes. I also have on a necklace that has a single emerald and another that is a native American piece resembling a feather with pearlescent stone. Seeing the sparkle and shine, while typing, is quite pleasurable to look at, but doesn't draw out the gender police. The fashionable socks that can be seen peeking under the jeans, while flashy, don't draw the ire of the observant. Even President Bush had quite a collection of socks. So hard to push that far astray from super conservatives with that lead-in.
The point of being an everyday crossdresser is that you can wear alternative clothes every day. I take the dog for a walk every morning and usually do it in leggings during the winter. In the summer I wear shorter shorts, why? Because when I was a kid that was not a question of masculinity it was just the style. Look at older Magnum P.I. episodes. Tom Selleck is always in shorts. OP was the brand to have at the time, and they were short. But the softest fabric you could find. A soft cord.
Fashion is really about being in the know and being able to wear what you want while not alarming people to your right. I for one wear a string bikini in the backyard while sunning. Why. Why not. I can get the best possible tan with the least possible lines. The point of a tan is to have it all over and with the bikini, I don't have any stray bits hanging out to cause alarm but do have the maximum amount of skin I am comfortable sunning in the yard. Now on a private boat on the ocean that is another thing entirely and I can assure you on a warm day with the sun blazing there is no reason to be a fashionista.
Reader insights
Be the first to share your insights about this piece.
Add your insights