Create a unique look with the combination of wood and the color black
Feeling inspired?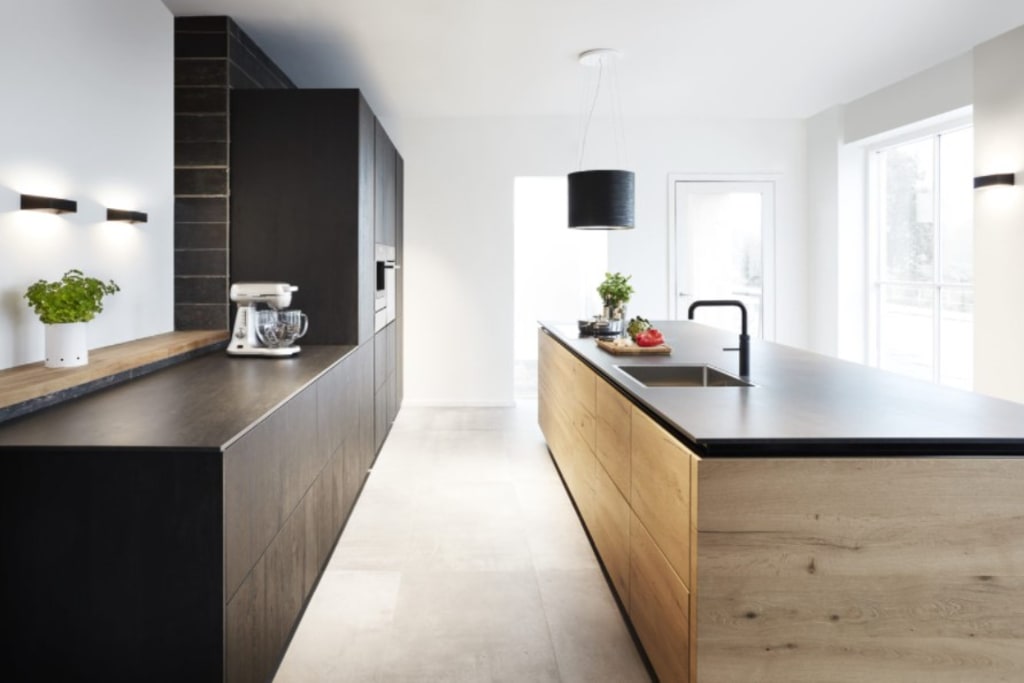 Combine nature with minimalism
With a beautiful combination of natural materials and the color black, you can create a visual statement in your kitchen. Wood is a natural and beautiful material, which is particularly suitable in a kitchen, as it naturally contains chemical substances that have an antibacterial effect. This makes it one of the most hygienic materials you can choose.
If you are worried about a black kitchen becoming too heavy in your home, then you can create nice contrasts by keeping the raw wood look on some of the elements. A white table top or kitchen island will stand in nice contrast to all the darkness.
With a black kitchen, you also get the opportunity to "color block". Color blocking is about putting together strong contrasting colors, where only the imagination sets limits. Green plants, a colored wall or kitchen accessories in pan colors will create a beautiful and unique look in your kitchen.
Get more kitchen inspiration at Rotpunkt's website.
The black kitchen: a new era?
Black kitchens have gone from being quite unusual, to being both trendy and quite prevalent. Variation can easily be created in the black colors with different types of wood, surface types and play with light incidence and color blocking. The combination of black and light wood contributes a lot of contrasts and personality in your kitchen.
The kitchen doors are the most exposed element in your kitchen, and which doors you choose gives your kitchen its final look. Give your kitchen an extremely exclusive look with stylish wooden kitchen doors, and get a kitchen with lots of organic expression with the visible wooden structure.
Colors and wood are fantastic tools for creating atmosphere in a kitchen. Particularly dark woods and muted colors create a cozy and calm atmosphere. If you want a slightly more lively kitchen atmosphere, then the use of light wood and colors can create a positive kitchen atmosphere.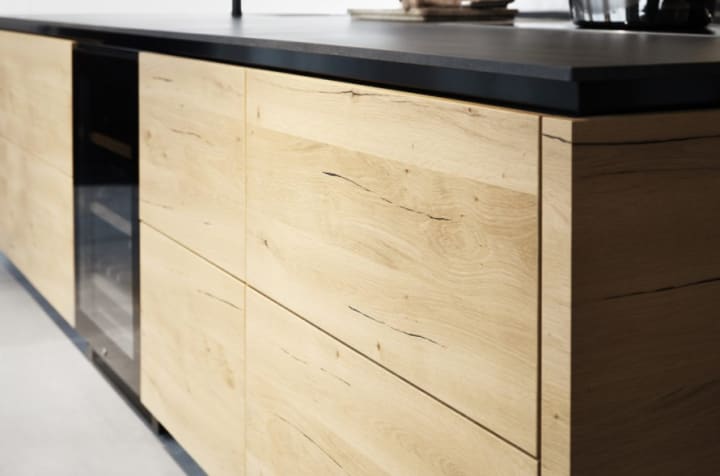 Splendid raw from Rotpunkt
With Rotpunkt's own wooden door program "Splendid Raw", we take you through the process of choosing the perfect wooden door that fits your kitchen exactly. The popular Splendid wooden door is often combined with another wooden door or a dark door in Nanolaminate.
The dark colors signal quality, style and depth, which is very popular in the minimalist and exclusive Scandinavian interior design style. Splendid is nice with a black or white table top, and combined with a dark high cabinet wall, you get a very beautiful result.
What can you expect to pay for a new kitchen?
The price of a new kitchen depends on many different factors. So when you ask yourself: "What does a kitchen cost?", You also have to make different considerations both in terms of choosing kitchen accessories, but also in terms of choosing colors, types of wood, number of elements and not least, what shape for designs that you want to use. Should it be:
The price of a kitchen in modern or classic design?
Or a price for a new kitchen with special design?
In order to get the price of a new kitchen accurately calculated, you have to consider the following parameters:
Should the kitchen doors be laminate / painted / wood?
Number of cabinets / size of kitchen?
Base cabinets with drawers or cabinets?
High cabinets with shelves or pull-out?
Wall cabinets?
Table top type?
Appliances?
When you have considered the design, the price can be calculated. Surely, there is a big difference between choosing a taylored kitchen where everything is special designed for your house and a standard solution. But if you invest in a kitchen that needs to work for the next 30 years, you want to choose the solution that is sustainable.