Best One Piece Swimsuits to Buy in 2018
While some may shun one piece swimsuits for their beloved bikinis, we know the truth—one piece swimsuits will never go out of style. Beautiful, classy, and always on trend, here are some of our favs.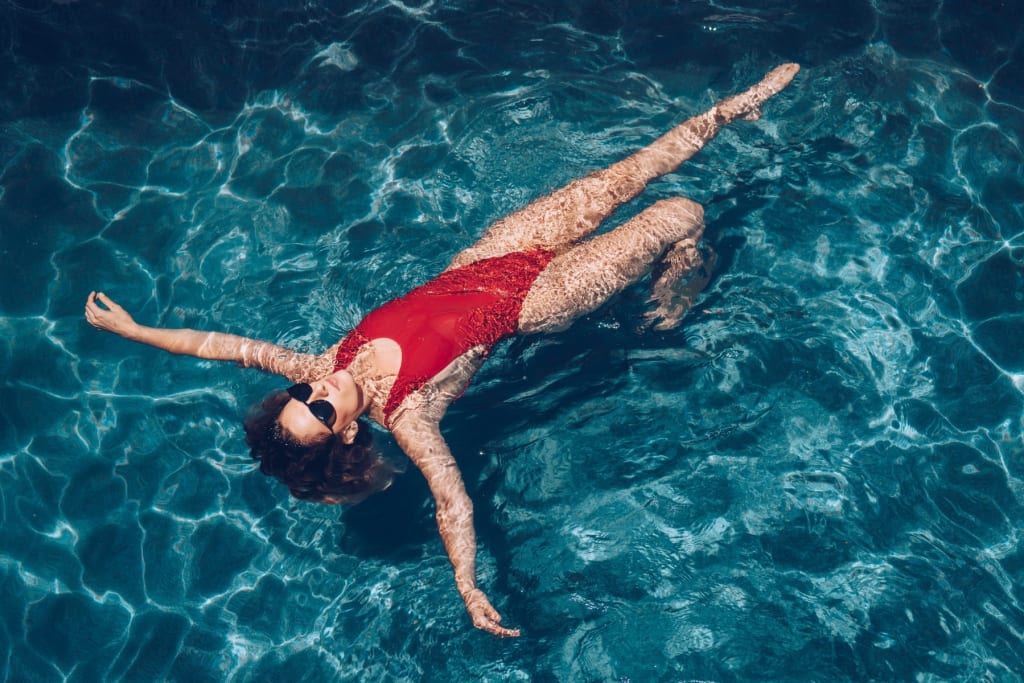 Sure, there are many things to love about affordable bikini sets on Amazon (2 day shipping anyone?!). But one piece swimsuits are no longer for lifeguards, moms, or the conservative! They come in so many different styles and designs, they fit a variety of body types and they can really draw attention to your assets while hiding those things you'd rather not lay out on the beach for everyone to see. Whether you're looking for a one piece bathing suit that fits a long toros, one that fits a curvier type or just one that will make you feel incredibly sexy, these are the ones to check out first.
This chic nautical-themed one piece bathing suit is a great fit for just about everyone, but it's particularly good for those that are on the short side. Why? The high cut sides around your thighs will make for an elongated look, giving you the illusion of legs that go on for, if not days, at least a few more hours than you're used to. Plus, the adorable nautical print can't be beat. Ahoy, matey!
We love one piece swimsuits with lots of colors and this striped beauty does a great job of incorporating lots of hues without looking over the top or flashy. The vertical stripes give you the illusion of a long torso, as do the scoop back and the high cut sides. Plus, it covers just enough in the front to allow you a little bit of freedom at the bar (gotta hide those few extra wine cocktails you had last night), while showing off just the right amount of bum.
Anyone who says one pieces aren't sexy needs to take a look at this particular option. The deep V, open back and semi thong make it absolutely irresistible. Plus, you get just the right amount of support in the bust, and adjustable straps to make sure it fits your body type exactly. It comes in 12 different colors.
One piece swimsuits don't have to be all one color, material or fabric. Just take this beautiful option with some great embroidery along the deep V cut. The dark yellow hue seems to just fit perfectly, making other color options not even necessary. The back features thin adjustable straps, to fit the front coverage to your liking.
This one piece bathing suit features a series of eyelets up the sides, giving an almost corset-type look to this ribbed suit. The sides are high cut to show off your long legs and the top is low cut to give you coverage everywhere you want it, and none where you don't. Additionally, would you believe that this suit is machine washable? Believe it, babes.
If you have one of those body types that insists on a little bit of tummy coverage, these one piece swimsuits are right up your alley. The ruched midsection allows for tummy control, camouflaging any extra pooch you might be sporting at the time. It comes in a myriad of color and pattern options, so you can get a few for your vacation, and look equally great in every one.
Want to turn heads in your one piece bathing suit? This Kenneth Cole variety does the trick, with its chevron-patterned lace overlay and beautiful dusty rose color. It offers plenty of support in the bust area, and a peek of seduction without allowing for any unfortunate slips. The lower back is open and the upper back connects with a chic silver clasp and adjustable straps.
If you're a girl who loves the classic black and white stripes look, this one piece bathing suit delivers. It has tiny black and white stripes, white edges, a v-neck cut and a tie at the back. It offers lots of coverage all around, great for all body types, and even a padded bra, perfect for those wanting to look like they have just a bit more going on, up top.
Ever buy a one piece bathing suit in one color and then later wish you'd gotten the other color you were eyeing in the store? Eliminate the problem for good, with a reversible one piece bathing suit. This option is perfectly simple, with midsection cut outs. It goes from hot pink to midnight blue in a flash, perfect for whatever mood might strike you.
If you'd rather pass on any color blocked suits or one-color options, these are some one piece swimsuits that might fit your needs. A one piece with a floral lace embellishment, plus a deep-v and halter, it's on the simple side, but still has a little bit of visual interest. For added value, it has push-up, padded cups for a little bit of extra oomph.
You know who the real star of the show here is, and it's certainly not just your one piece. It's all of your assets and what you bring to the table all by yourself. This suit certainly knows this and the high cut sides and no extra embellishments makes sure that all eyes are exactly where you want them—on your mile-high legs and overall otherwise great bod.
If you're into one piece swimsuits, but you also can't tear yourself away from bikinis, meet in the middle with this monokini. Reversible, it has everything you like about a modest bikini, and then connects the two swaths of fabric in the middle with a chic knot. The coolest part? You can reverse the bottom or the top separately, so you're not always going either white or blue—you can mix and match!
Another almost-bikini, these high waist swimsuits come in floral varieties and stripes, but the best feature is the way they join in the back, giving you a bikini feel in the front. The top portion ties in a knot in the center, and the bottom portion sports a high cut waist. The patterns and style both give you a vintage vibe and the padded top adds a little something extra.
If sweet and pretty is your style, this one piece bathing suit has you covered. The off-the-shoulder straps end in adorable layered ruffles and the overall modest suit sports a classy floral and powder blue design. Built-in boning provides support for your curves on the side, but the halter straps (while removable) aren't actually adjustable straps.
Maybe you start feeling a little bored wearing the same few one piece swimsuits over and over again. This option can be adjusted in several ways to give you a handful of looks all from one piece. Go from off-the-shoulder to completely strapless, to a criss-crossed halter top, all with just a few easy maneuvers. The adjustable straps are the same material as the suit itself, making the possibilities practically endless.
Prefer your swimwear to mirror your nighttime looks? This one piece bathing suit with adjustable straps is a traditional black bathing suit except for one feature—the sheer overlay that gives it an ultimately more sexy look. It's super flattering for all body types and can easily hide any undesirable traits around the upper thighs and bum.
Plunging necklines are a big trend in one pieces this year and nothing does that better than this ultra plunge piece. The navy swimsuit offers barely-there coverage on the side, full coverage on the bottom and is finished off with a cute "rope"-style feature that gives you a somewhat nautical feel, without being cheesy about it.
For those who've always fancied themselves to look great in a corset, tie things up with this one piece bathing suit with adjustable straps in the front that you can tighten to your desired fit. It makes for a one piece that's both sexy and somewhat modest. Choose from a ton of different colors and hit up some of the best Florida beaches in style and comfort.
Putting other black one piece swimsuits to shame, this sheer panel one piece has all the lace detail you need, absolutely everywhere. The classic fit features a scoop neck and shoulder straps, plus ricrac trim and strappy details on the back. Pair the look with a big, floppy white hat and you're ready to enjoy the luxury hotel rooftop pool in high style and fashion.
This peek-a-boo one piece goes from the beach to the streets with ease. Another almost-bikini selection, it has a white, scoop neck top with a high cut, black bottom, connected on the sides with a ring embellishment. Wear it at the pool, on the beach or even as a bodysuit under your jeans. Inspired by the 1980s, it's the perfect thing to show off all those crunches you've been doing.
Pick from several one piece swimsuits in various designs, but all in one great style—a plunging v-neck that still offers plenty of coverage, and a high waist that protects all your nether regions, with some playful cut outs on the side. Totally comfortable, it gives you all the coverage you want, but still looks sexy as ever.
Slim-fitting one piece swimsuits such as this one give you a long torso and a thinner look. This particular suit is even better thanks to the high neckline, scalloped edges and no back. The adjustable straps helps it fit multiple body types and the padded bra feature even enhances the look further. What else could you need?
There's something ultra sexy about a zipper on a bathing suit. This scoop neck with its thin straps is made even sexier by the contrasting zipper that goes all the way to, well, your belly button. Backless, with a high cut, it comes in several different colors. Don't look any further for a sexy one piece bathing suit that's both ultra modern and trendy.
If you want to hide some assets and show off a few others, this ruffled one piece could do the trick. The black sides are gathered in at the stomach to hide any extra curves you might want to nip and tuck, while the ruffled white top and adjustable straps nicely conceal that you haven't been doing any push ups lately. As a bonus, the overall look is sweet, sexy and sophisticated, perfect qualities for all one piece swimsuits.