Anuschka: An Exploration of the Brand and its Artisans
Painted with passion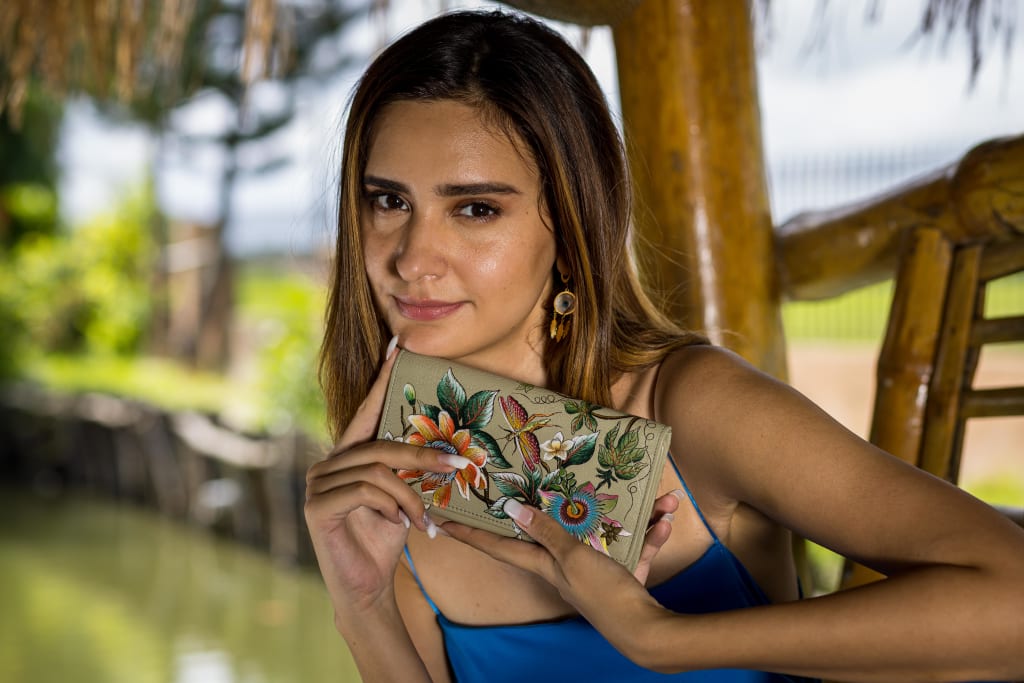 The beauty of nature, the similarities of nature, and the faithfulness of art are parallel. Whether or not art depicts the beauty on the dancing neon lights of the city or the cuteness of a panda, the heart of an artist's work is to carry a narrative to the audience via the artwork.
An Anuschka leather artisan views every product as a personalized opportunity to create something with a story. It's an undeniable fact that there is something special between an artist and their work.
Each and every part of this project is reflected in the meticulous application of delicate traces of paint making each one of them a one-of-a-kind in their individuality. Our products aren't just bags, but are also a narrative. This is done to create a lasting memory for our clients.
The A in Anuschka stands for Art
For many people, a bag is simply a practical accessory that serves a specific function. It is something to carry their belongings in and not much more. However, for others, a bag can be so much more than that. It can be a statement piece, an extension of their style, and even a reflection of their personality.
When it comes to handbags, the artisans at Anuschka understand this concept well. They believe that a bag can be a powerful tool for self-expression, and they work hard to create pieces that allow their customers to explore their creativity and individuality. Each bag they make is unique and designed to stand out from the crowd.
Through their products, Anuschka offers customers the opportunity to find joy in their creativity. They encourage customers to embrace their unique sense of style and use their bags as a way to express themselves. By nurturing their customers' interests, Anuschka hopes to help them cultivate a sense of individuality and confidence. After all, when you feel good about yourself, it shows in everything you do.
Made by head, heart and hands
Ideas are known to strike unexpectedly, and they can come from anywhere, be it a random thought, a conversation, or even a dream. However, what separates a mere idea from a successful one is the amount of time and effort invested in its development and maturation.
It's essential to approach every idea with careful consideration and attention to detail, and this is particularly true when designing products that are intended to satisfy the needs and desires of customers. At the end of the day, what matters most to customers is not just the idea itself, but whether or not it can be successfully executed.
At Anuschka, we understand this better than anyone else, which is why we take immense pride in our product design process. We leave no stone unturned when it comes to designing and perfecting our products, ensuring that every detail is meticulously thought out and executed flawlessly. Our commitment to excellence is reflected in the fact that our designs are unique and cannot be replicated.
We believe that the success of any idea lies not just in the concept itself, but also in the execution. Our team works tirelessly to ensure that our ideas are brought to life in the best possible way, and we are dedicated to delivering exceptional products that exceed our customers' expectations.
Beauty bonded with hope
Vibrant patterns and swirling brushstrokes are frequently associated with gentle meanings, and our hand painted leather bags specialize in displaying this by carrying its own grace, bringing out an image of what broadens one's life.
Anuschka's carefully designed artworks and beautiful patterns in-and-around attract people's emotions and point out the possibilities in and beyond life. Our high-quality handbags enable us to provide our customers with individualized attention and emphasize their uniqueness.
Anuschka leather's fashionable, exclusive handbags are reminiscent of the revitalization of your own life. Crafted from genuine leather, our bags can be reminiscent of the new beginning you want. Bright and bold floral designs our artisans are capable of making can imbue you with a fresh outlook.
Anuschka premium hand painted leather bags are not just a way to earn a living, but also a means to preserve the legacy and purity of our artisans. This provides an opening for the creativity to foster the art.
Reader insights
Be the first to share your insights about this piece.
Add your insights